Stems UK
Florist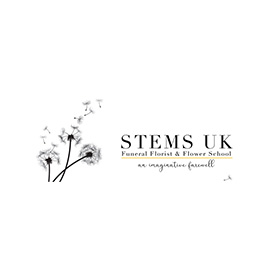 Stems UK (New Covent Garden) is run by Cassandra Thompson. We specialize in brilliant funeral flowers and are makers of 'frames for florists'.
Our website is an online shop enabling you to buy 24 hours a day www.stemsuk.com. You can contact us at anytime by email sales@stemsuk.com, phone or text 07976 617647 or via social media (our favourites are twitter and instagram).
We are not part of a chain or network of florists. Our business is based on recommendation, giving unrivaled attention to detail. All orders are hand made and dispatched by us from our premises.
Our love for social media means you can join us now for regular updates and inspiration on:
Instagram - https://www.instagram.com/stem...
Facebook - https://www.facebook.com/stems...

Twitter - https://twitter.com/StemsUK

Youtube - https://www.youtube.com/stemsu...

Address

M15 Flower Market
London
SW8 5EH

Email

Phone

07976 617647

Website