Covent Garden Tenants' Association Ltd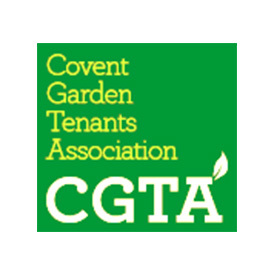 The Covent Garden Tenants Association (CGTA) was founded on 6th April 1922. Since then its mission has been to represent the "official voice of the tenants within Covent Garden market".
Over the ensuing 88 years we have given unbiased legal aid, advice and counsel to thousands of market tenants, from fruit and vegetable sellers, to flower traders and the catering industry.

The Association's activities have seen it negotiating with the Government, Unions and landlords. At all times we have been driven by the desire to represent our members' best interests. We have also always worked closely with the Covent Garden Market Authority (CGMA) since its creation in 1961 and ensured that we have maintained a strong and productive working relationship.

Today, we represent the large majority of market traders, both in terms of number and turnover. Our current members form an integral part of the British food industry. The market's annual turnover now exceeds £600 million and it provides 40% of the fresh produce eaten outside the home in the South East of England. In London, the market is a vital resource for the City's restaurants, catering outlets, independent retailers and fresh food processors. Beyond these schools, prisons, hospitals as well as hundreds of small family businesses are amongst the diverse customers who look to and rely on the market to supply their fresh produce.
The Tenants Association played an important role in the historic transfer of the market in 1974 from its original location in Covent Garden, where it had stood for 300 years, to its current home in Nine Elms, Vauxhall. Since this move the market has gone from success to success. Its overall turnover has grown by 25% in the last five years and by 11% in 2008 alone. However, the market site is starting to age and its capacity and layout no longer suit the growing needs of the tenants.
The Covent Garden Tenants Association is a non-profit association. All income goes towards covering standard business amenities. We happily support two prominent charities that we have been involved with for some time. Our national charity is the Anthony Nolan Bone Marrow Trust and our local charity is Trinity Hospice of Clapham. We also give generously to Help for Heroes.
Address

Office D147-152 Fruit and Veg Market
London
SW8 5LL

Email

Phone

020 7720 7874

Website