Don't wanna be your tiger, cos tigers play too rough
Don't wanna be your lion, cos lions ain't the kind you love enough
I just wanna be, your… "Teddy Bear" sunflower from Bloomfields. Uh huh huh. Or these perky pots on Evergreen. The summer weather may have been a washout, but that's no reason to cancel the party.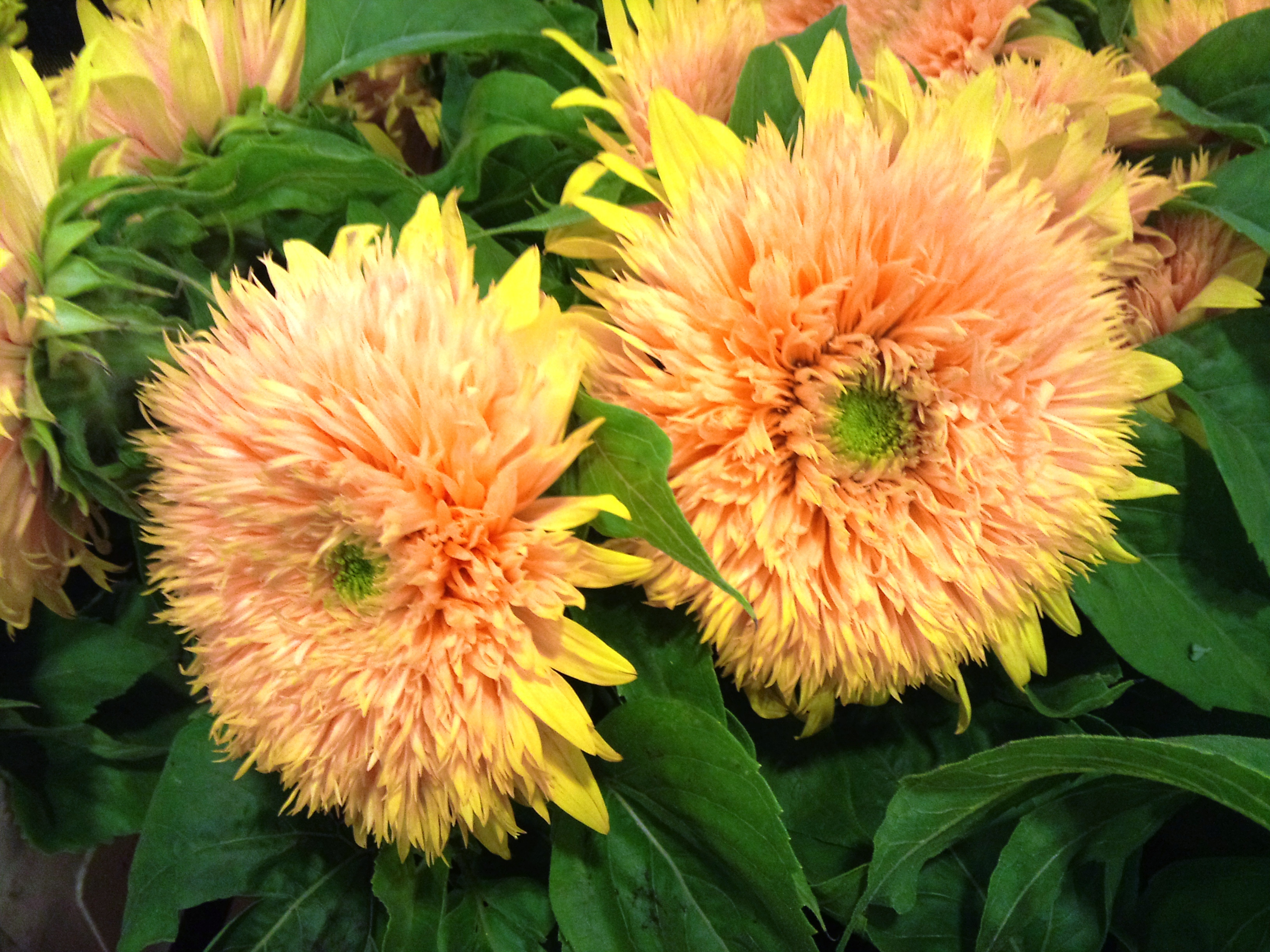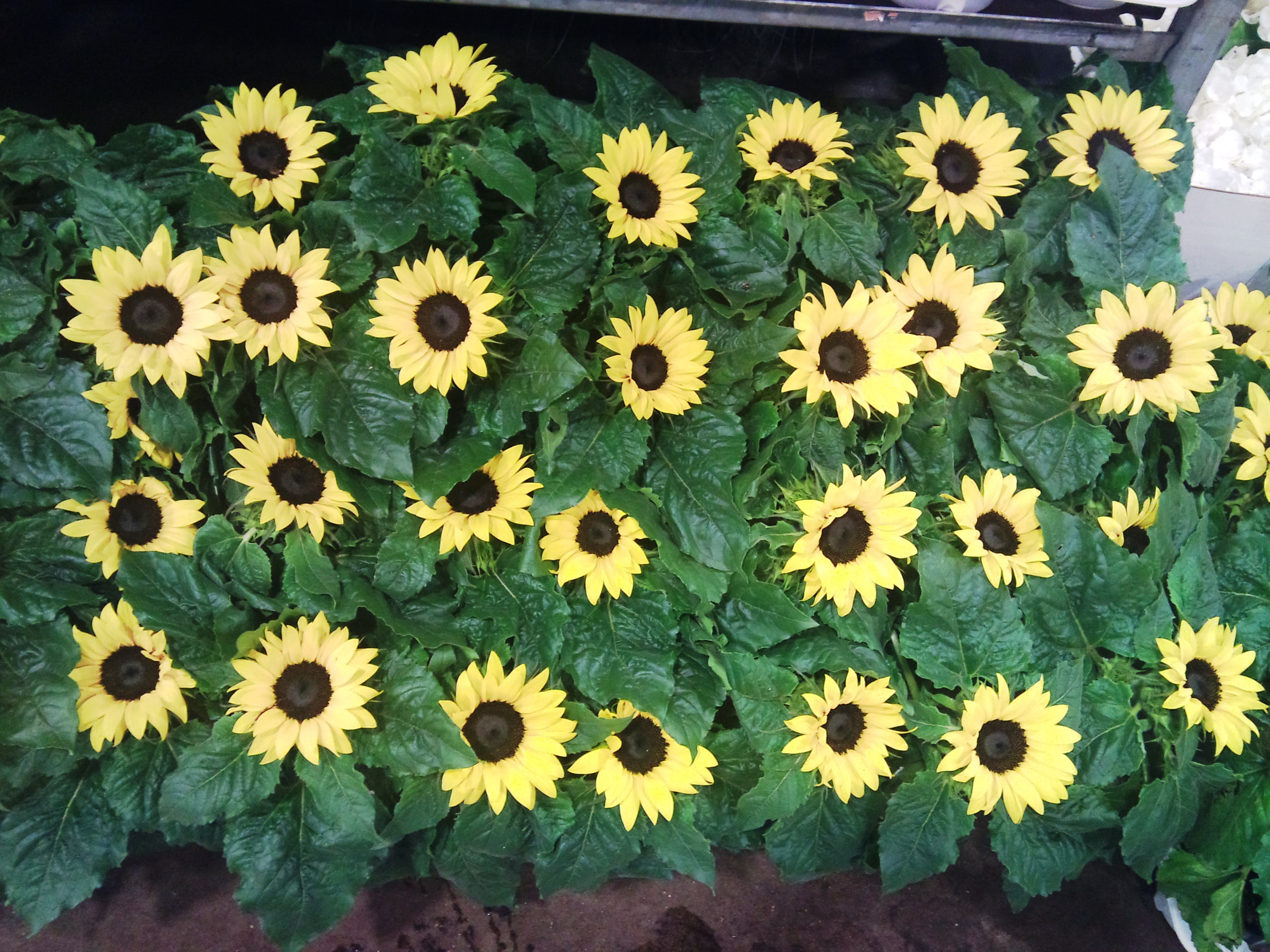 Everywhere you look in the market, it's Full-On Colour : Mexican red, Indian hot pink, Brazilian yellow – like these spider dahlias from John Austin. Even English products are getting in the swing – these at Pratleys are no shy wallflowers.  (Their everlasting is pretty assertive too. )  Alagar only had Dutch dahlias on display as their English supply is all pre-sold, such is the lust. If you want to get your hands on their secret stash, tip Ritchie the wink.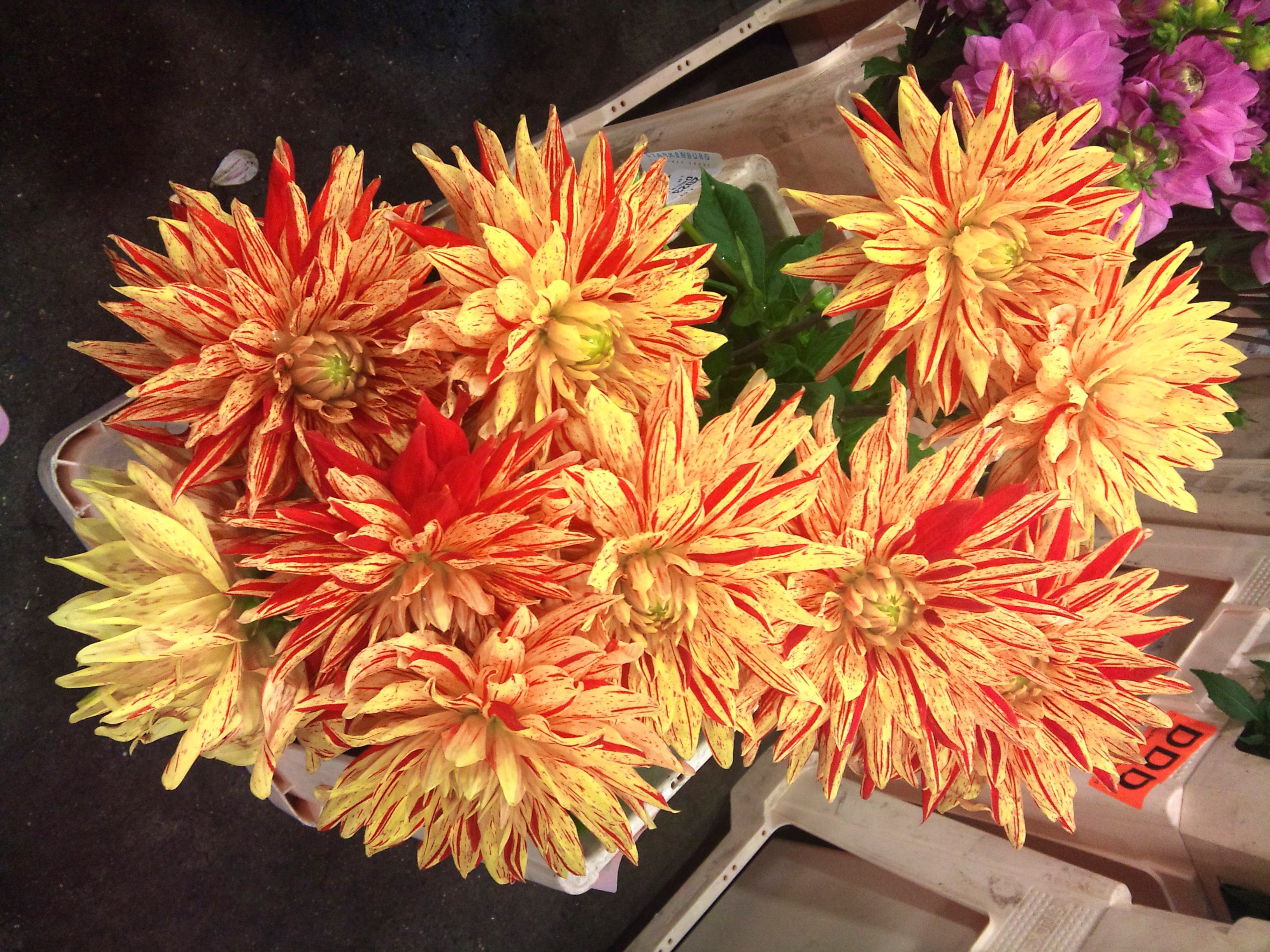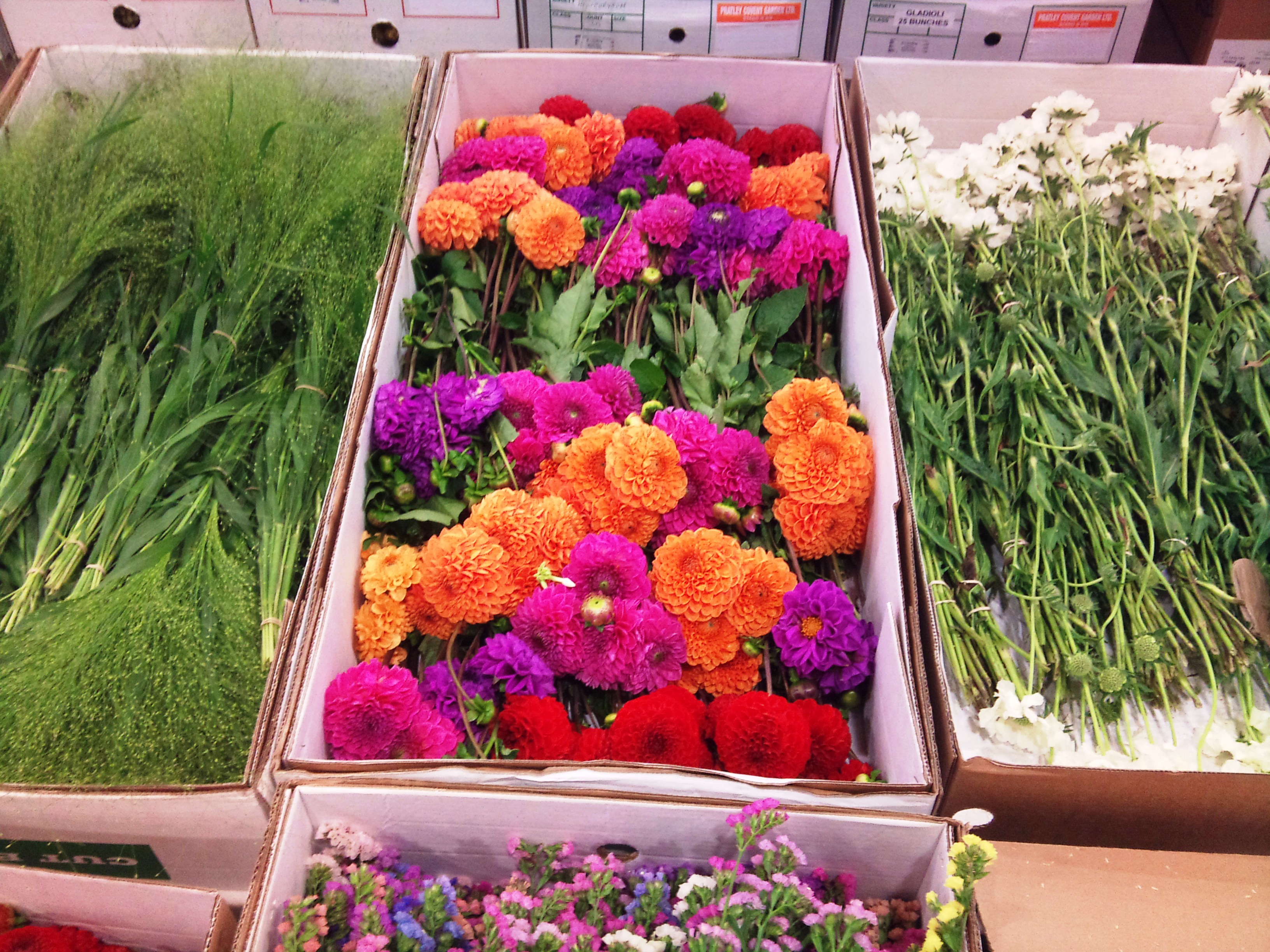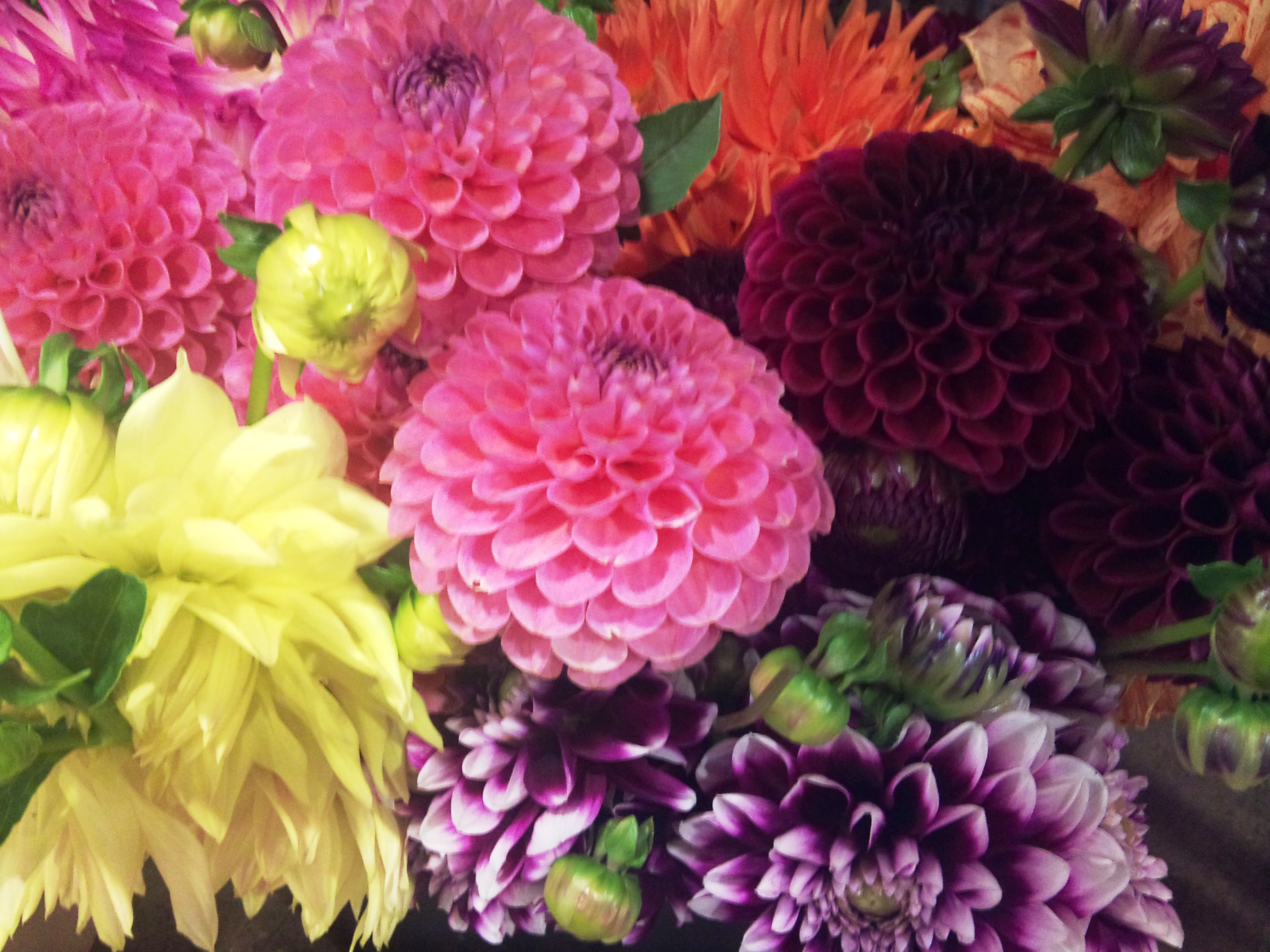 Alagar's carefully-wrapped ginger lilies bring the Caribbean a little closer, thankfully without the accompanying tropical storms… as do Porters' bananas, multi-hued banksia flowers (dyed), and an enticing mix of protea (undyed). And if you really want the full holiday experience recreated in your shop, what about Best's giant shell? I bet you could hear the sea in Sydney with that.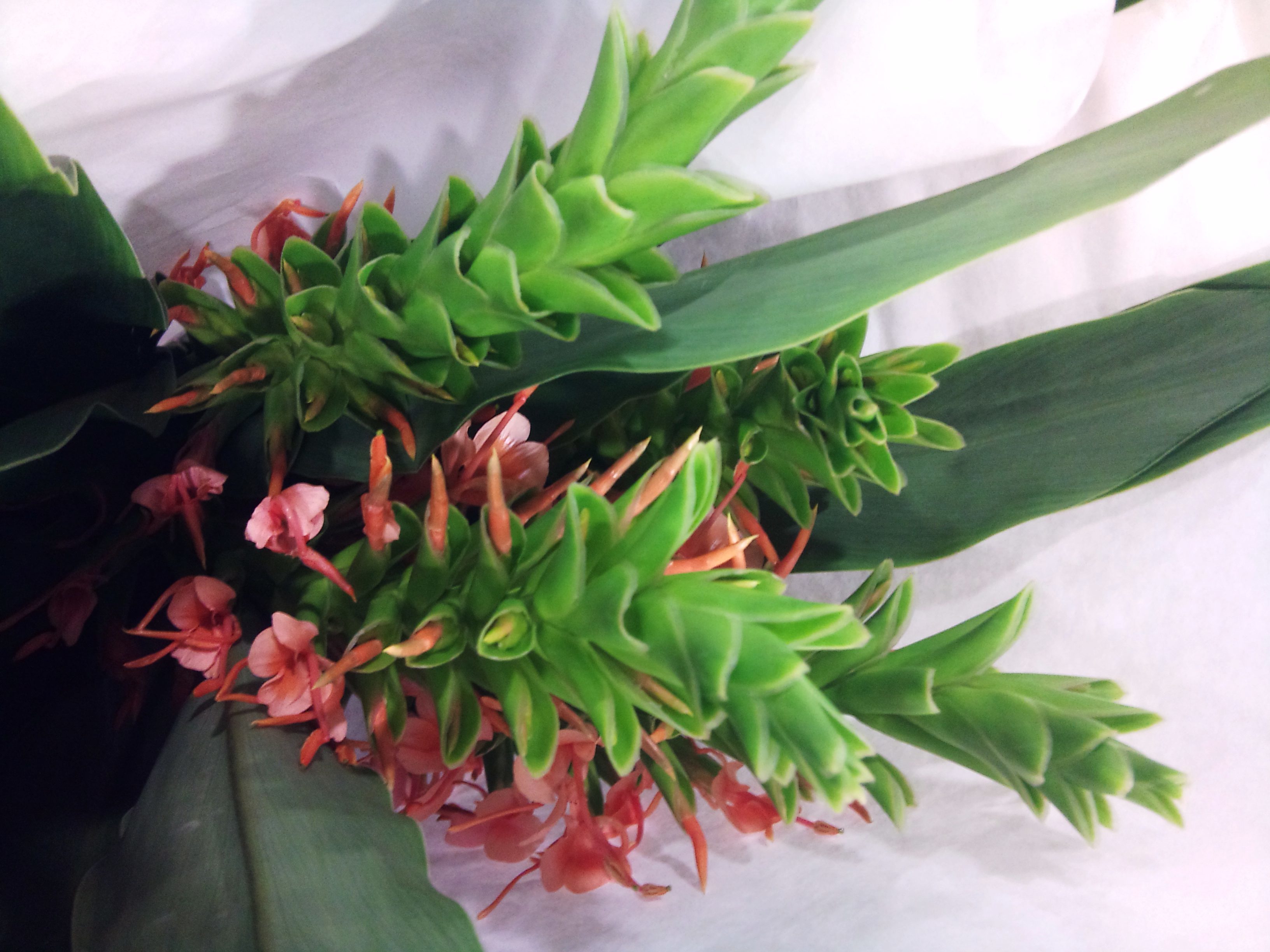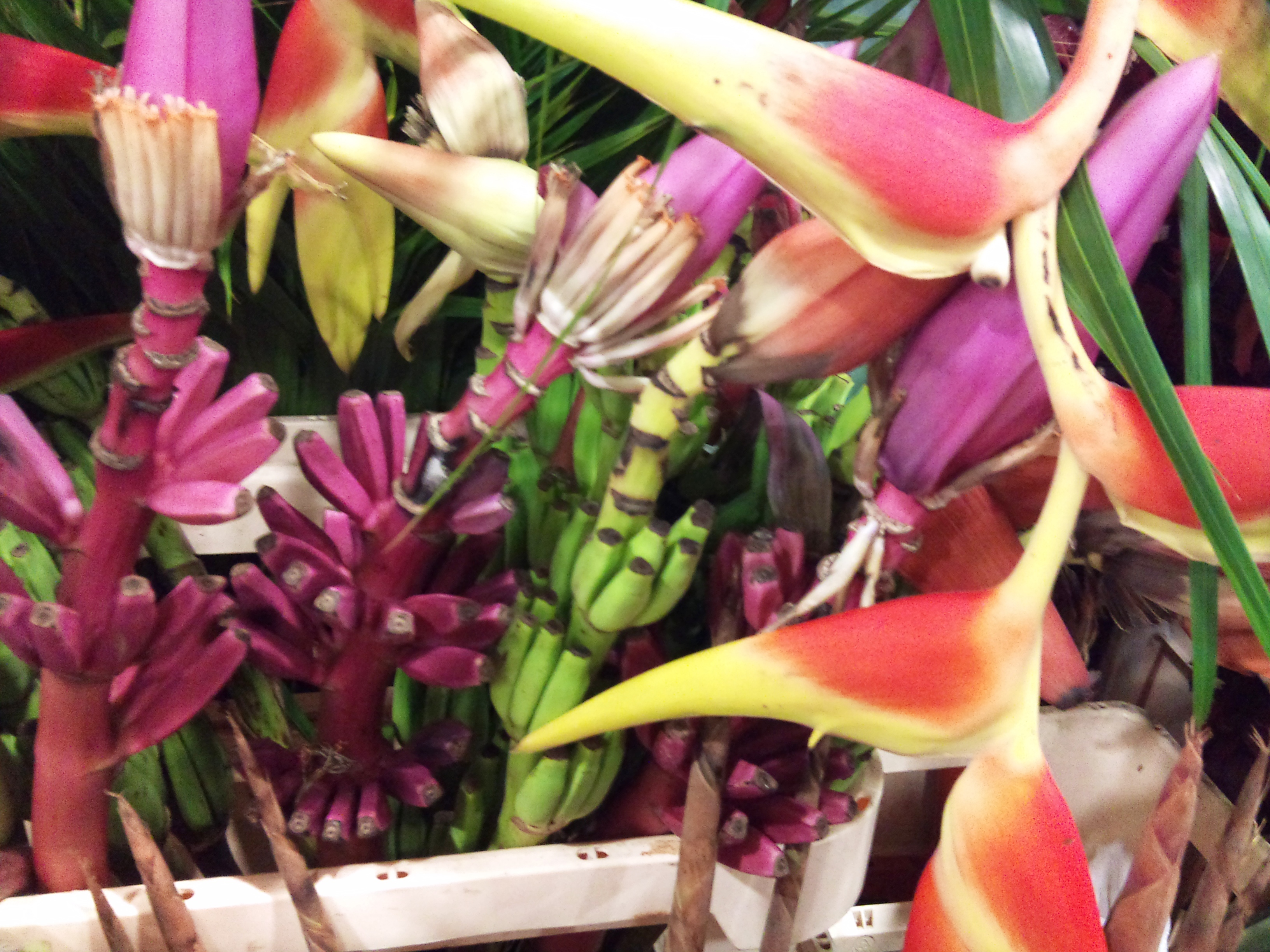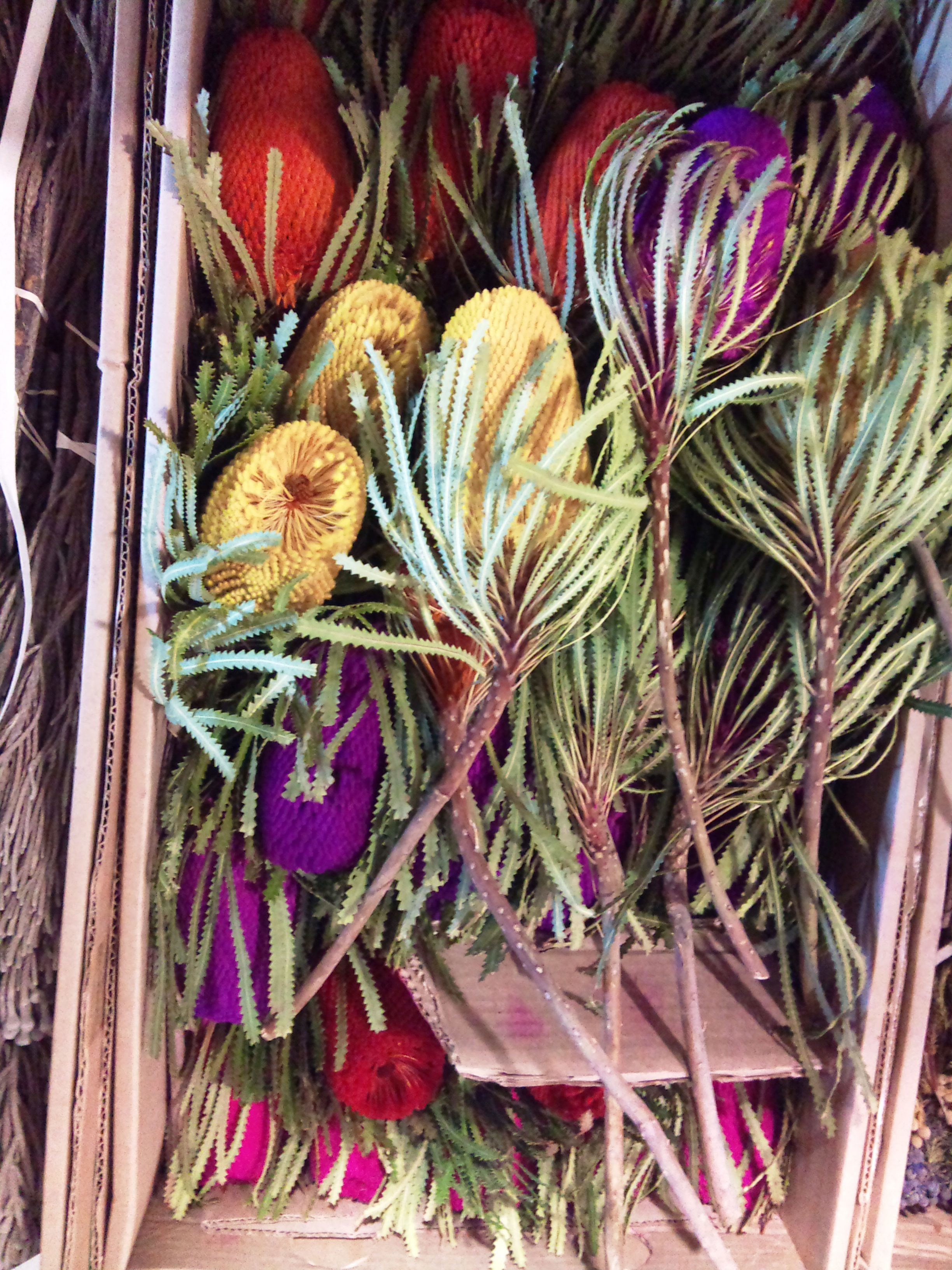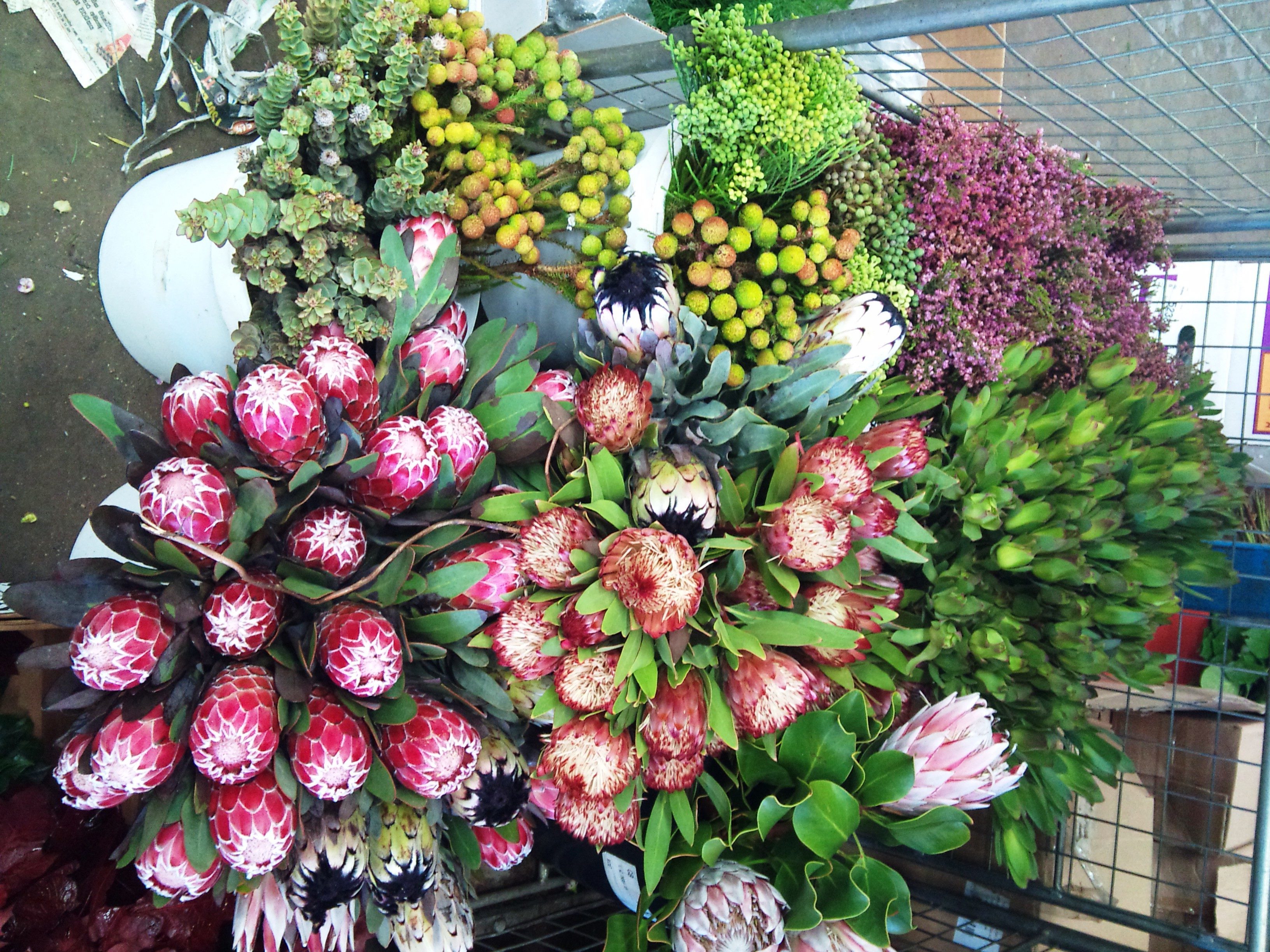 Magenta celosia and orange gerbera spark at Goodchild; rusty-red rudbeckia enhances toffee chrysanths at Bloomfield; big "Beatrix" asclepias brings candy colour to SR Allen; even L Mills heucheras join the colour party.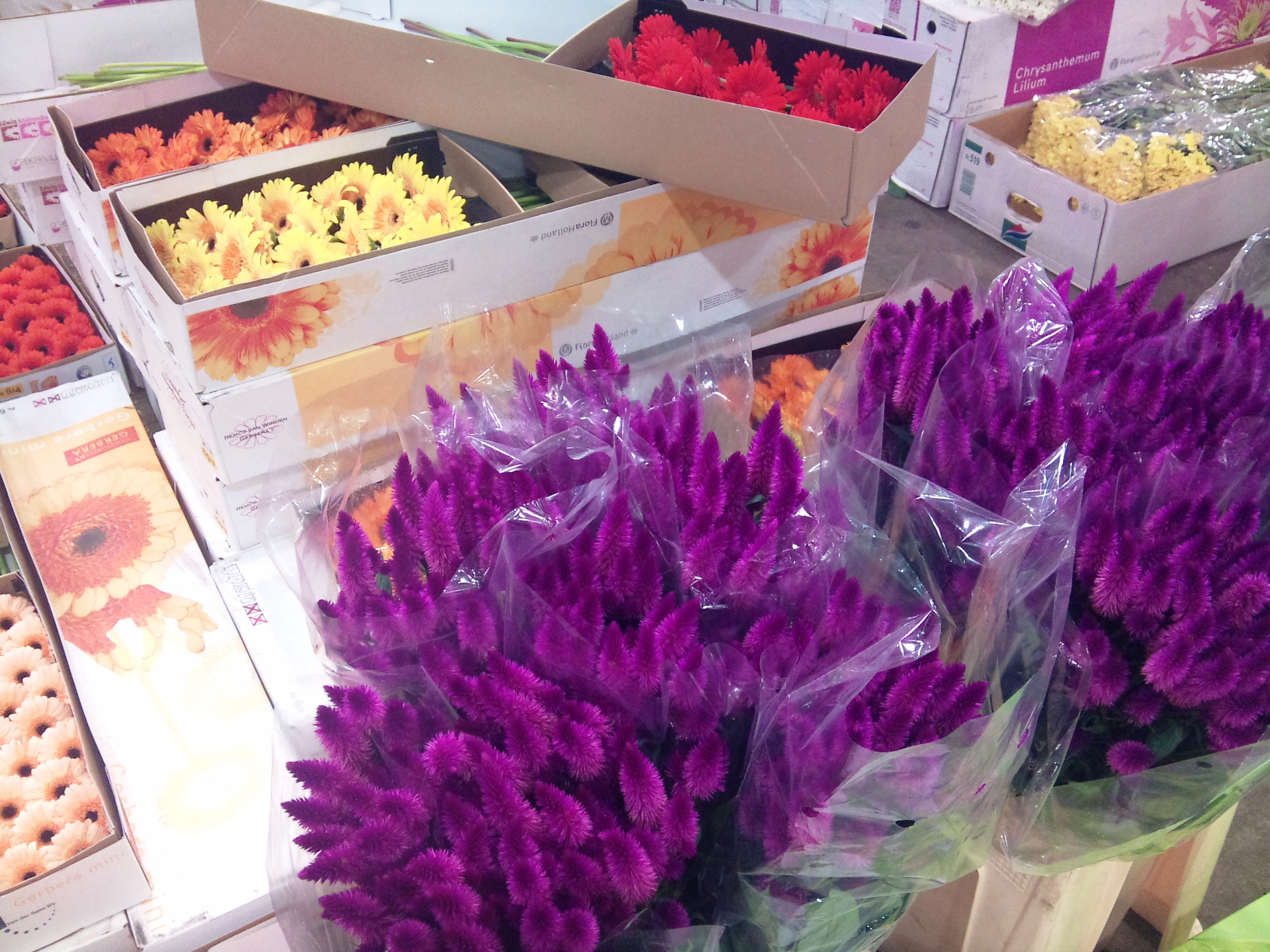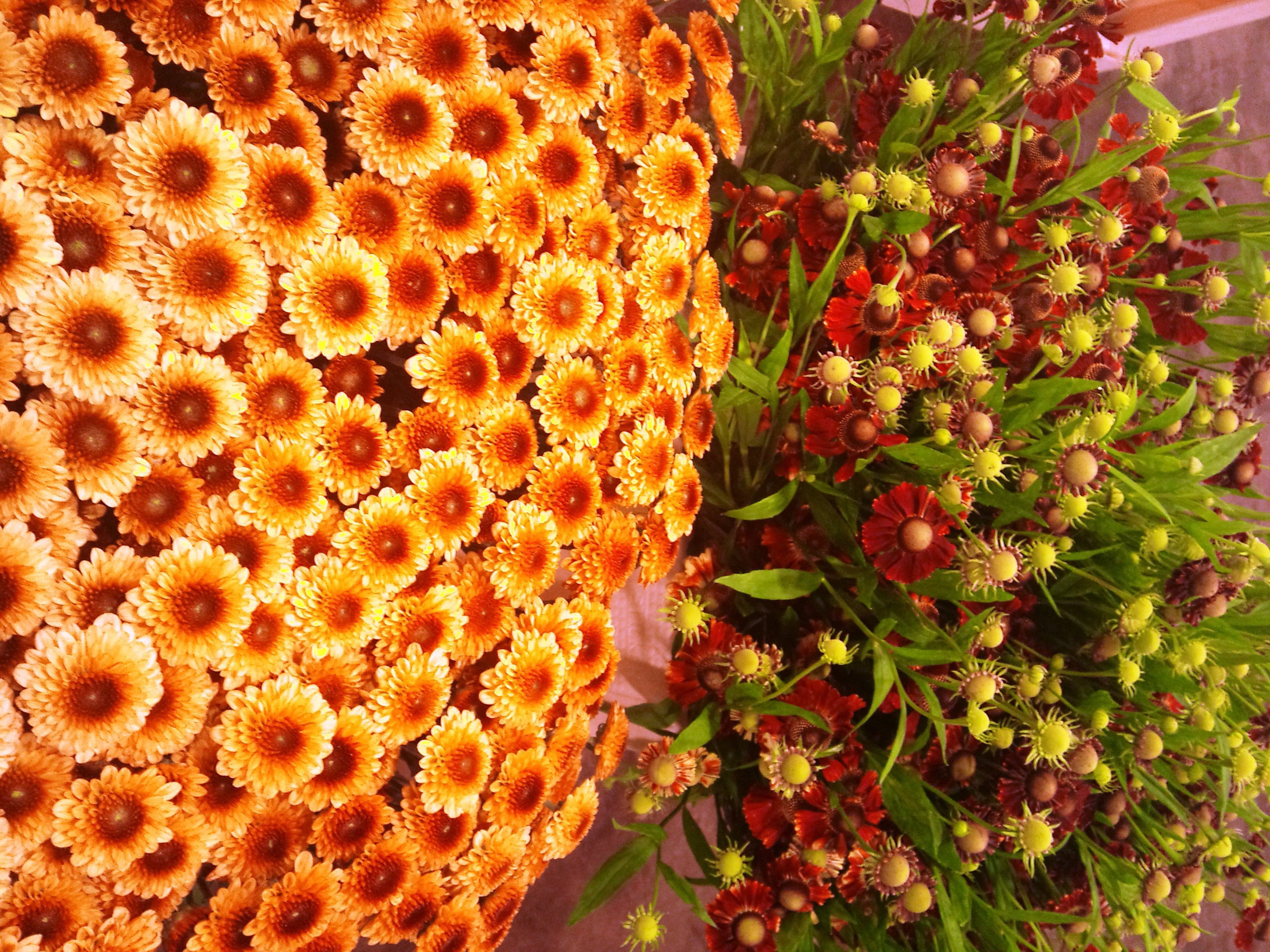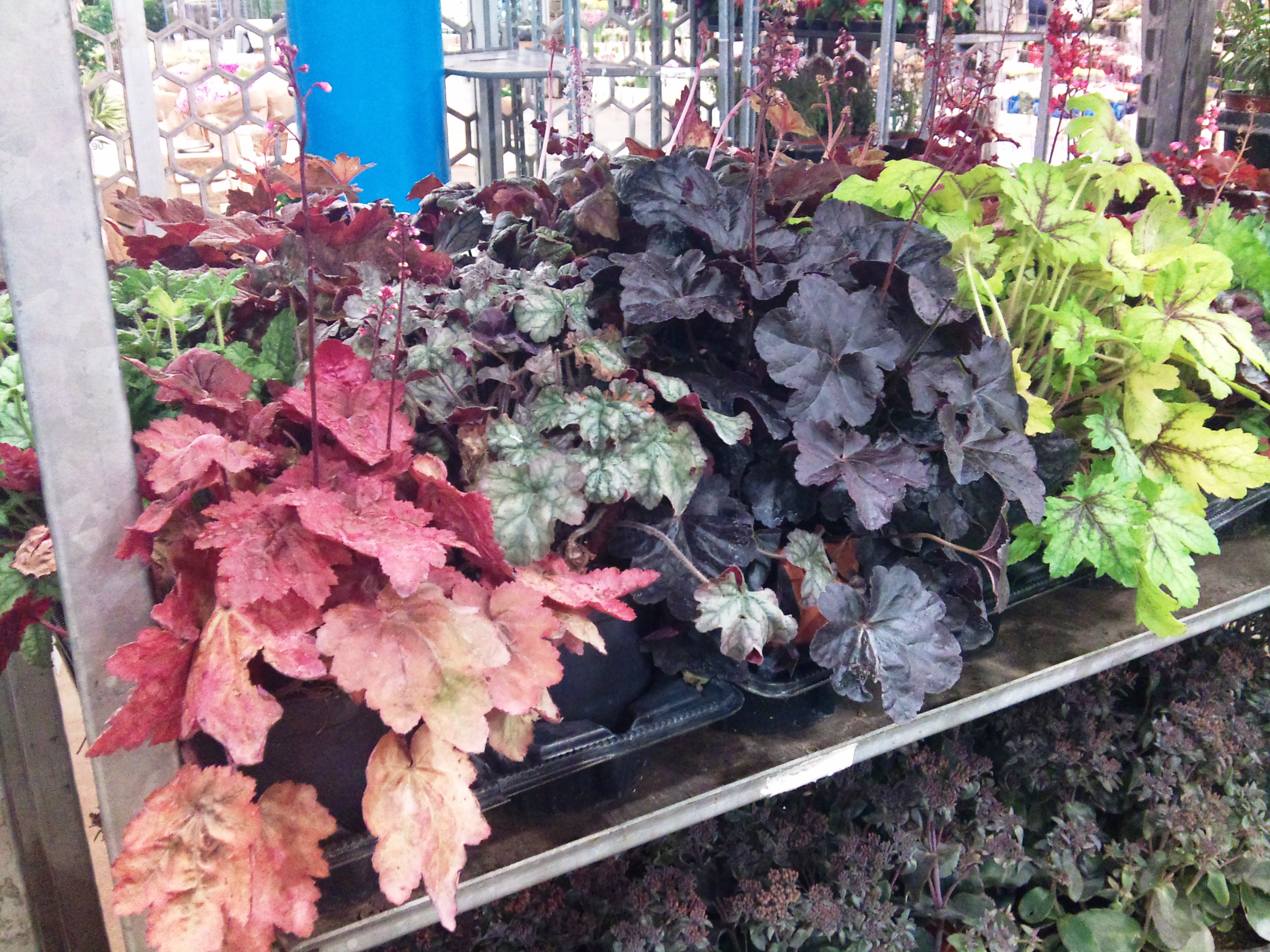 Here's ribbons at Something Special; giant planters at Evergreen; and racks of vases at Best. And on the sundries topic, props to Whittingtons who in the space of three weeks have sprung fully-formed from a secluded nook, hard to find unless you knew where to look (ooh, a mini poem!),  to a big corner site. Love the new fascia, guys.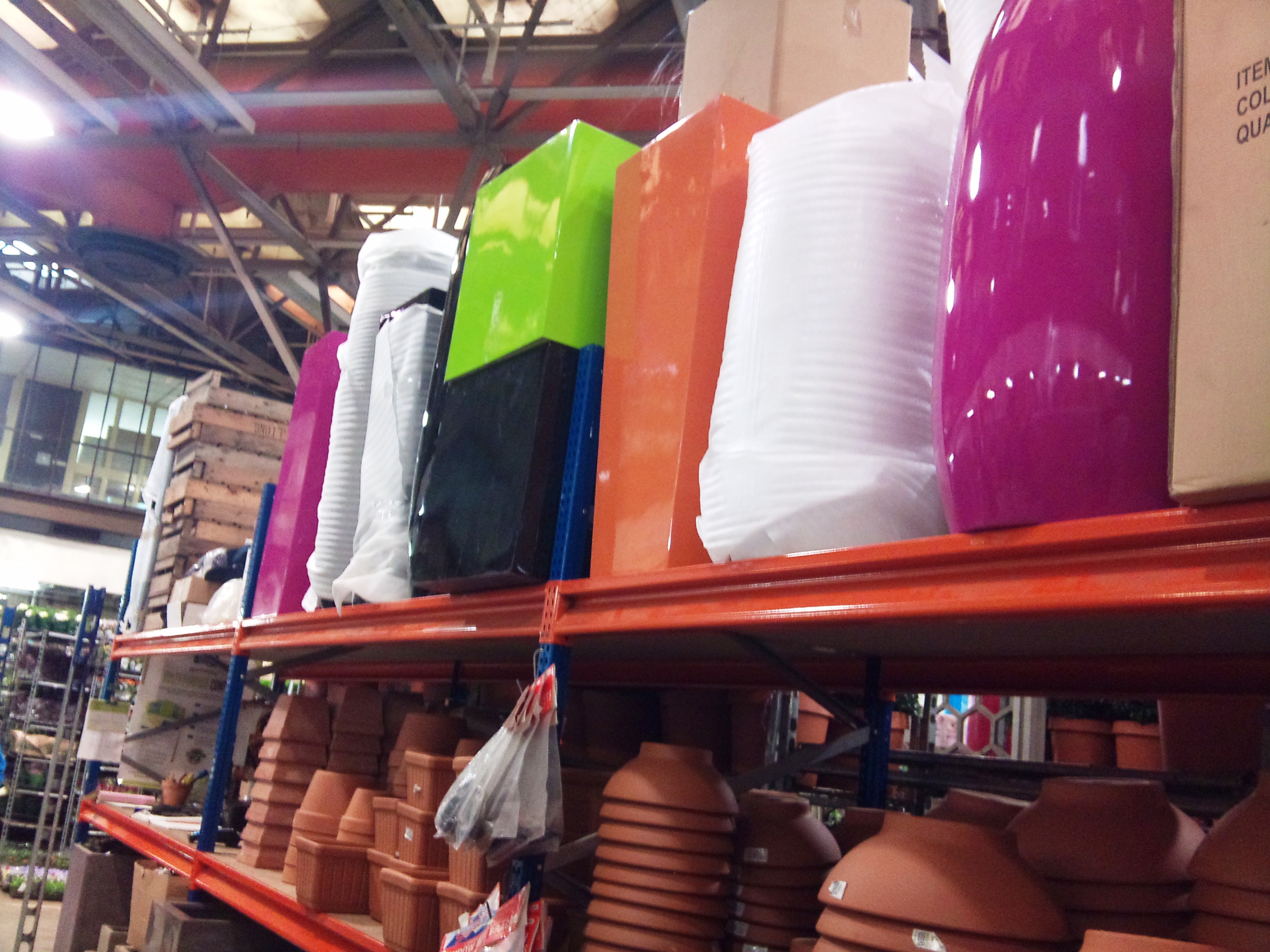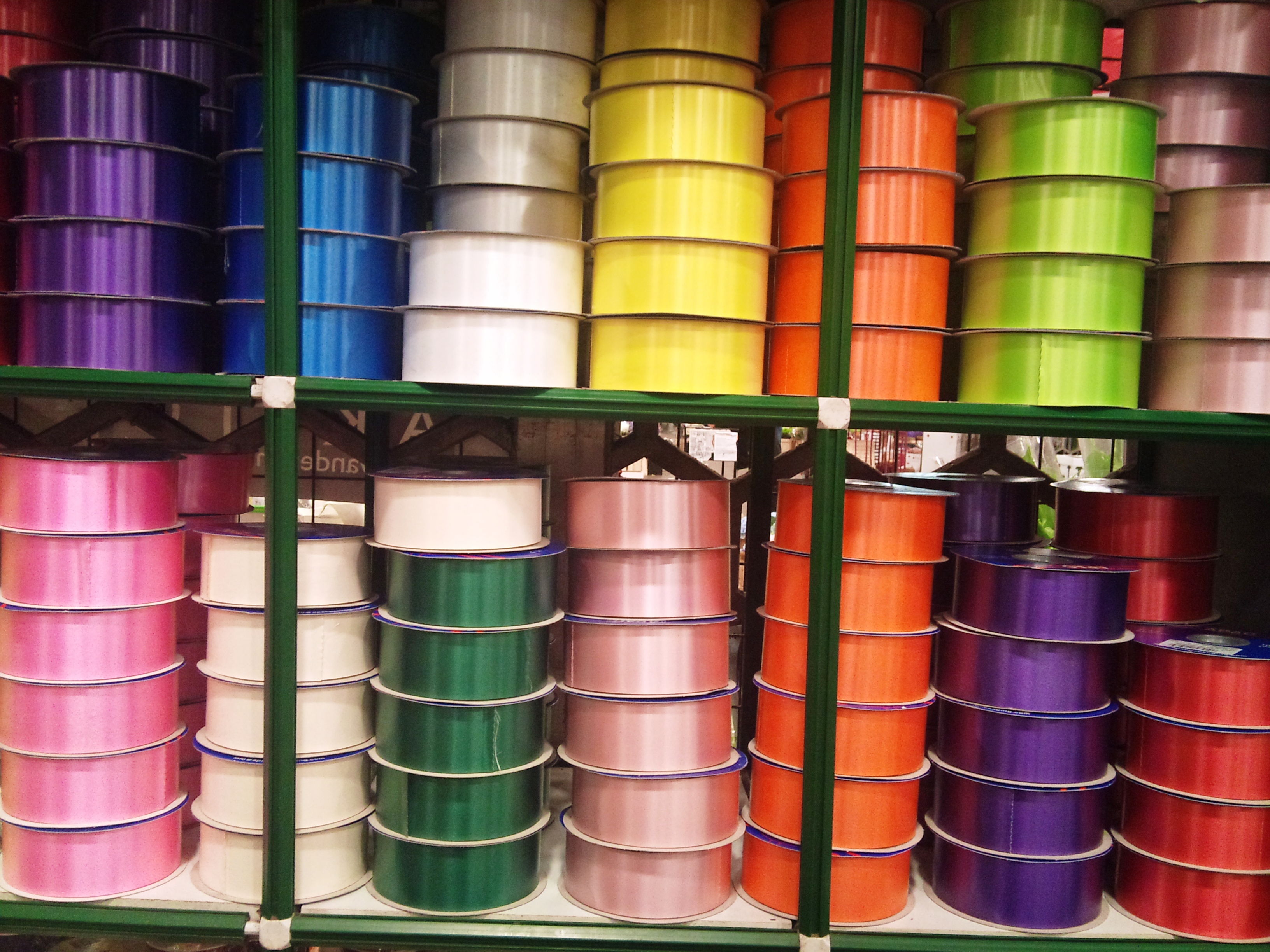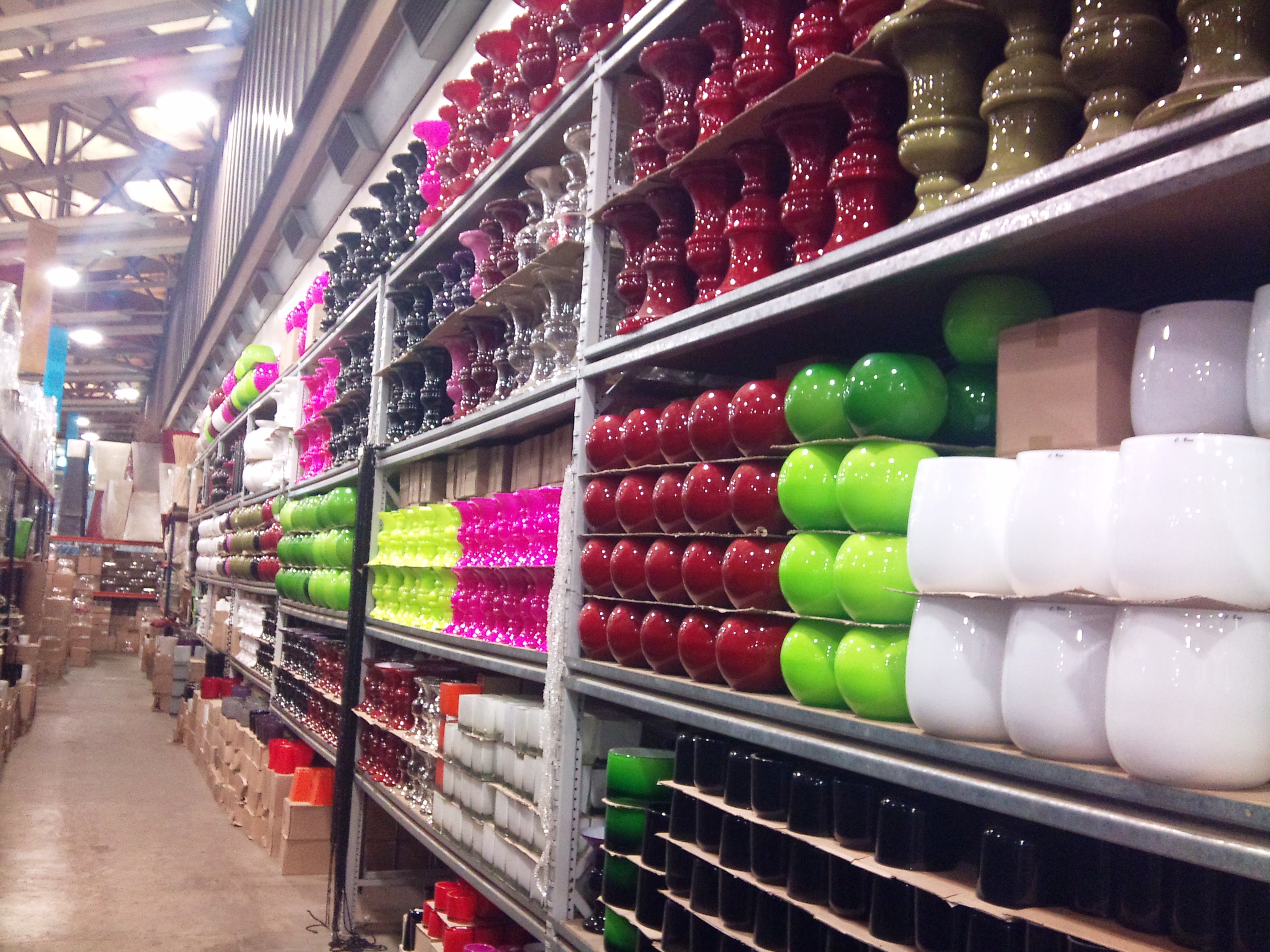 Trend Alert 1 : Colour Matching. I notice several wholesalers are coordinating – or rather daringly, clashing – flower colour with the colour of pitch poles. (Note to newbies : the market is quartered into zones – pink, yellow, orange and turquoise.) Evidence? DG Flowers' celosia and (impressively luxuriant) setaria; Arnott's glossy anthuriums; Waitson's super-bobbly love-lies-bleeding .  It's no accident…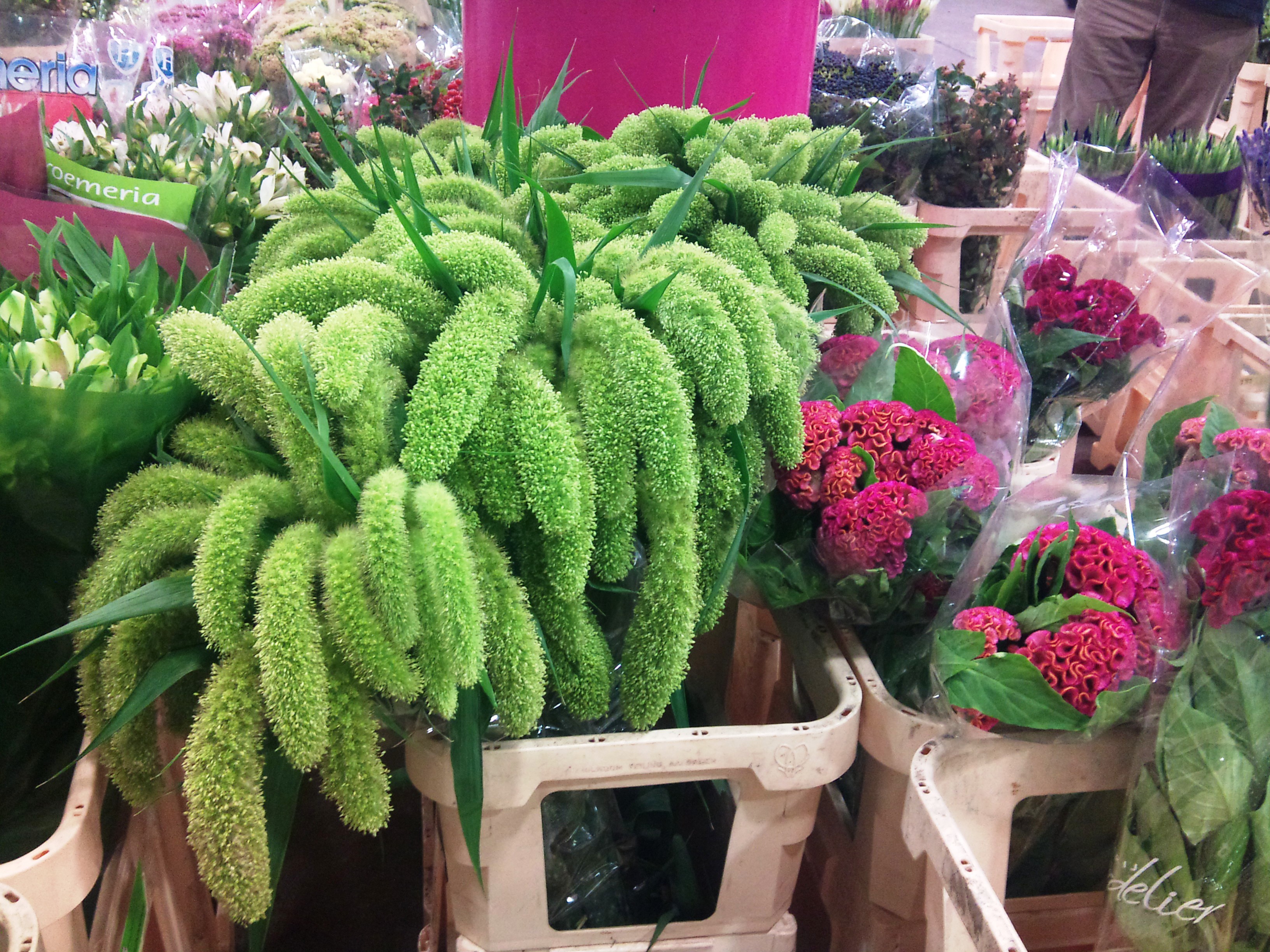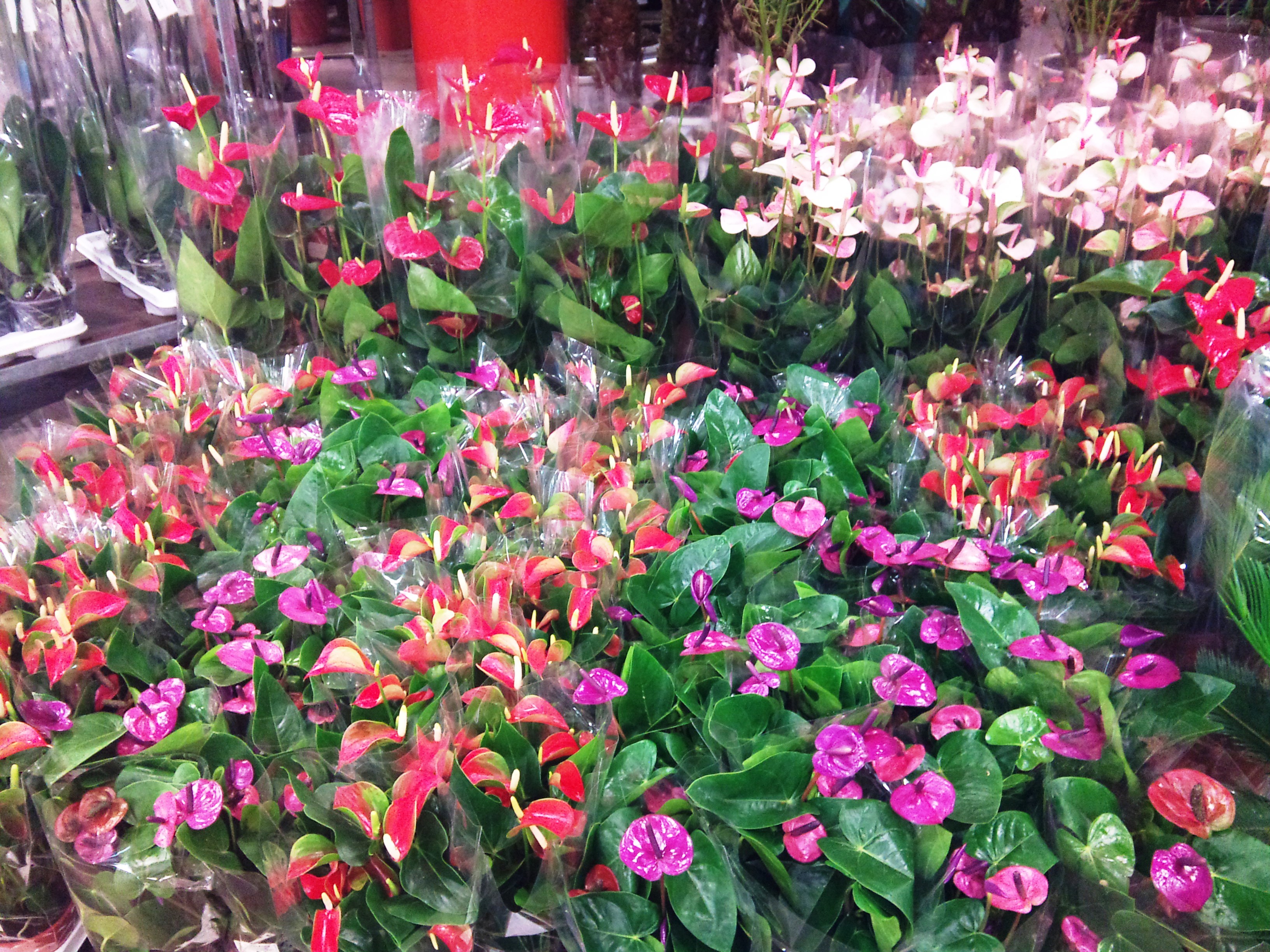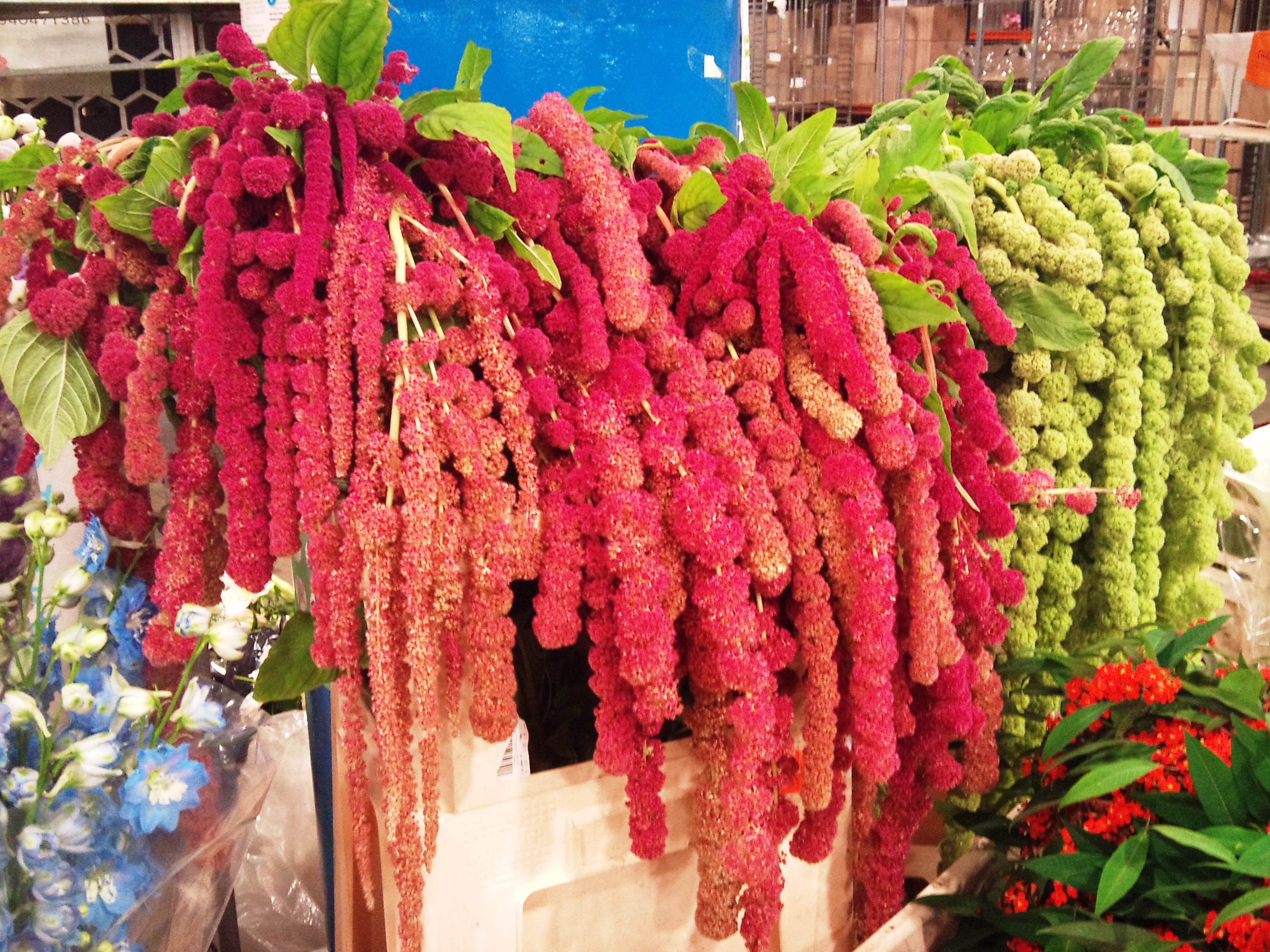 Trend Alert 2 : Purple. Andy at Alagar mentions some interesting inside info regarding wedding flowers. The new hip colour for fashionable brides is "Cadbury purple", he says. (Other chocolate brands are available. I like Valrhona, myself.) Time was, all nuptials were a froth of white and green; you couldn't force a bride to look at anything more colourful than a "Vandela" rose( #royalwedding). So what's with the sudden passion for purple? Have I missed a Take a Closer Break, ok? scoop?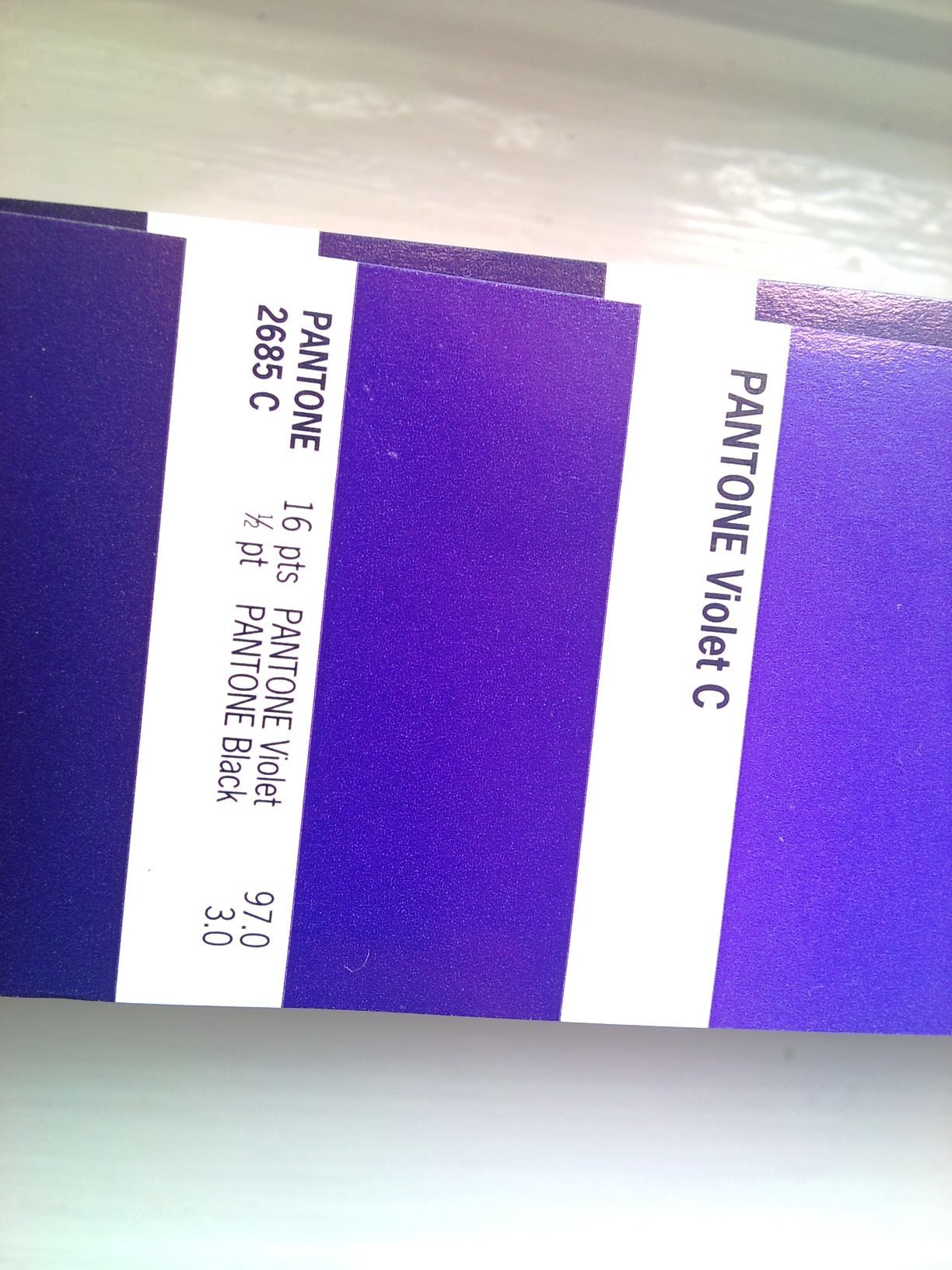 Wandering round to Porters, this rumour is confirmed when Barry leads me up a dark passageway to the back of his store, where several trolleys are secreted under wraps. He peels aside a corner to reveal ecclesiastical purple grevillea, fruiting olive, and steel-grey eucalyptus. He whispers the name of the "extremely wealthy and famous" client whose event these are destined for – but I'm sworn to secrecy…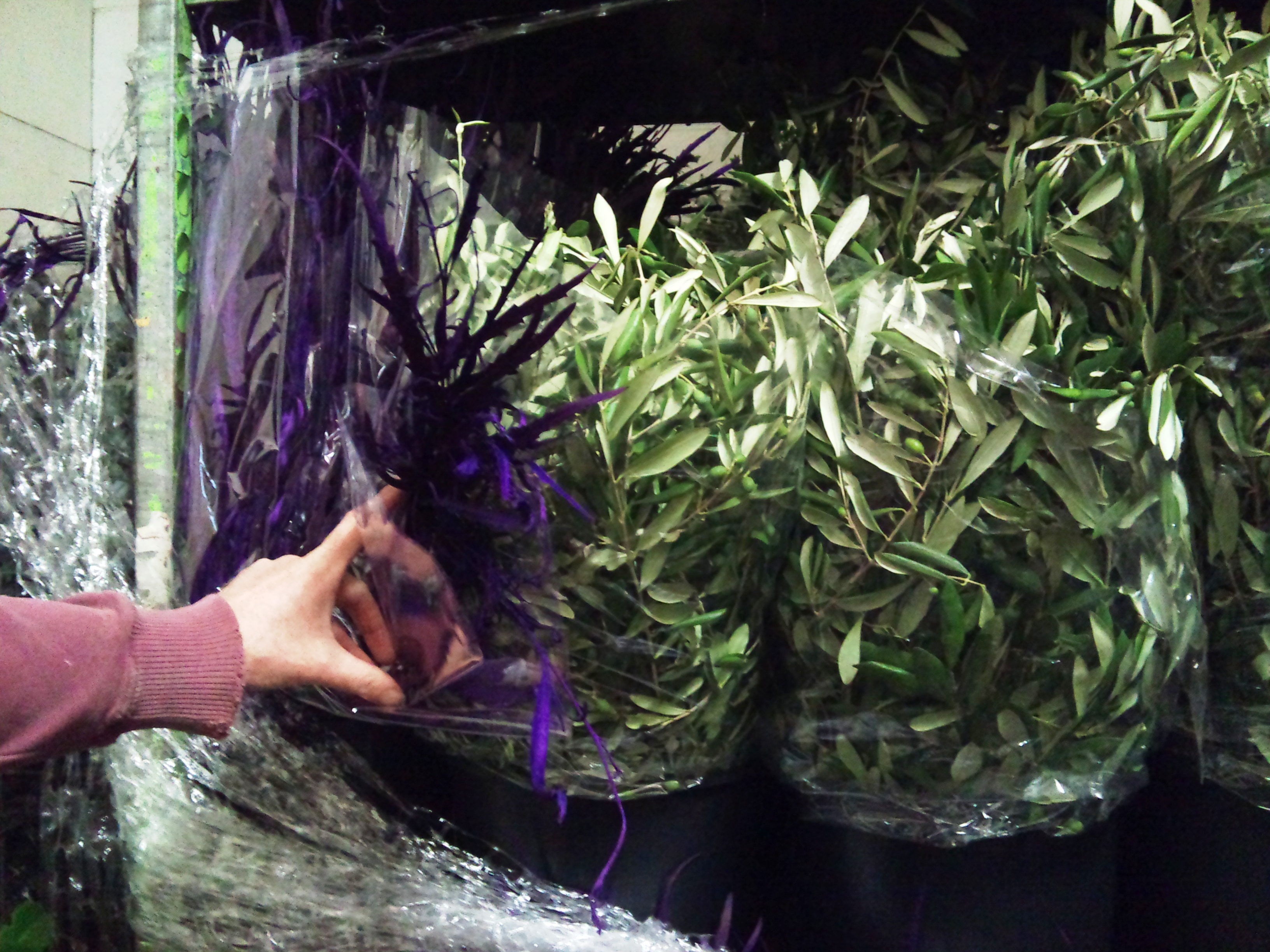 If you want to surf the purple wave, artichokes – flowering or fruiting – at Alagar and Bloomfield will do the job magnificently; though Andy tells me brides prefer Vanda orchids, "Ocean Song" rose and lisianthus for their special day. Lighter to carry, I expect.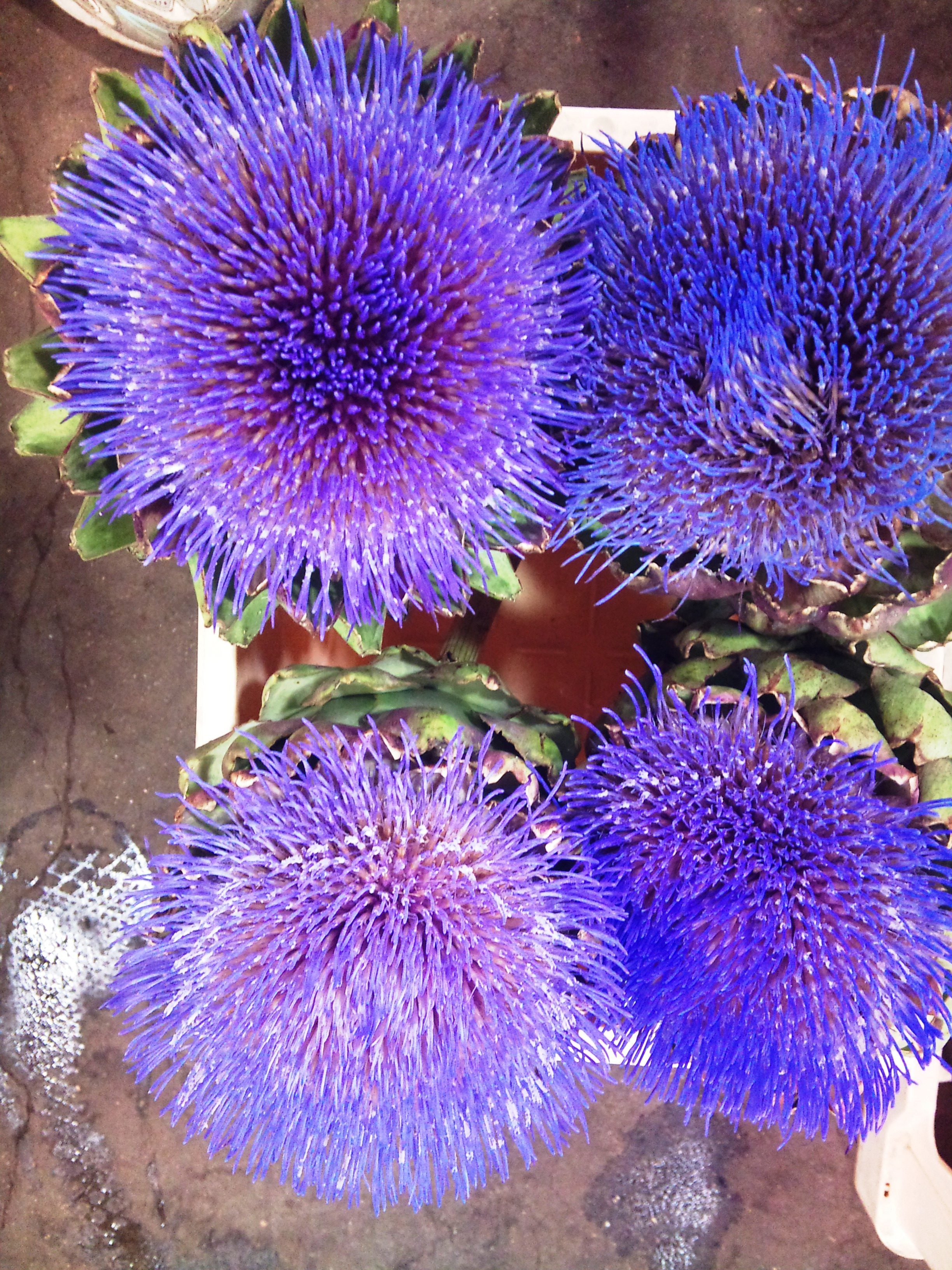 Meanwhile, autumn treats are emerging shyly like deer in a woodland glade. Fat rosehips at Alagar. Fat aubergines at Porters. (Yes – not chilli, pumpkin or tomato. Ooh, I'm peckish now.) Plenty of chilli, branches and pots. Hen and chickens poppyheads. Lavatera seedheads at SR Allen. Crocosmia pods at John Austin. Don't relax into that easy autumn vibe, though. Christmas is only 16 weeks away...