Season of mists and mellow fruitfulness…said John Keats of autumn; and it's certainly pretty fruitful and mellow down in Vauxhall right now.
First up, squash! Well, in this month of Hallowe'en, did you think I would pass up the opportunity to feature a pumpkin or two; especially this gorgeous melange from Porters? Whether you decorate with them, make a soup with them, or paint them in a still life, they'll give you a warm glow straight from the South of France.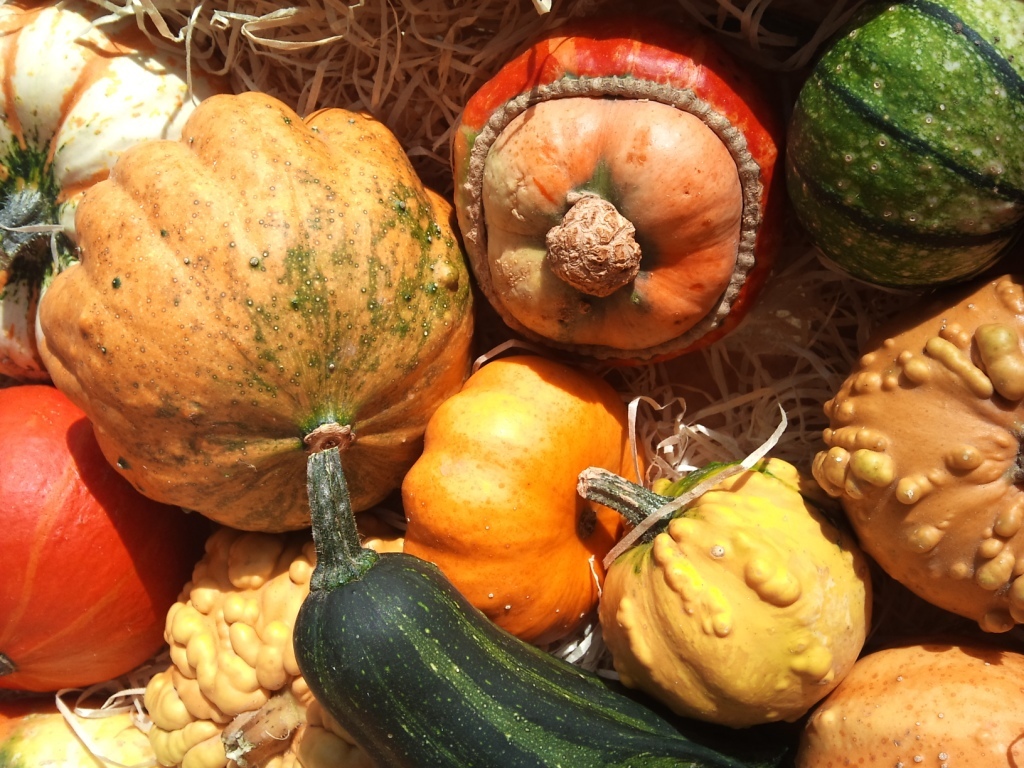 While you're glowing, check out the flaming vermilion celosia at Deanos; brilliant bobbing physalis lanterns, readily available all over the market;  four-foot scarlet dahlias at John Austin, very impressive; DG Flowers' leucospermum, blazing like embers; exotic leopard-spotted orchids at Alagar; and tiger-striped rudbeckia in deep burnt orange, at SR Allen. Toasty!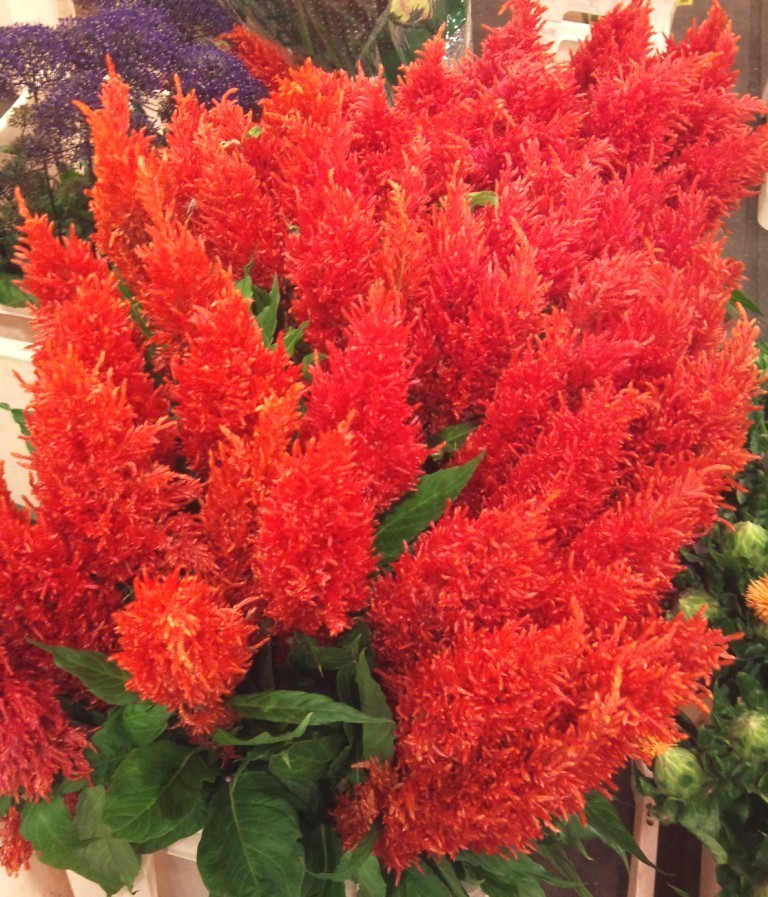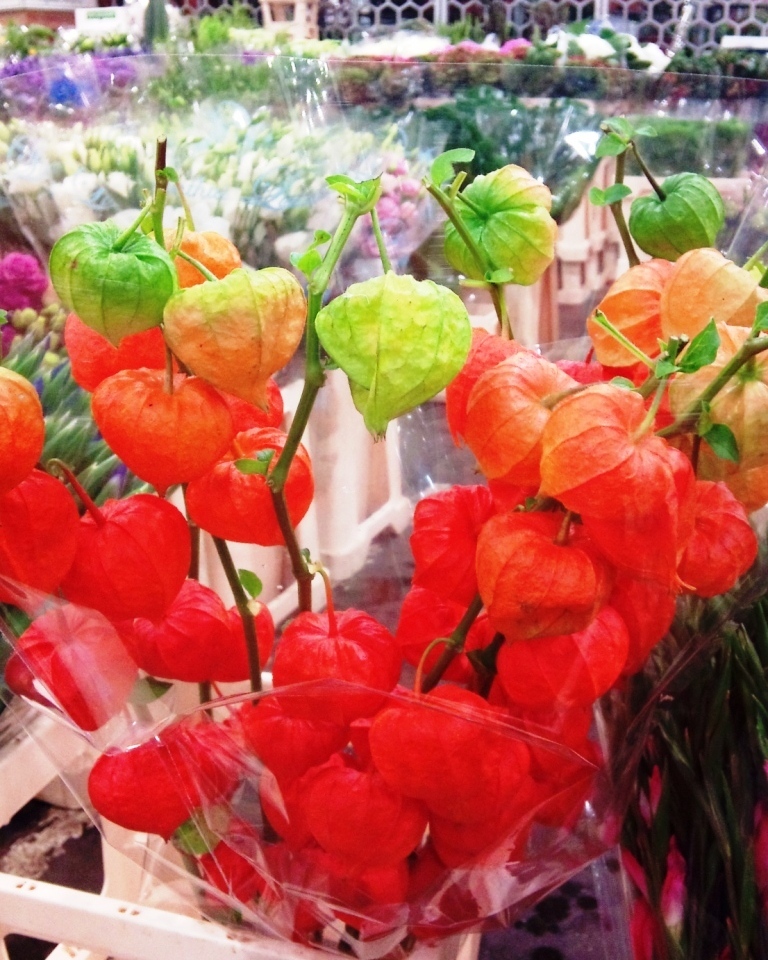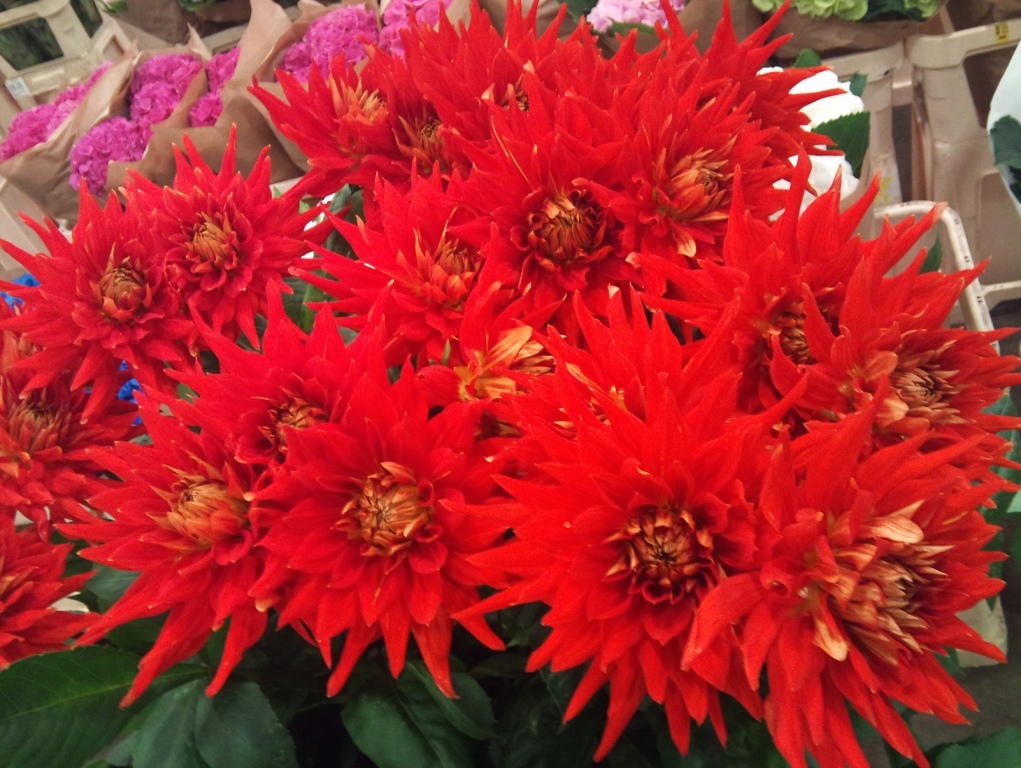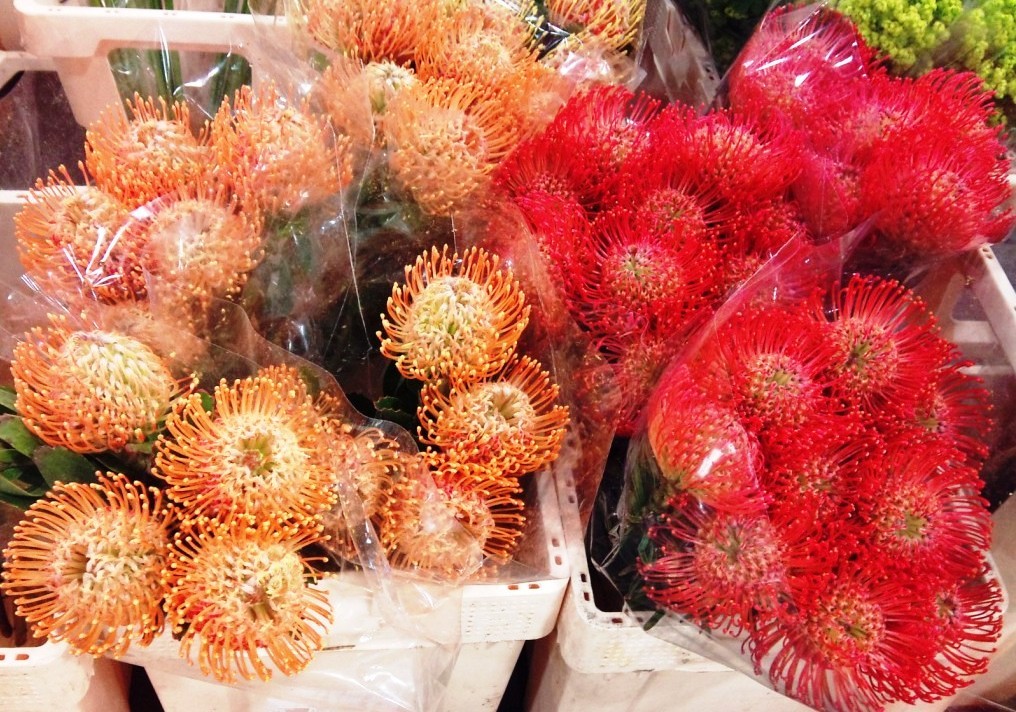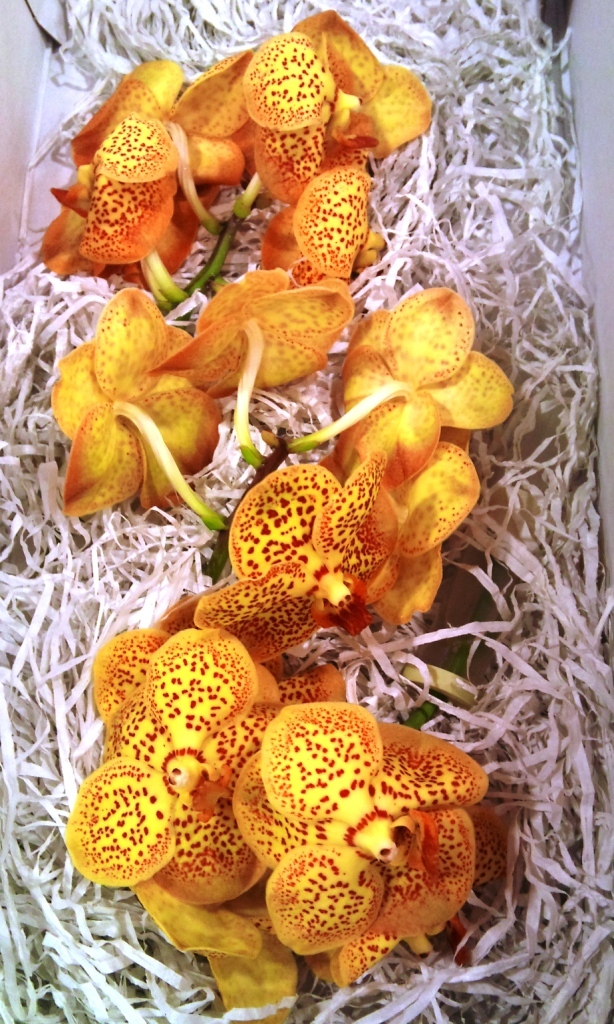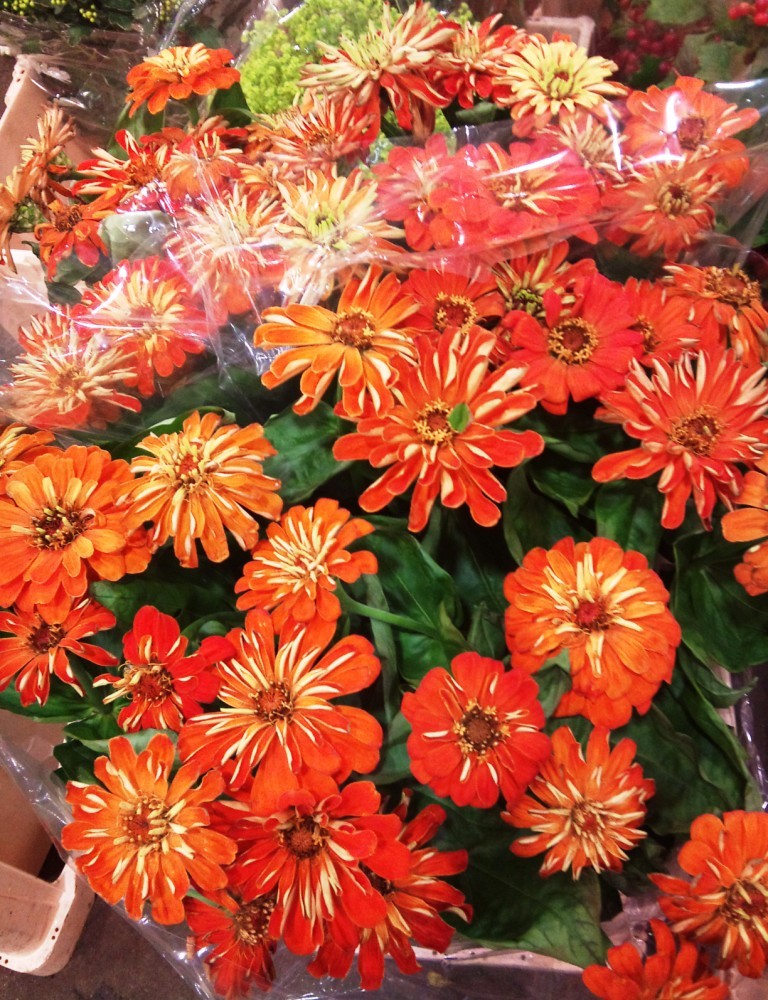 Also at SR Allen, this fiery and intriguing mix of chillies, steel-blue viburnum, and other seasonal goodies; nestling next to a bucket of pinky-red crab apples, a bucket of Viburnum opulus, berries shining like pomegranate seeds, and a bucket of rosy skimmia berries. If you're in the market for something tasty; cherry tomato plants are fruiting on Quality's stand. 
Even houseplants are feeling the heat: this wonderful rubber plant at Arnott & Mason smoulders with suntanned bronze and apricot tones. Who needs flowers when there are so many riches to discover in foliage?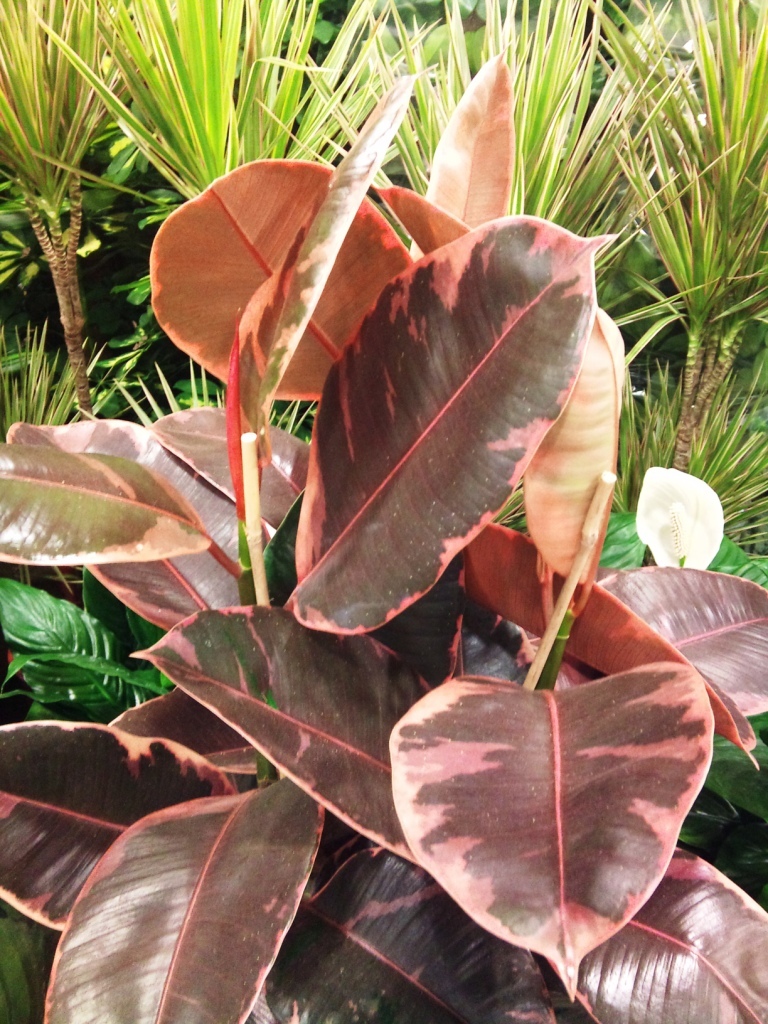 If you do need flowers, there's lots of new stuff to discover in the market this month. DG Flowers are looking forward to Christmas already, as cestrum has arrived on their stand. Just like the first cuckoo of spring, the first cestrum of autumn, just after the equinox, tells them winter is on its way. There's this unusual juicy lime-yellow colour, new to DG.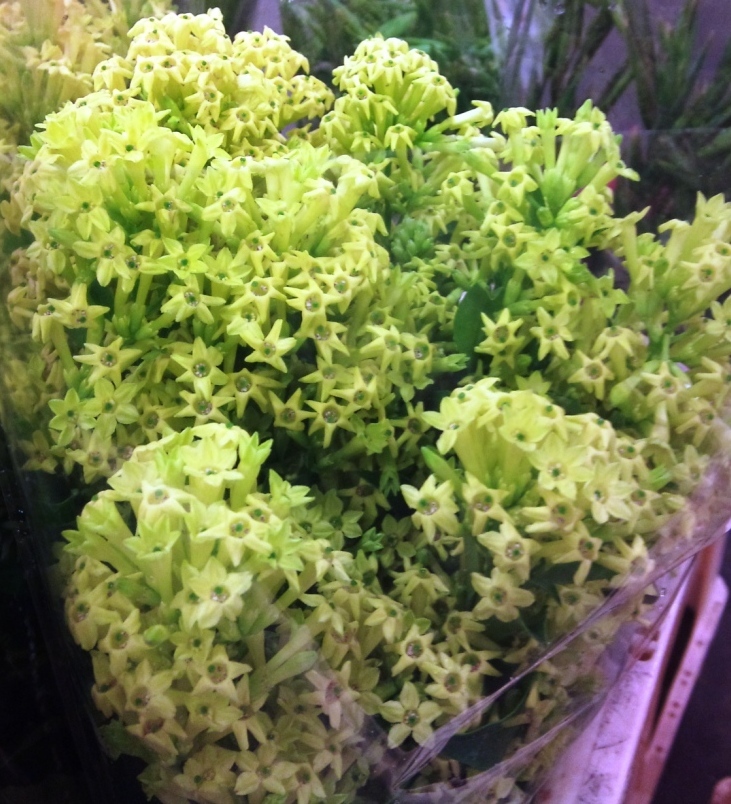 It would look rather groovy with this spider chrysanth from SR Allen, "Saffira"; large flowerheads in an unusual combo of lime green, flesh pink and hi-viz yellow. Echo their spideryness with bronzed, fluffy miscanthus grass, at GB Foliage. British-grown, over six foot tall, it's a real seasonal showstopper. And speaking of unusual colours, something that would blend beautifully with the miscanthus is this vintage-shaded, pinky-brown gladioli on Goodchild's stand , appropriately called "Antiqua".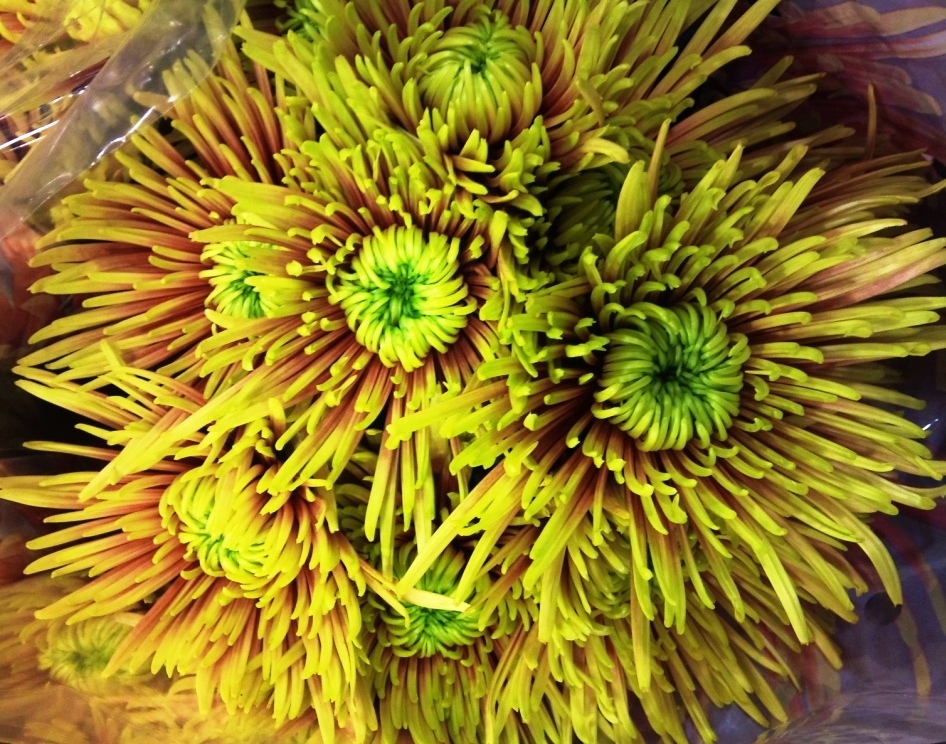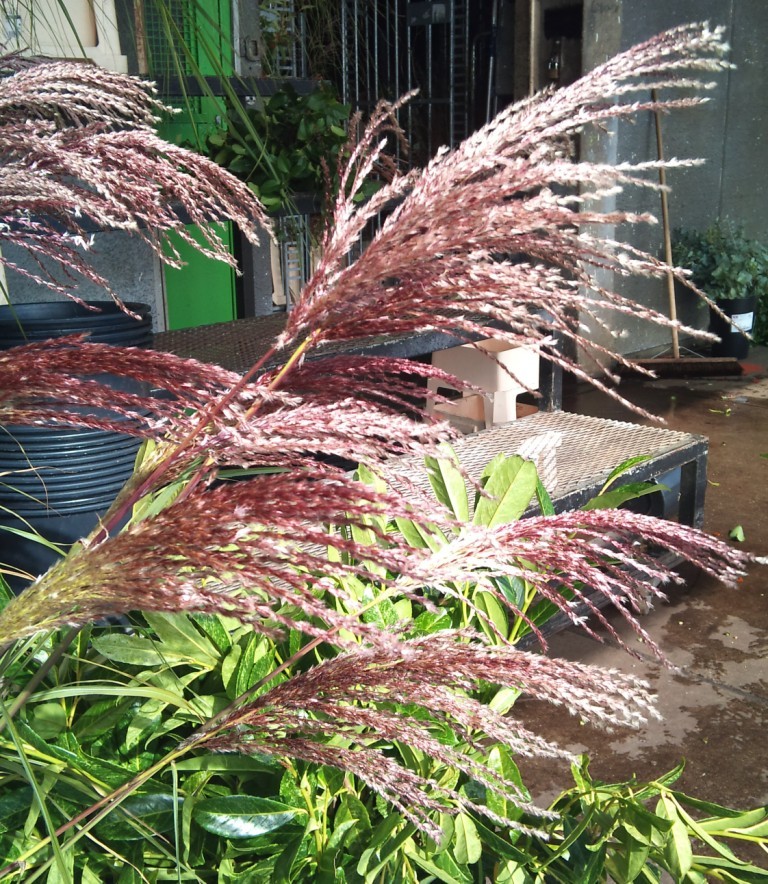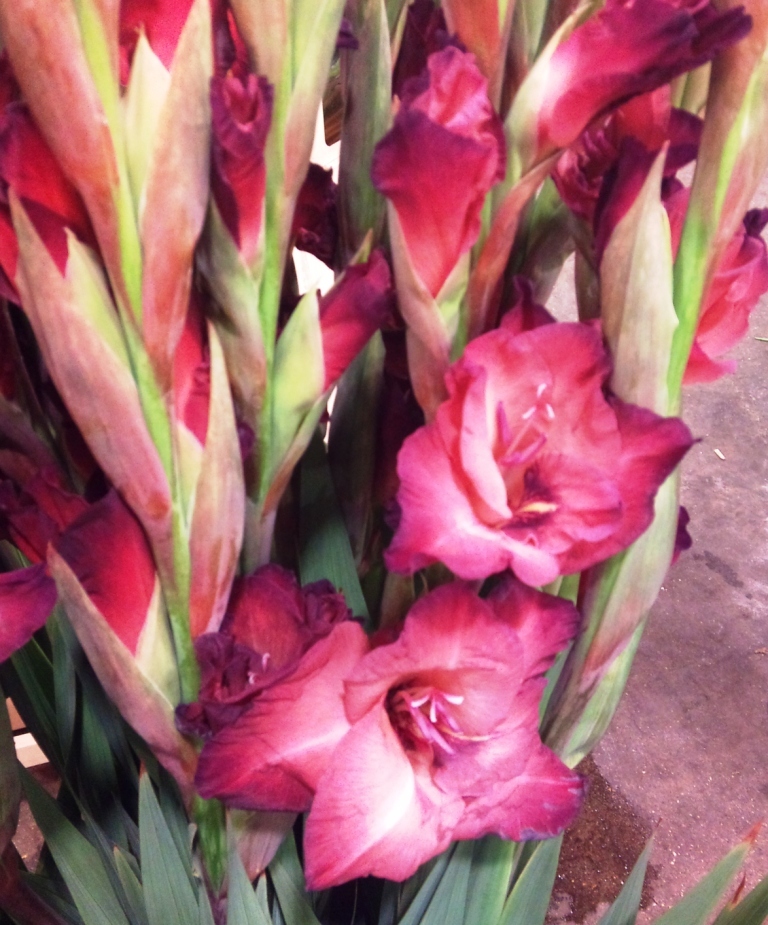 If you're looking for anthuriums, then Alagar has an innovative option for you. Rather than buy a whole box, they have this new packaging for the flowers, with half a dozen flowers on water, tied in a cascade.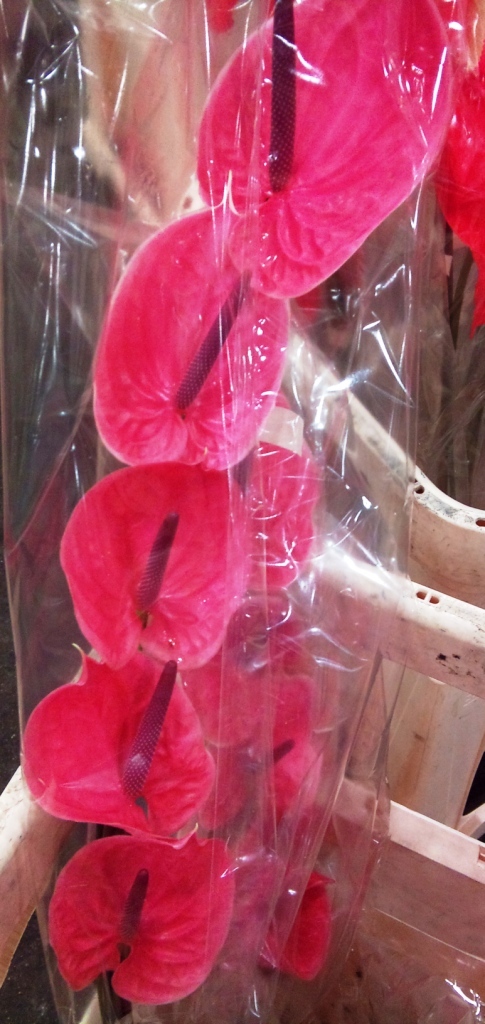 Fresh in, gomphrena from Italy, on the Alagar stand. Italy's unseasonally hot summer has tinkered with crop timings a little; gomphrena are now in season until mid-November, in shades of royal purple, lilac, and warm mauve. (Which clashes a bit with the orange-red theme of the rest of this update, but it might be perfect for your colour scheme this season!)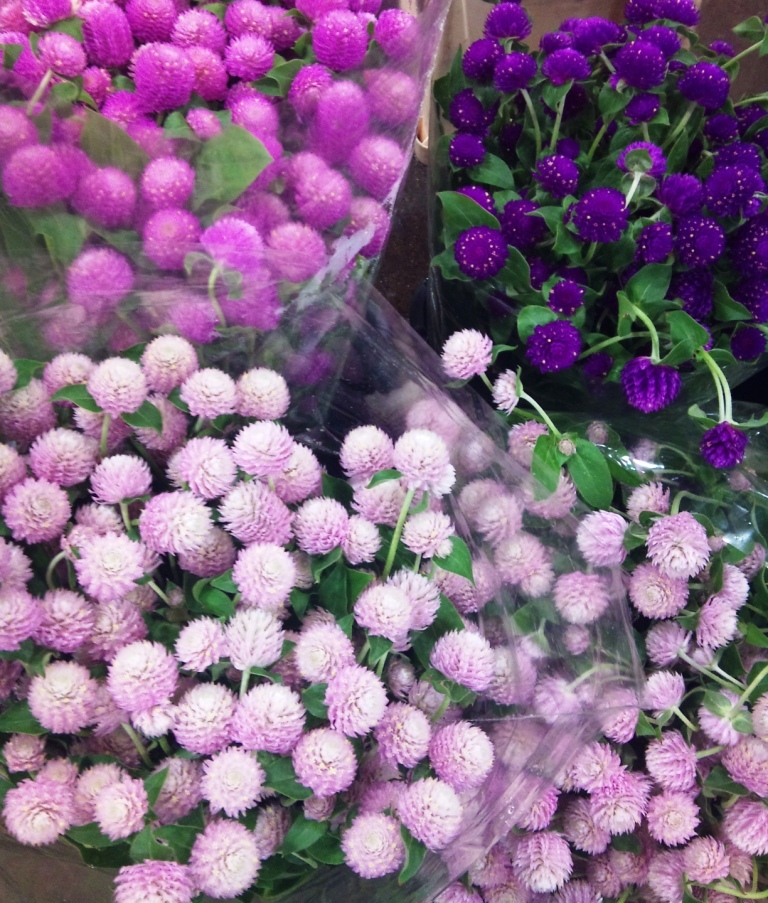 Back in the theme, this intense deep red nerine, also from Alagar. How dark and handsome is that? In its more usual classic red and pale pink, nerine's a very wintery bloom, perfect for Christmas arrangements; but this rich cinnabar shade would mix beautifully with all the berries and rosehips of autumn. Or with this new rose I spotted on Bloomfield's stand, "Nature's Peach", a subtle blend of shades in a large, shapely flowerhead. Every week a new rose variety appears in the market; it's always worth popping in to keep up with developments in breeding and growing.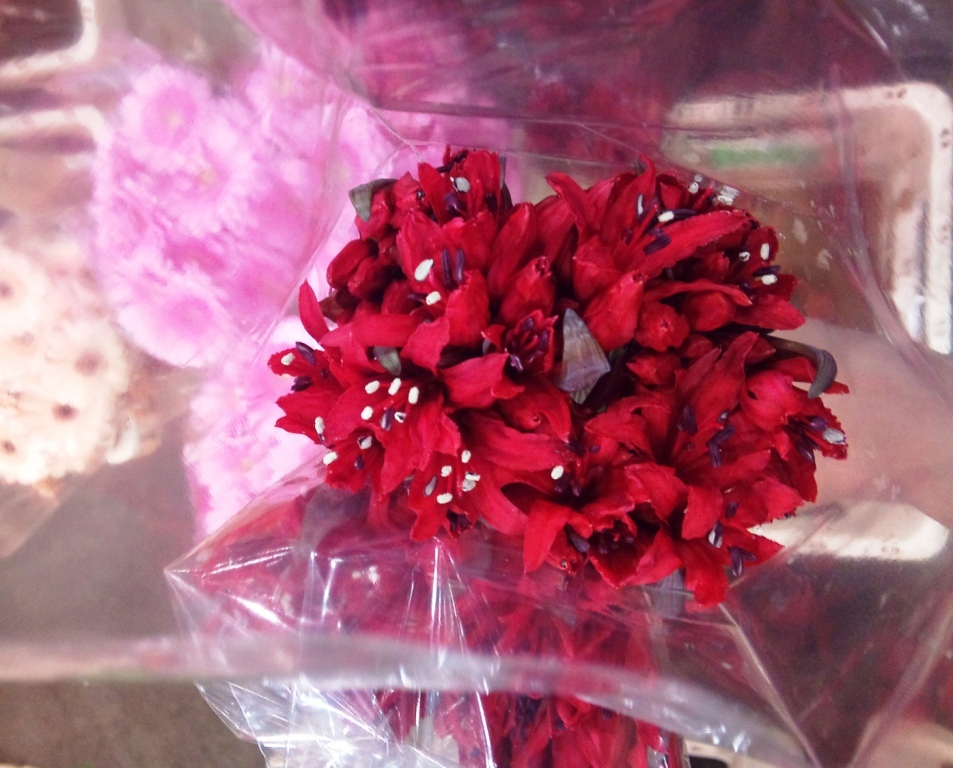 Whatever you buy from New Covent Garden this month, do explore the abundance of flowers, fruits, berries, pods, seedheads and foliages that are on offer. After all, it's not often that nature gives us such a colourful harvest to enjoy!