A subtle transition with autumn and winter overlapping into spring is taking place this month at New Covent Garden Flower Market with more anemones, tulips, ranunculus and hyacinths making an appearance.
And for some inexplicable reason, as you read through, you'll notice that there seems to be a touch of love and romance in the air…!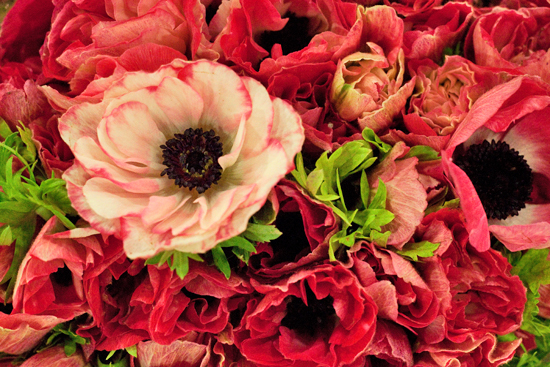 Aren't these Italian anemones just stunning? Perfect, arranged simply on their own, for a bridal bouquet at a winter wedding.
British Flowers
British flowers at the Market in November include these beautiful pale pink lisianthus (Eustoma russellianum) at Pratley.  And they have other colours available too.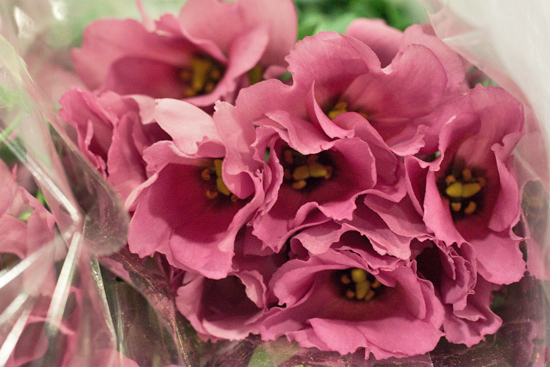 They have white Oriental lilies, as well as lots of different varieties of alstroemeria.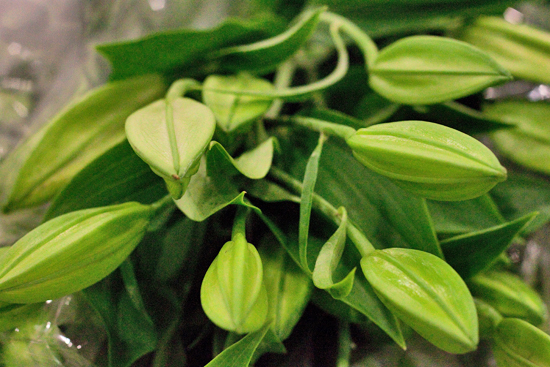 And it's so lovely to see that narcissi with their intoxicating scent have started to come in from the Scilly Isles…referred to as Sol d'Or by Pratley.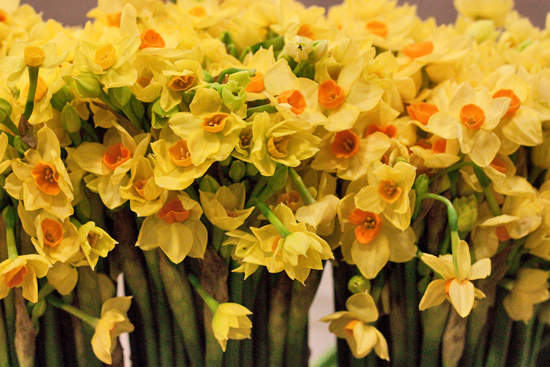 Ideal for autumnal designs is this orange Ilex at J H Hart Flowers.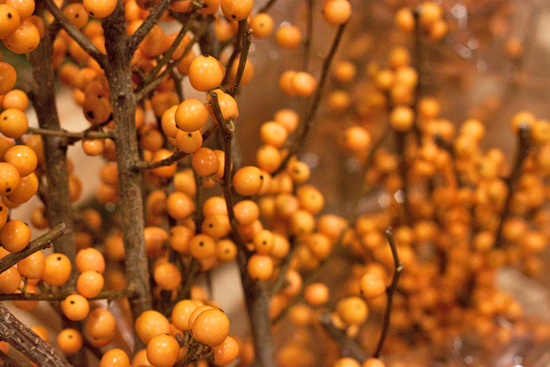 And in the same colour palette are these gorgeous 'Orange Princess' tulips and 'Clementine' freesias (which smelt divine!) at Alagar. Andy said that they also have great quality Italian and Dutch anemones and ranunculus at the moment.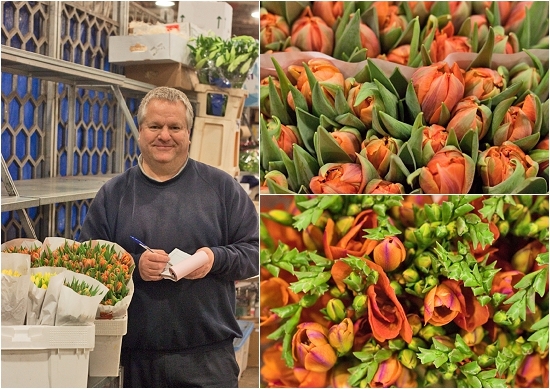 With Bonfire Night on November 5th, aren't these 'Fire Flash' spray roses at D G Wholesale Flowers striking? They really stopped me in my tracks! I adore their bi-coloured petals…red with a yellow fleck, making them look fire-like, hence their name.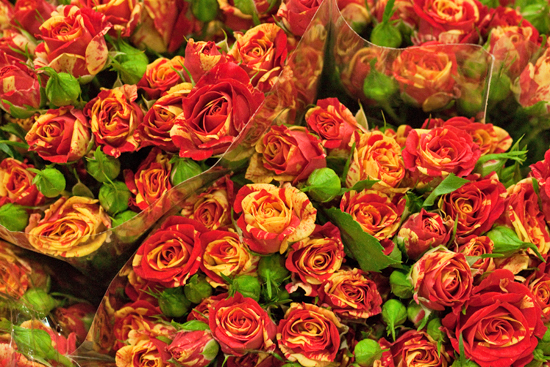 Staying with roses, Bloomfield has a wonderful selection of Ecuadorianroses.   This red one below is called 'Hearts', sometimes also called 'Lovely Hearts'.  And it's proving to be very popular with customers.  With such incredible petals, I can certainly see why…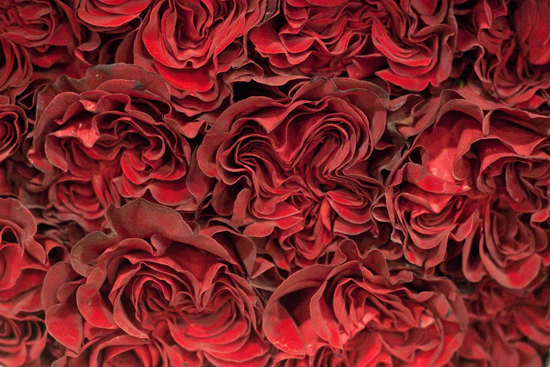 And how about these Ecuadorianroses called 'Art Deco' with their delightful ombre pink petals?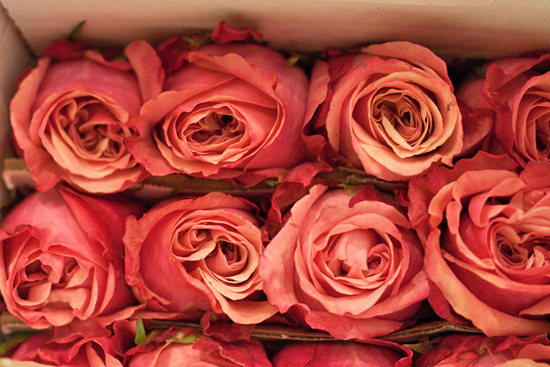 They also have these fabulous vintage-looking roses called 'Cappuccino'.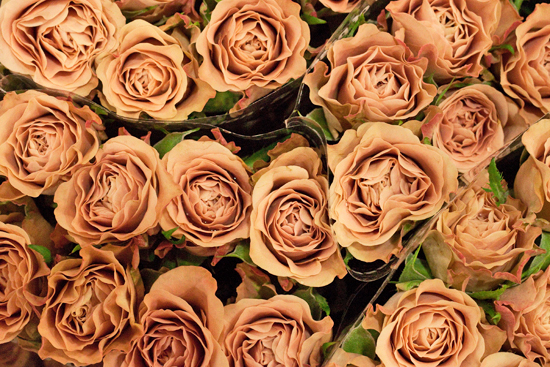 Plant-wise, Evergreen Exterior Services have these dainty Kalanchoe blossfeldiana Mini 'Latin Lover'.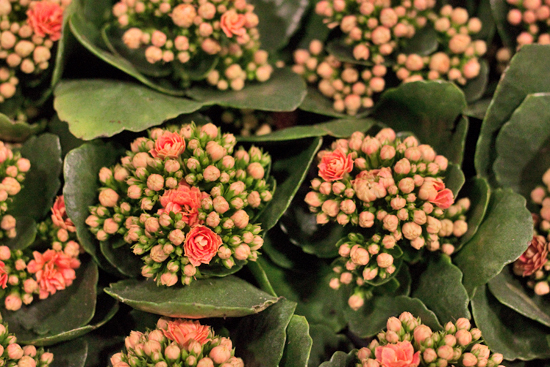 And for something completely different cut flower-wise, have you ever seen these Hedychium gardnerianum before? Available at J H Hart Flowers...just the ticket for a tropical floral design!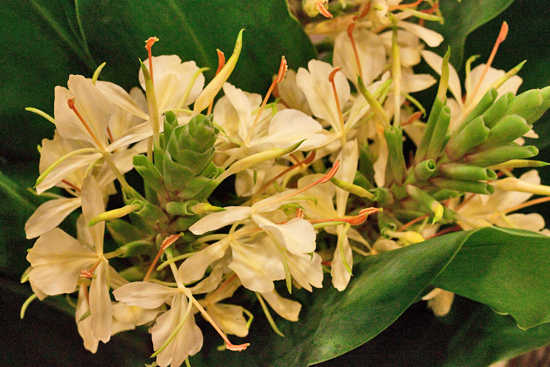 Foliage-wise, choisya is available on Foliage Row…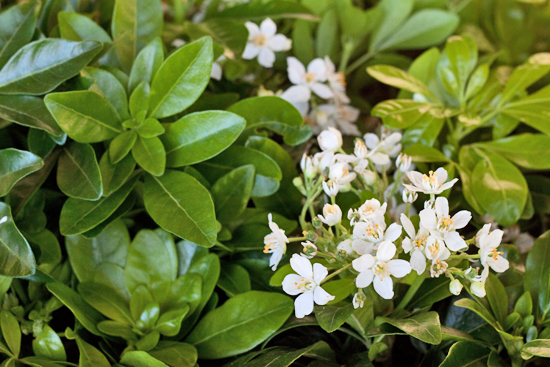 Together with Viburnum laurustinus…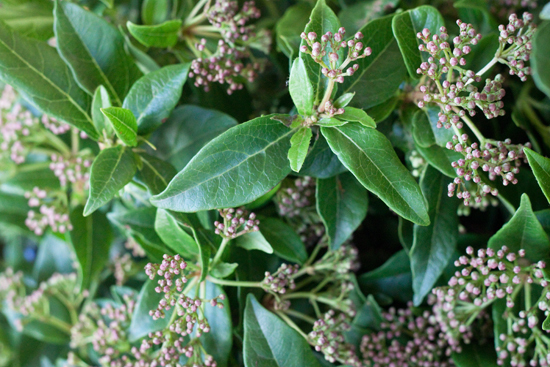 Magnolia bud in different heights is now available at GB Foliage.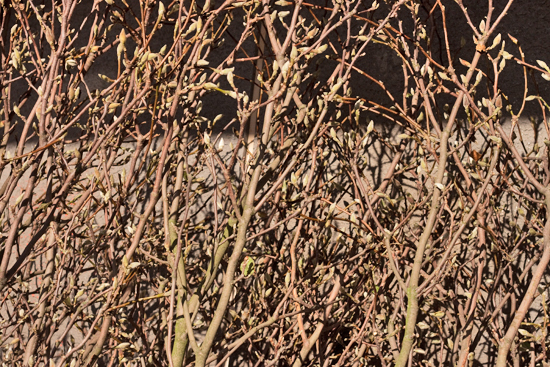 …as is Cotoneaster, with its scarlet red berries.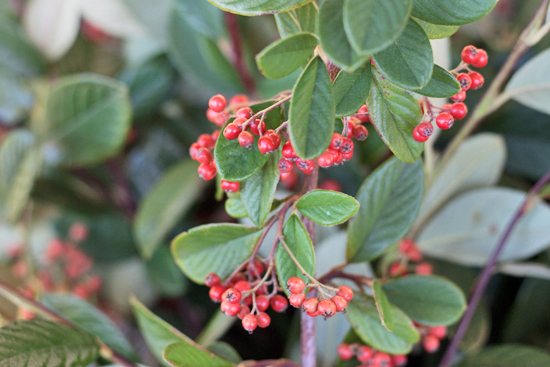 Over at Porters Foliage, they have this very pretty Spindleberry.
Plus red and green dogwood...ideal for lining clear glass cube vases.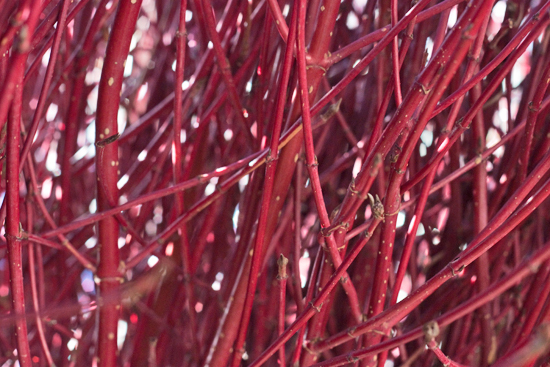 There's lots of Red Robin (Photinia) too, perfect for autumn arrangements…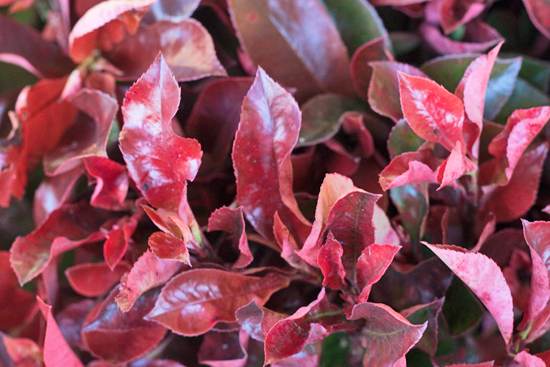 Moving back inside, I spotted these shiny red peppers.  And there are also orange ones available.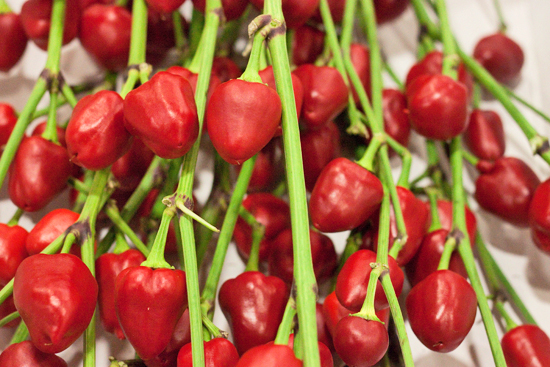 Several traders have Hibiscus trionum.  Did you know that its common name is Rose of China?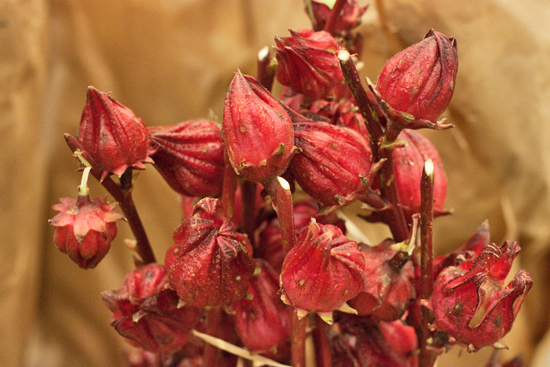 Spot on for pedestal arrangements is this Amaranthus caudatus 'Cycloop' Red, with the wonderful common name, Love-lies-bleeding.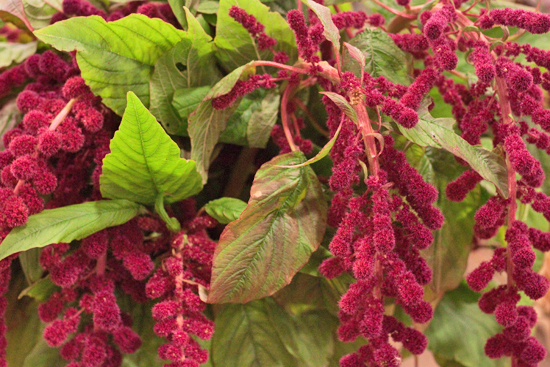 It's great to see so many pink blooms at the Market in November.  There's a plentiful supply of nerines (Guernsey lily) in dark pink and soft pink.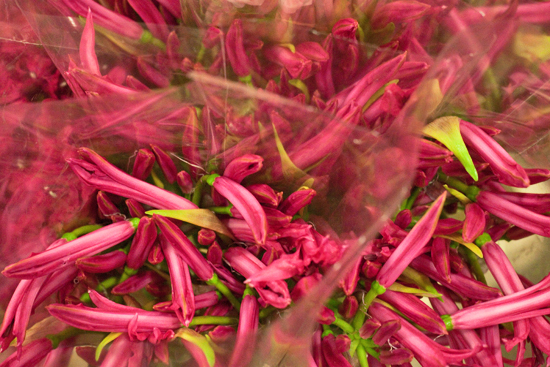 Zest Flowers have a wide range of calla lilies (Zantedeschia).  And isn't this 'Captain Romance' variety beautiful?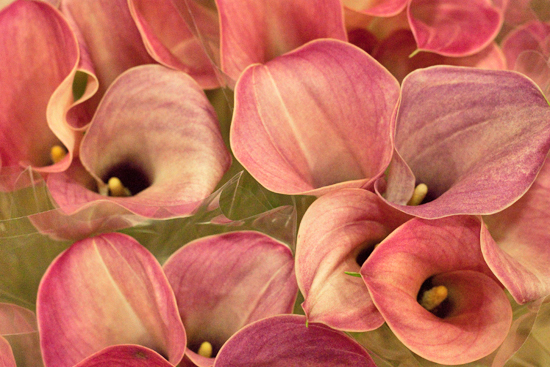 DG Wholesale Flowers have a fantastic selection of cabbages (Brassica) including this very pretty dyed red variety, a white one called White Crane and one with frilly leaves called Katya Milka.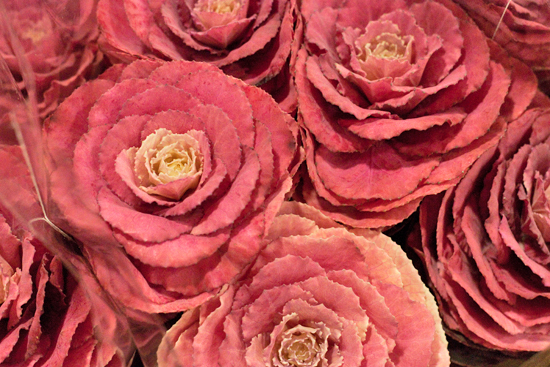 I've never seen this cerise pink berried plant before.  Edwin at Dennis Edwards Flowers informed me that it's called Perttya.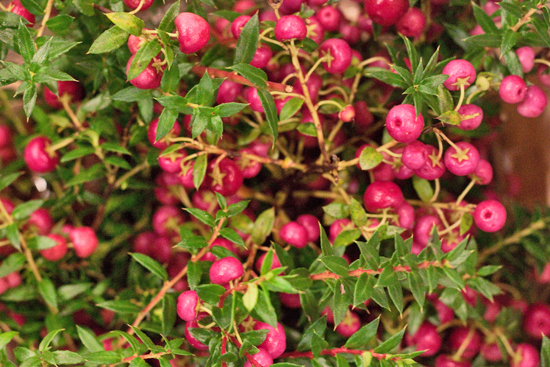 Evergreen Exterior Services have heather (Erica gracilis)…ideal for cutting and using to decorate the outside of welbeck bowls.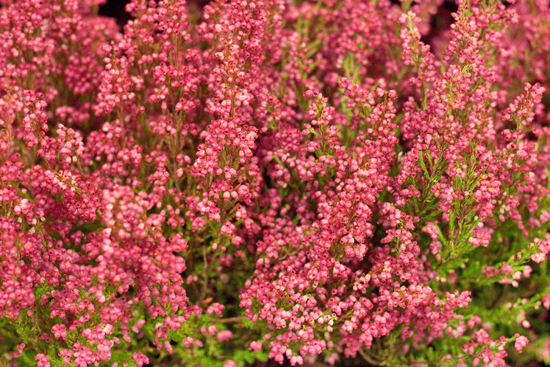 And they also have Hebe 'Zita'.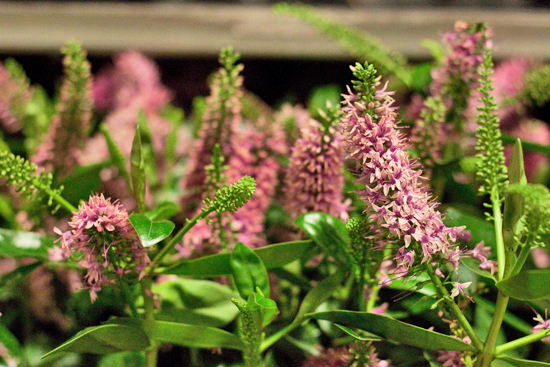 Over at Lou Mills , Bob tells me that chefs buy their violas to adorn food.  And one chef in particular used the blooms to decorate the top of a cheesecake.  I'm sure it looked stunning!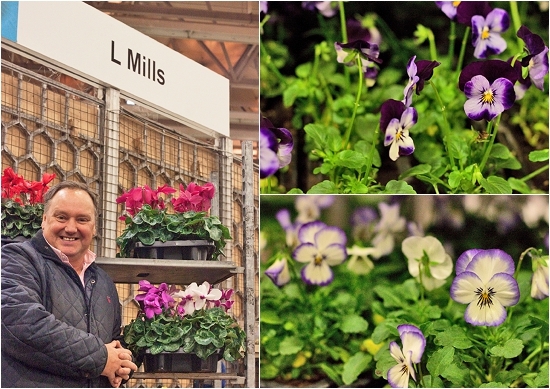 Several traders, including S Robert Allen, have Callicarpa, with its intense violet-purple berries.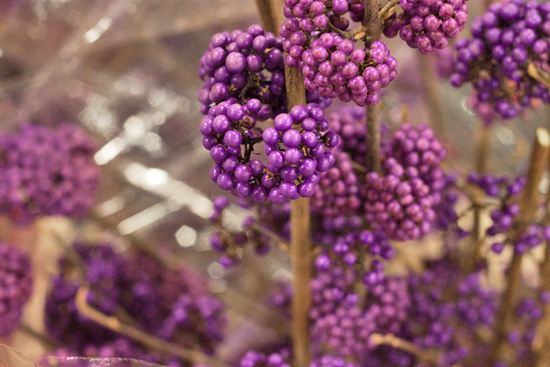 And for something to cause a real stir in your shop or at an event, how about this aptly named Black Bat Flower (Tacca chantrieri), which I spotted at Dennis Edwards Flowers?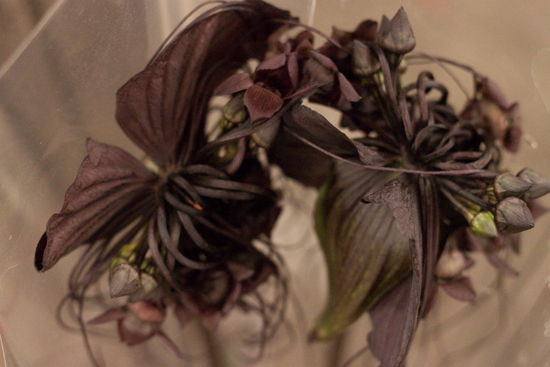 Sundries-wise, Whittingtons have pin holders in a range of diameters. I love the way that I've seen them used recently in shallow cylindrical vases to display hand-tied bouquets.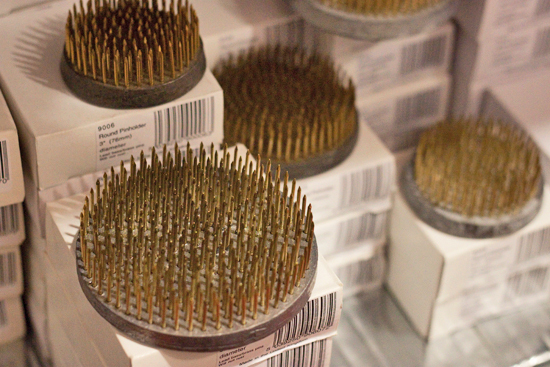 Finally, if you're looking to add a touch of glitz to corsages, do check out their wide range of accessories.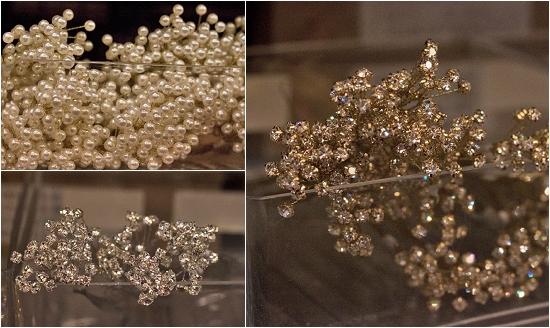 So, that's my snapshot of all the amazing flowers, plants, foliage and sundries that are currently available at the Market. Later this month, I'll be compiling a special Product Profile Report showing you what the traders have in store for you this Christmas. Baubles, sparkly twigs and reindeer…here we come!
If you have any comments or questions about this month's report, it would be really lovely to hear from you. Please simply type in the boxes below. 
P.S. Did you spot all the romantic flower and plant names in the report? 'Hearts' Ecuadorian roses, Kalanchoe blossfeldiana Mini 'Latin Lover', Love-lies-bleeding and 'Captain Romance' calla lilies.