Firstly, thank you so much to everyone's feedback about my February Flower Market Report. I really appreciate all your comments!
So, what have we in store for you at the Flower Market for the month of March, when both Mother's Day and Easter occur?
Well, what better way to brighten up your shop and remind your customers that spring is just around the corner, than with these stunning tulips which I spotted at Dennis Edwards?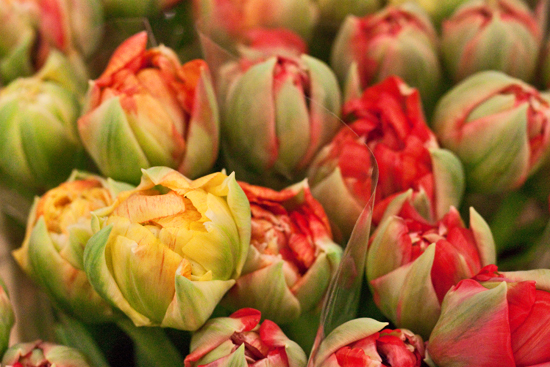 There are so many different varieties of tulips, in all shapes and sizes, on display at Nine Elms at the moment.
From parrot tulips in a range of colours…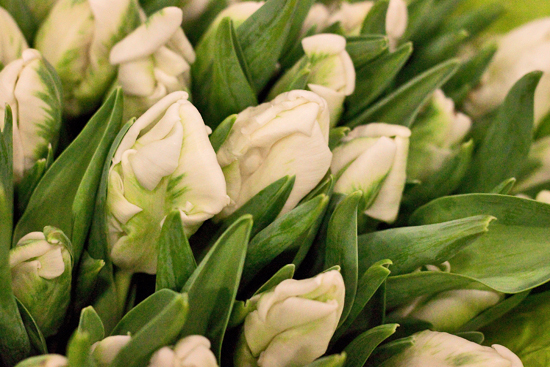 …to these frilly fringed tulips.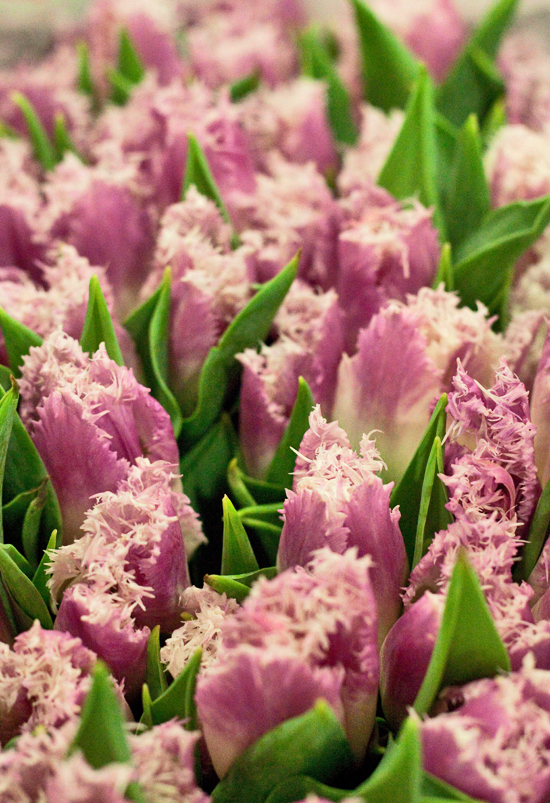 Staying with spring blooms, these lovely little snowdrops at Alagar  are certainly causing a stir amongst the florists at the Market…and are very much in demand.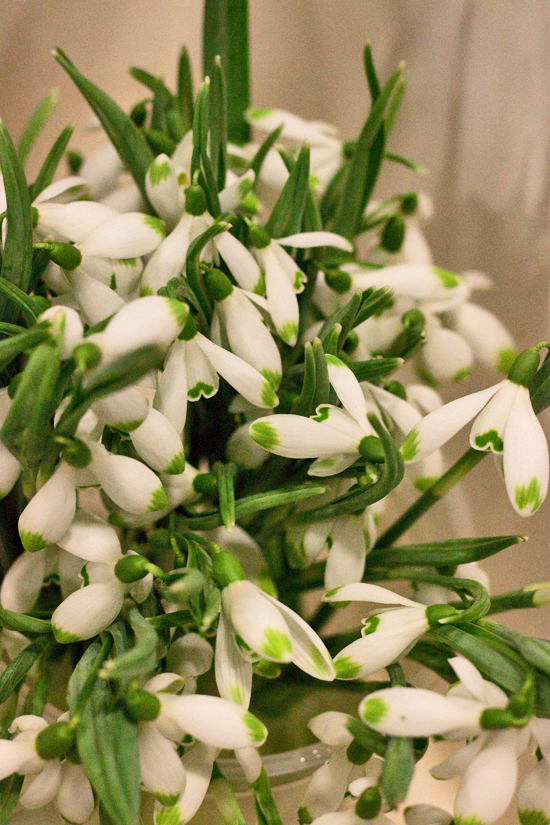 And these snowflakes from Cornwall at Pratley look just so dainty…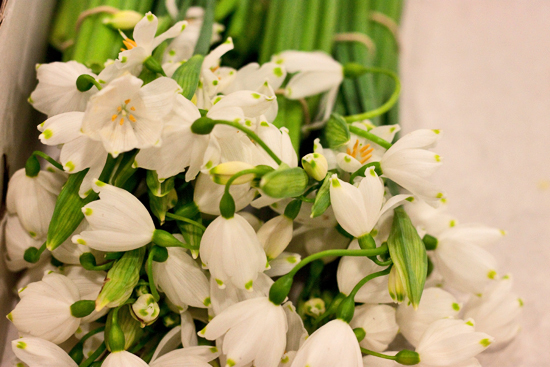 …as do these beautifully scented British paperwhite narcissi, which are still in abundance.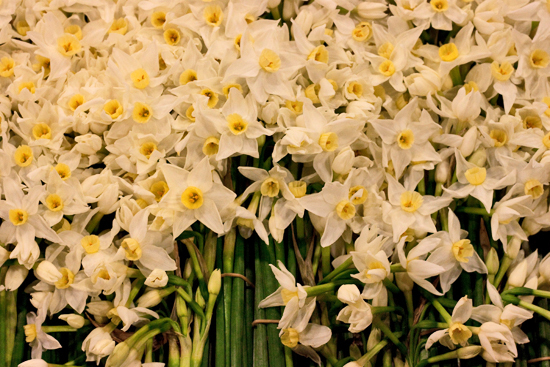 For something a little bit different, how about fritillaria? This variety was on sale at Dennis Edwards' stand. 
Did you know that Dennis has recently joined the Twitter brigade?  You can follow him at @DennisEdwards69 and see images of his new stock.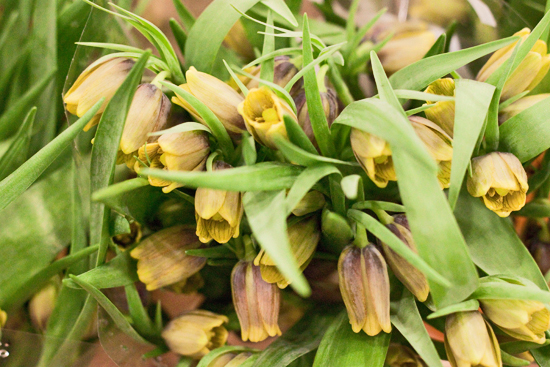 And what about this black fritillaria at Alagar?
Did you know that Alagar have also embraced Twitter?  You can follow them at @AlagarLtd (https://twitter.com/Alagarltd) to keep up-to-date with their selection of flowers.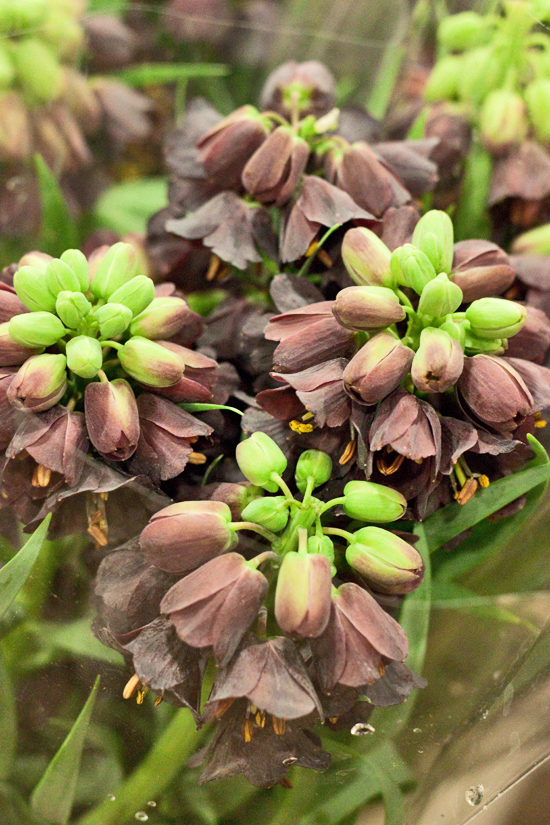 There are plentiful stocks of hyacinths of every colour imaginable at New Covent Garden Flower Market at the moment…from the palest blue, lilac and pink to this very vibrant yellow variety.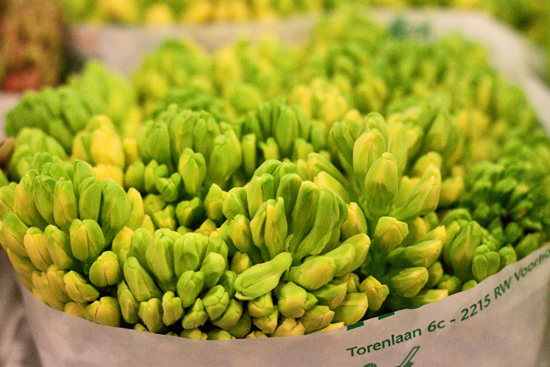 Muscari are also in ready supply and I love these very pale blue ones that I spotted…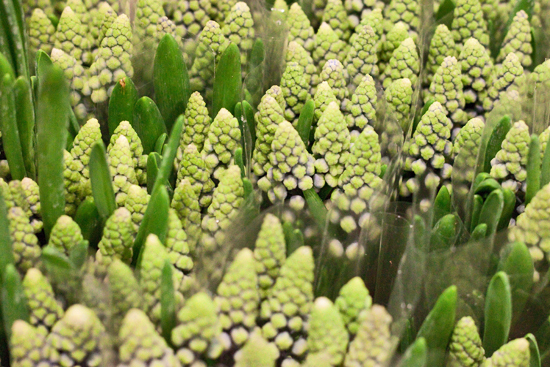 A complete contrast on the blue spectrum is this wonderful scilla, with splashes of bright lime green.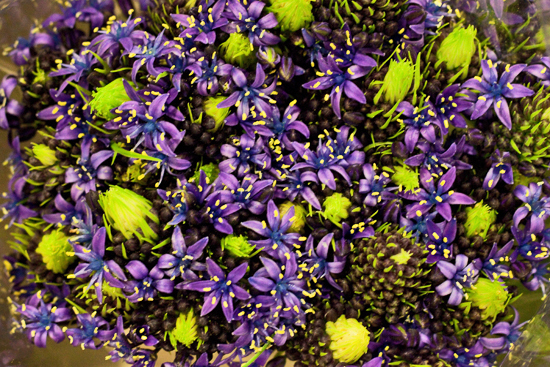 And there are lots of anemones around too…but these are very special British ones, standing to attention at Pratley.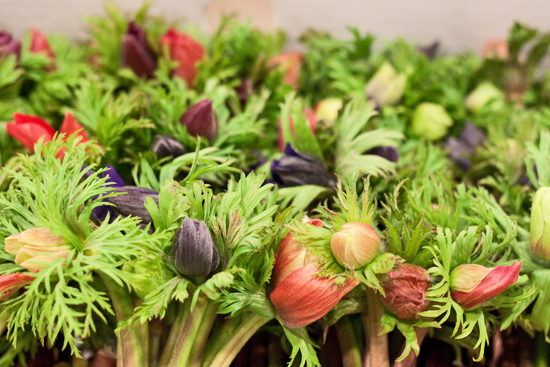 Now on our whistle-stop tour of the Market this month, we're heading back to Alagar.  I had the pleasure of meeting and chatting to Danny, who's pictured below.
Being a huge ranunculus fan, I was completely blown away by the Hanoi ranunculus which he showed me…they're the ones tucked under his arm.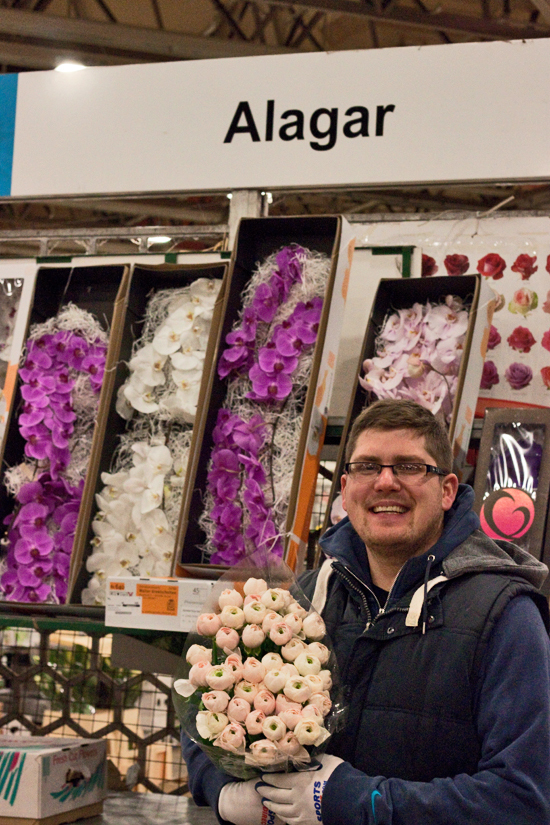 And here's a close-up.
Admittedly, they're a little bit pricier than your average ranunculus, but oh my…
Wouldn't they make an absolutely stunning bridal bouquet, especially with the blush colour palette being so popular at the moment?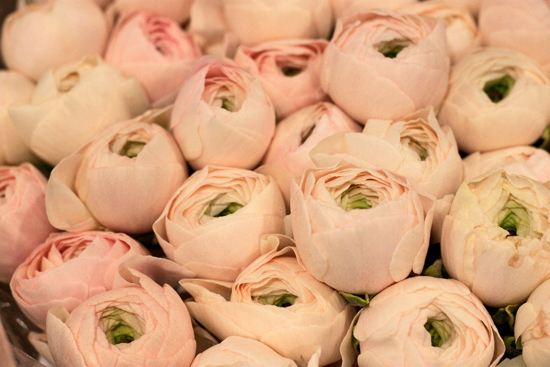 We're moving outside now to Porters where I had a lovely chat with Brian about this eye-catching English prunus blossom.
He explained that when the individual flowers open up they're dark pink. And then they gradually change colour to blush/white.
I just loved the contrast of the dark stems against the pale blooms…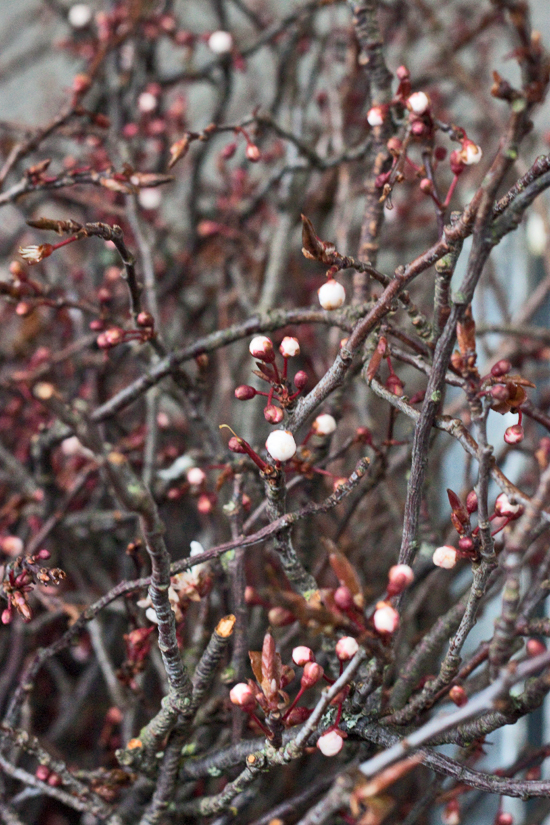 Back inside and over at Zest Flowers, Graeme showed me these incredibly tall English arum lilies, which would certainly make a statement at an event.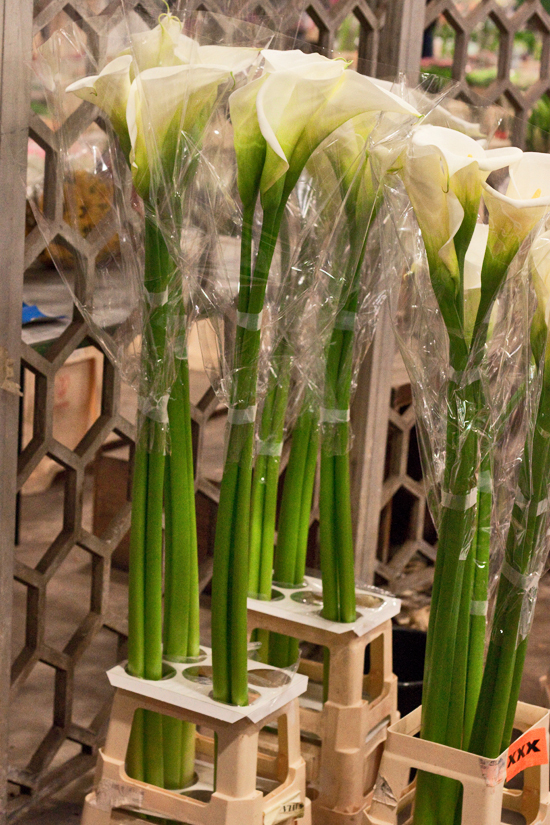 Staying with tall blooms, for the first time this season, Alagar have these Italian antirrhinums.  As well as yellow, they come in pink and white too.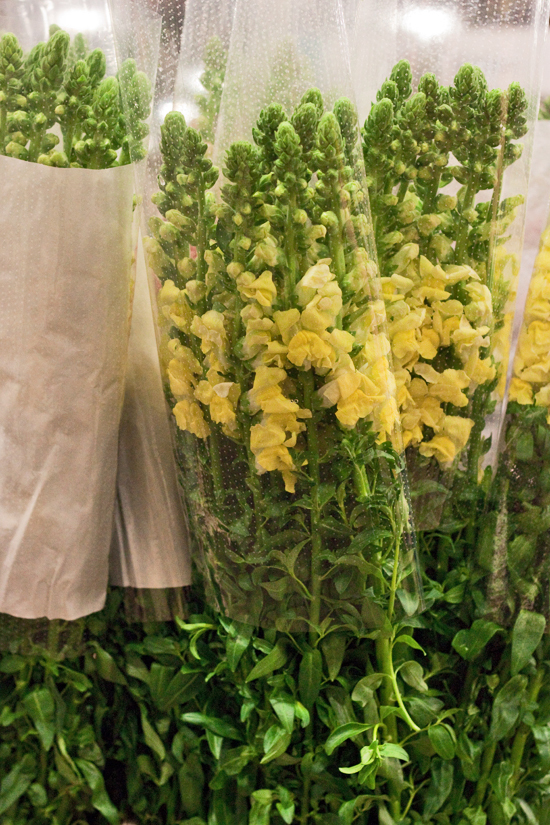 Now we're moving on to some flowers with textural interest. Firstly, these speckled carnations which I spotted…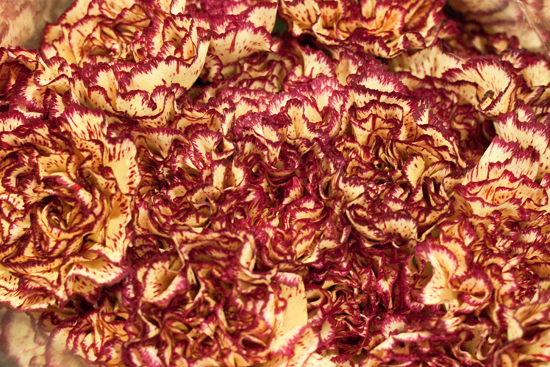 …these unusual Scadoxus 'Orange Wonder' which Edwin at Dennis Edwards kindly pointed out to me.
And this brunia.  It recently appeared in Izzy Johnston's bridal bouquet when she married McFly's Harry Judd recently.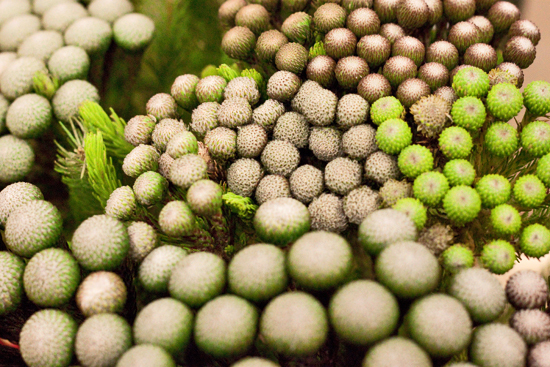 For Mother's Day, as an alternative to spring flowers, there is a fantastic range of roses at the Market.

Here are just a few at Bloomfield's stand, starting with the spray rose, 'Apricot Sasse'…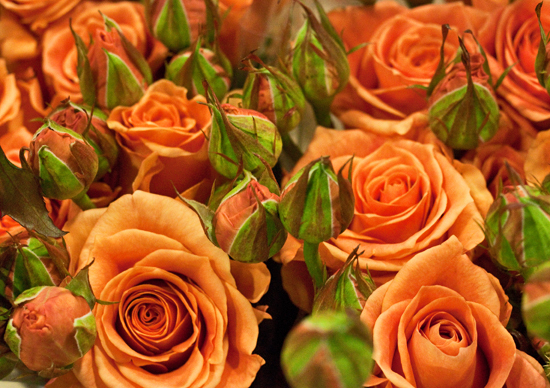 These delicate pale peach David Austin 'Juliet' roses…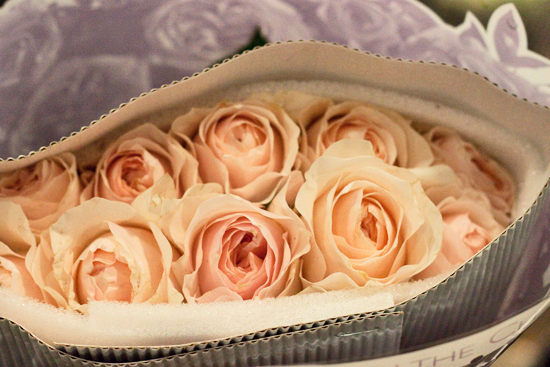 And these 'Deep Purple' roses…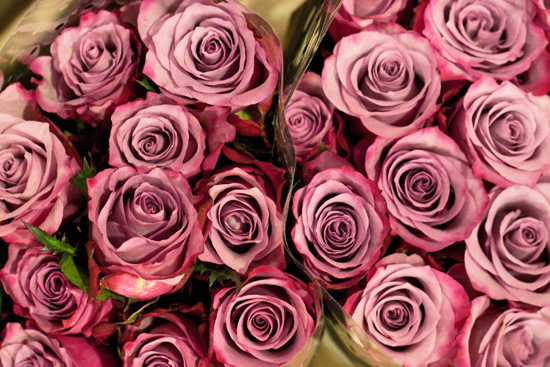 Whilst I was on the stand, Ronny also pointed out these spritely alliums which are already in…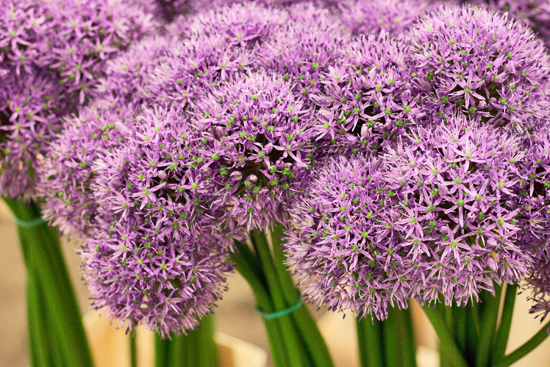 Now, we move on to plants…
Craig from Quality Plants has recently returned from Holland, where he sourced these unusually marked phalaenopsis orchids…perfect if you're looking to stock something just a little bit different.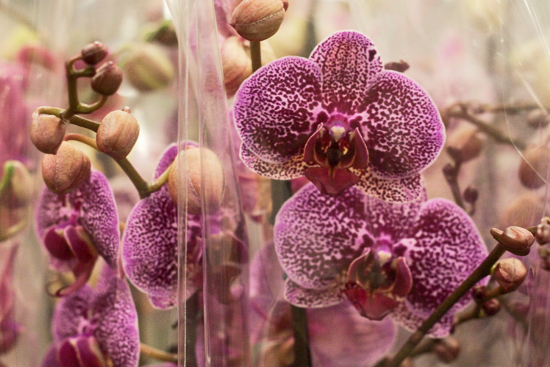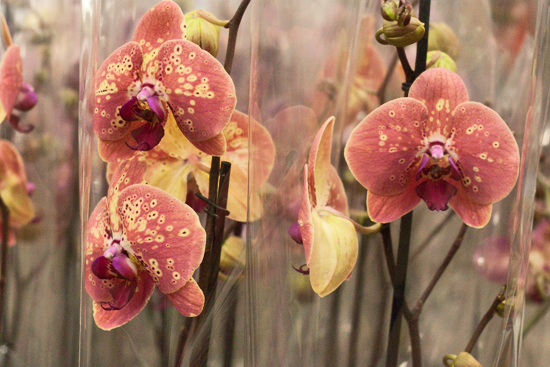 And perhaps an ideal present for Mother's Day are these phalaenopsis, planted in a rainbow style as opposed to the cascade style.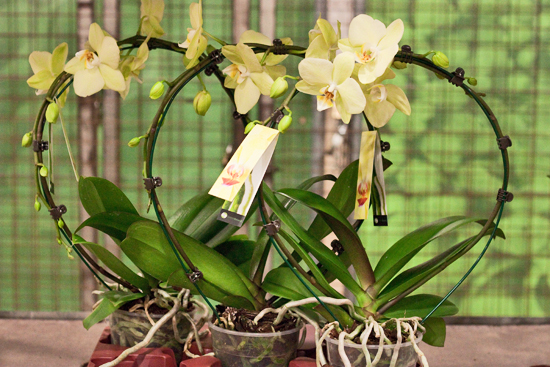 With Easter taking place this month, Whittingtons have a wonderful selection of new products just in.
Thank you so much to Ian for helping me style these bunnies for the shots below!  You can buy the grass matting from them too.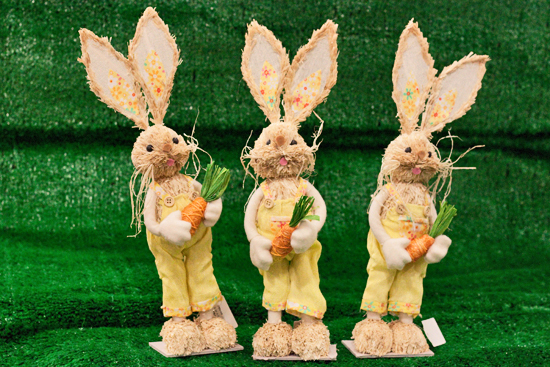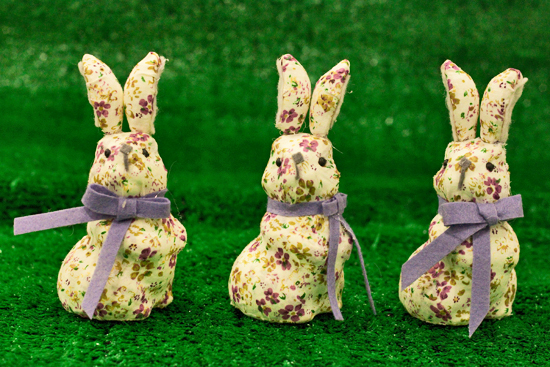 And they have a new range of Oasis floral cupcakes also on sale…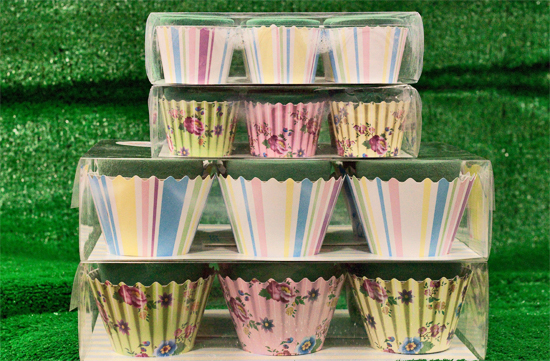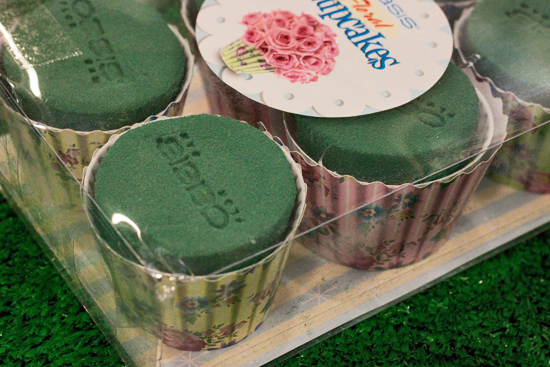 Glassware-wise, Grant at C Best has yet more new stock in this month, in the form of these vases which would be great for contracts.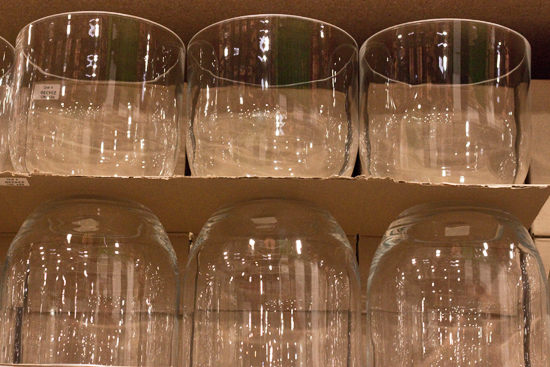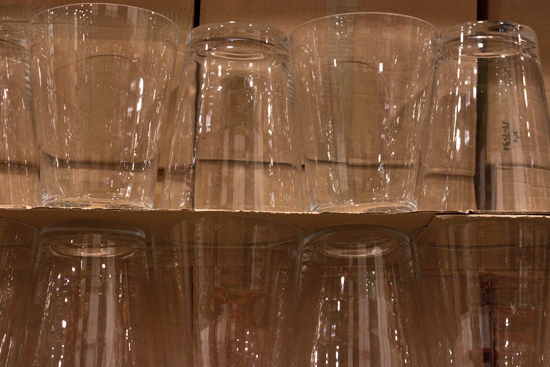 And last but not least, I'll leave you with these Saracennia carnivorous plants which were at Quality Plants, perfect for a talking point at an event. 
They do remind me a little of 'The Day of the Triffids' television series in the 1980s!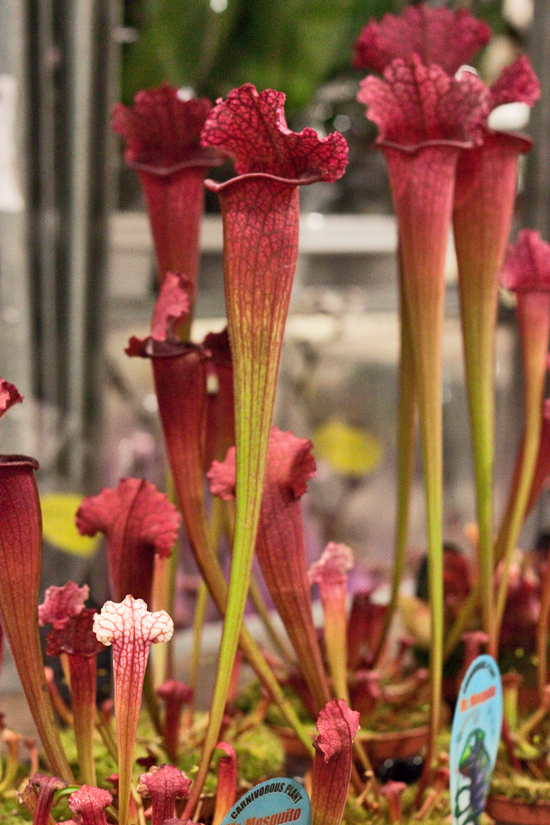 So, I hope you've enjoyed reading through this month's report. 
I'd love to hear your feedback on what you liked, together with any ideas of improvements for the future.  Simply leave a comment below…. And if you've not visited New Covent Garden Flower Market recently, why not pop alon