This month's report could easily have been double the size it normally is, as there are so many new and fascinating flowers, foliage, plants and sundries available this month at New Covent Garden Flower Market!
There's an abundance of stocks (Matthiola incana), with their intoxicating clove-like scent, in shades of pink, lilac, cerise, white and a lovely pale apricot, called Aida Apricot.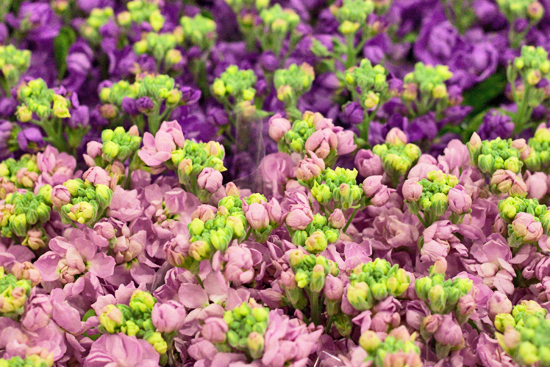 As well as the usual varieties, there's also this pink and white candy striped phlox. Isn't it just so pretty?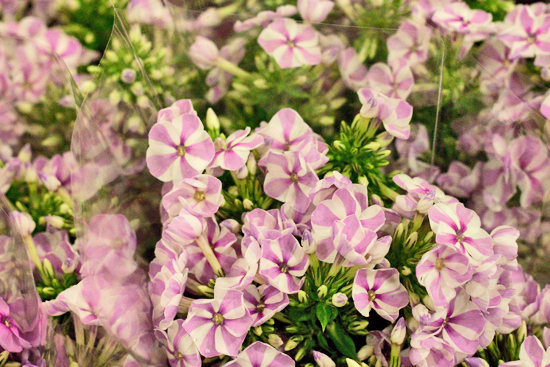 The Allium season is now in full swing with Allium schubertii available at Alagar.  They remind me of giant sparklers or exploding fireworks!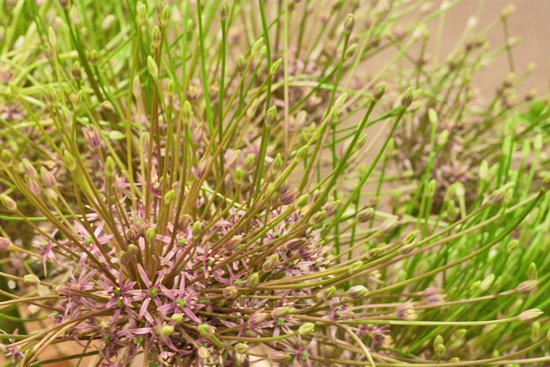 Known as Bullet Alliums by some of the traders, are these Allium sphaerocephalon, with their bi-coloured oval flower heads.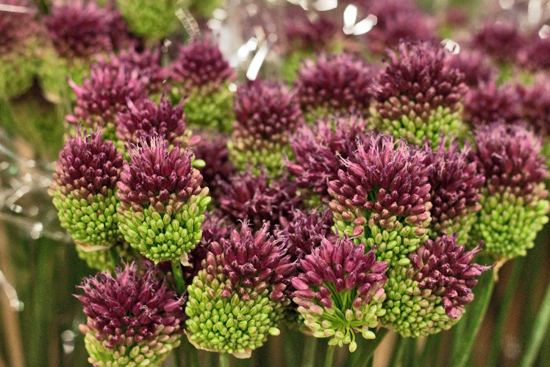 And the more common varieties with ball-shaped flower heads are now readily available too.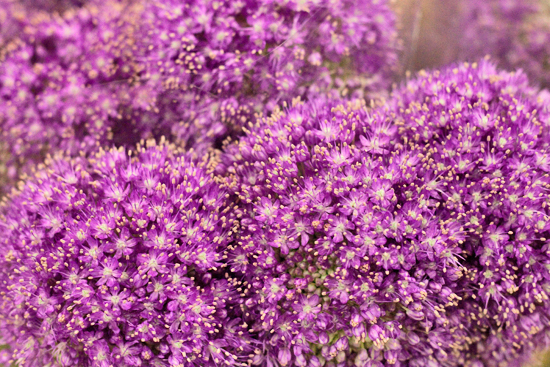 Staying with the cool colour palette are these veronica, standing to attention at E Four Sales.  You'll also find them available in pink and white.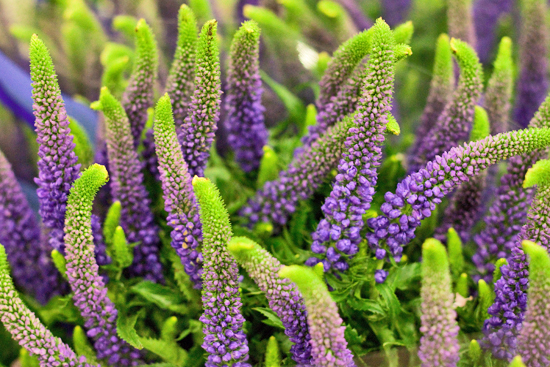 At Bloomfield, they have these extra tall and larger bloomed purple clematis.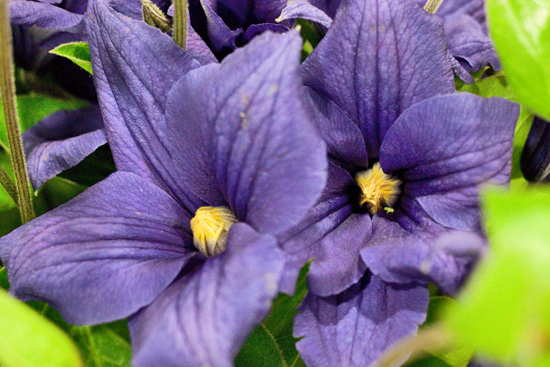 And outside at Porters Foliage are these unusual Niobe proteas, with purple-black centres.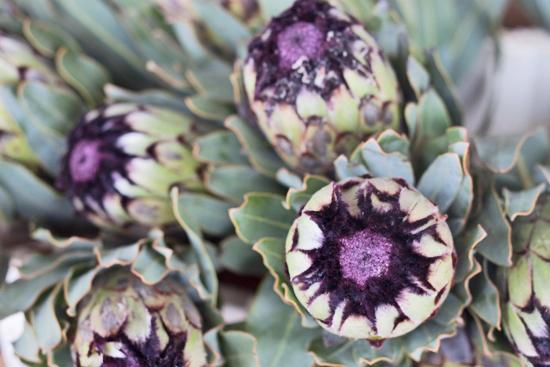 British delphiniums are now available at Pratley. And lots of varieties from further afield are in ready supply on other stands.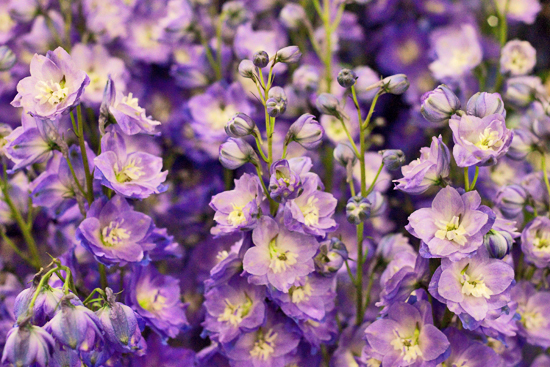 It's so lovely to see cornflowers (Centaurea cyanus) at Zest Flowers …a sign that summer is hopefully on its way?!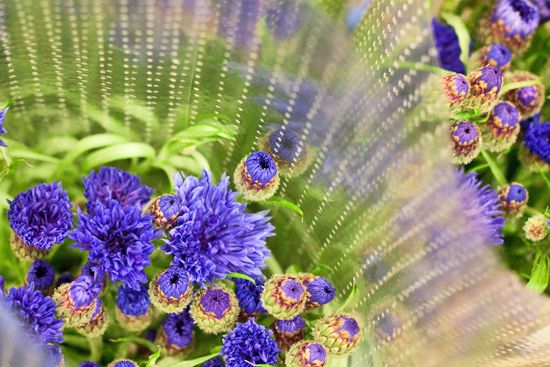 Gentiana, perfect for wiring work, is available at R G French & Sons.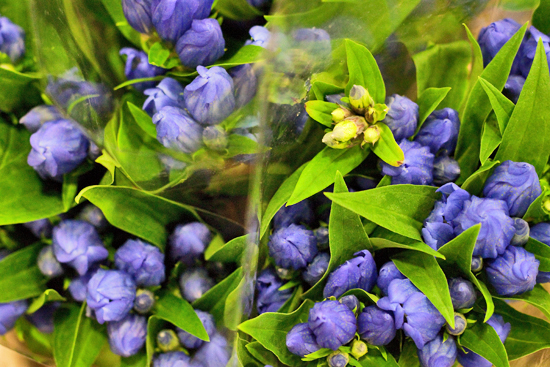 And this unusual member of the phlox family called Gilia leptantha can be found at Bloomfield.
At this year's RHS Chelsea Flower Show (http://www.rhs.org.uk/Shows---events/RHS-Chelsea-Flower-Show/2013), purple and blue flowers featured heavily in the show gardens.
So, why not use this as a talking point with your customers?  And by stocking and using blooms in these tones, you'll show how 'on trend' you are!
Have you seen this new variety of pale blue and white forget-me-not before?  It's called Myosotis Al Wiranda.  It's so unusual…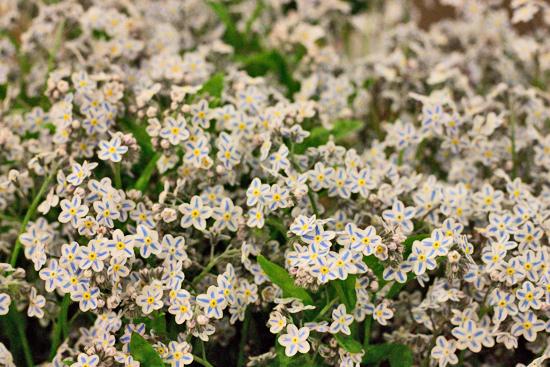 If your customers are keen to buy British flowers, then this white arabicum from Cornwall at Pratley might be just up their street.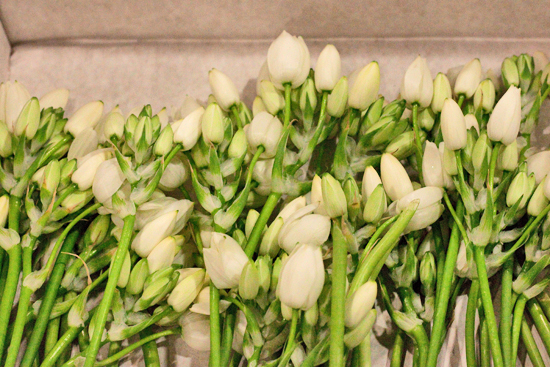 Staying with white blooms, Italian agapanthus is now coming into the Market.  This, and the blue variety, are available at Zest Flowers.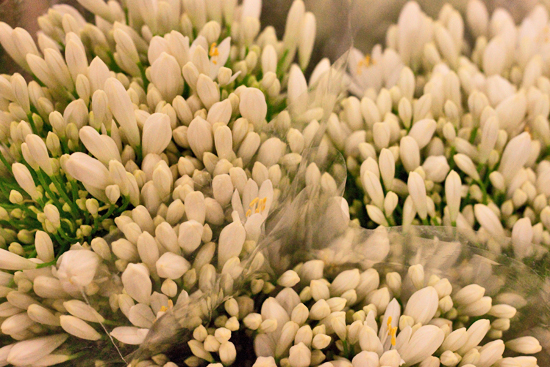 Fragrant Philadelphus 'Snowbelle', commonly known as mock orange, is a perfect addition to hand-tied bouquets.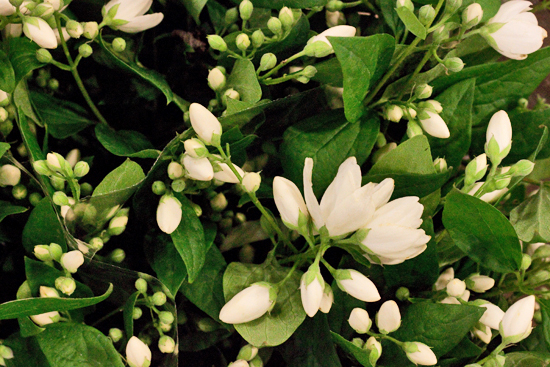 And what a perfect name for a wedding flower? Blushing Bride Protea. Dennis at Dennis Edwards Flowers specially sourced some for one of his customers recently.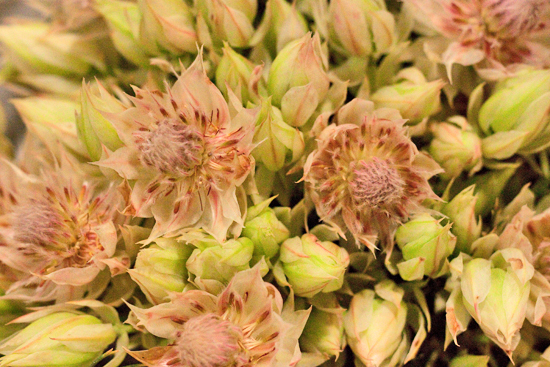 Rose-wise, there's pale pink Royal Fizz, with ruffled edges to its petals…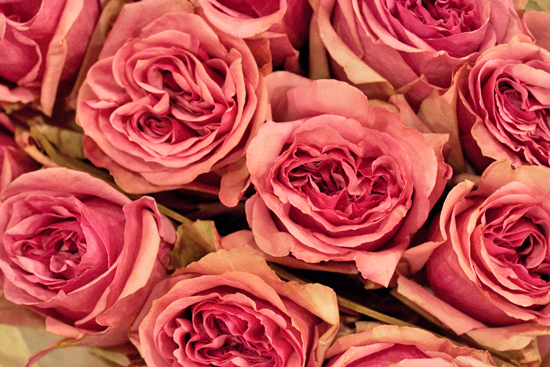 And also at Dennis Edwards, there's an array of David Austin Roses, including this magenta pink variety called Kate, which was named in honour of the Duchess of Cambridge.
They're perfect for the wedding season.  But I also wonder if this particular variety may appear in bouquets which Kate receives when she has her baby next month?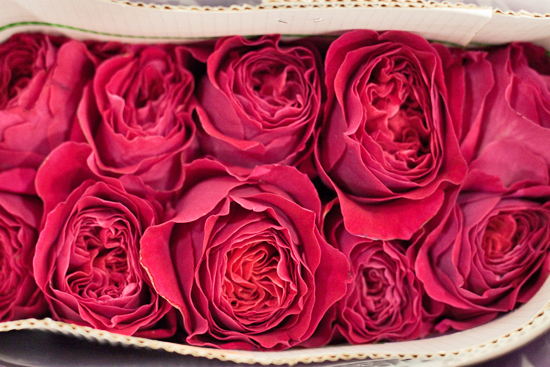 British peonies have just started to appear at Pratley…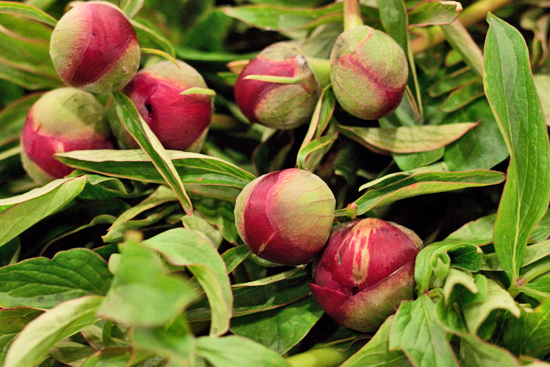 And arriving very early this year at the Market are dahlias!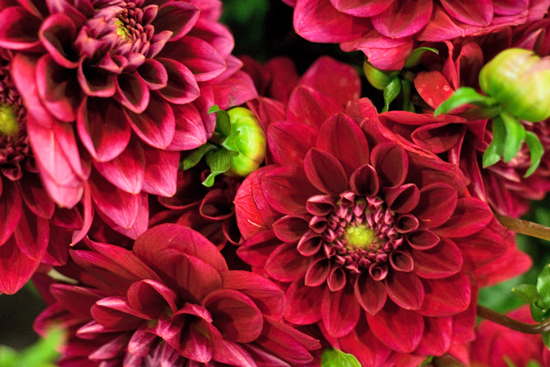 Commonly available in white, there's also this burgundy variety of lysimachia at S Robert Allen.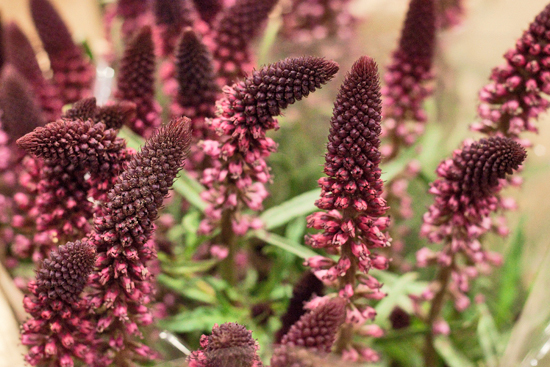 Plant-wise this month, there's a wide choice of nemesia at Evergreen Exterior Services.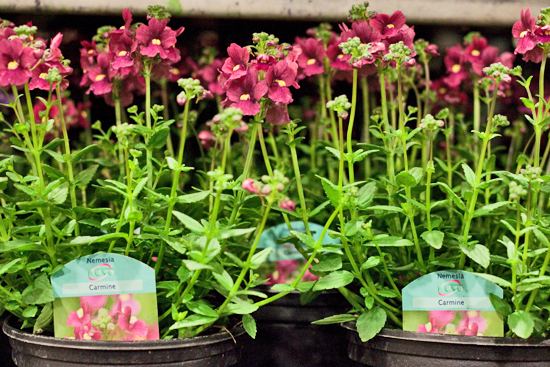 And at Quality Plants, you'll find Armeria in pale pink, cerise pink and white.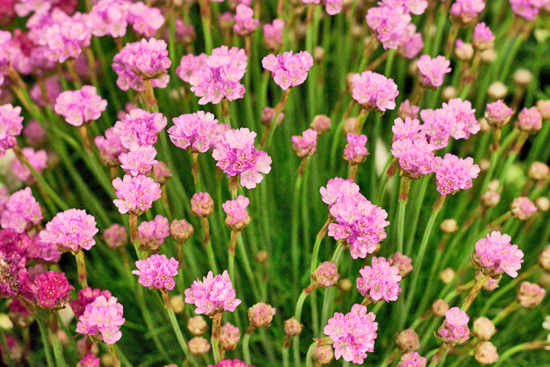 But if your customers are fans of coral, they may like these Diascia plants…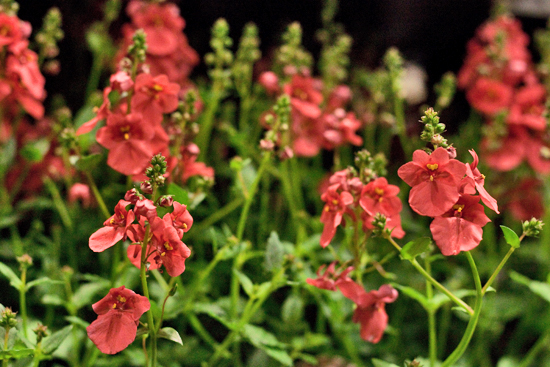 Or cut flower wise, this Achillea 'Paprika'…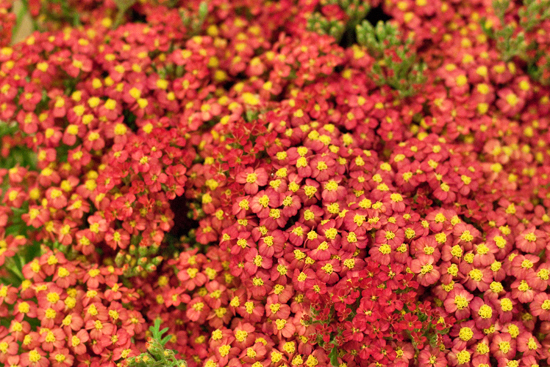 I'm in total awe of the traders at the Market and the hours they work. Heaven knows how David at D G Wholesale Flowers managed to fit in time to train and complete a marathon recently!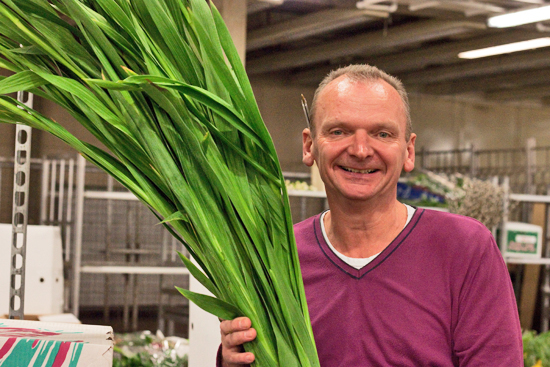 On his stand are these Craspedia…very popular in the US, especially for weddings.  And known fondly as Billy Buttons or Billy Balls.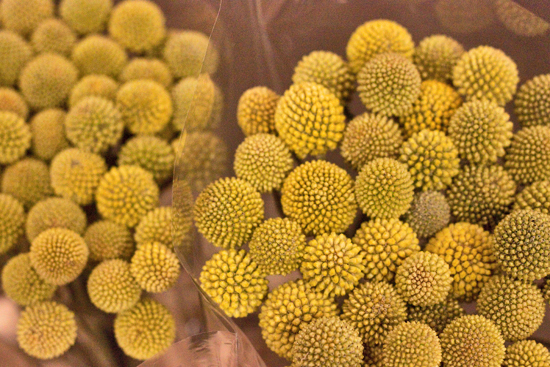 Perfect for setting off a bridal bouquet is a collar of these fabulous Hosta leaves…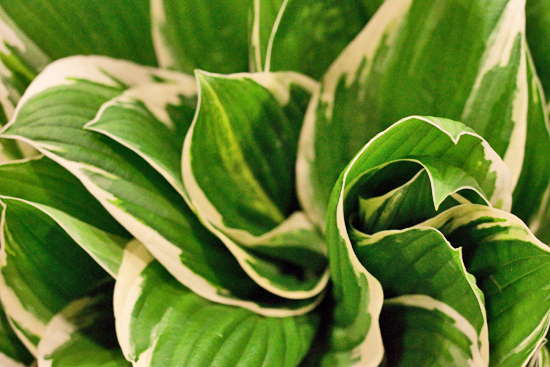 And staying with the green palette, these quirky poppy heads are available at J H Hart Flowers.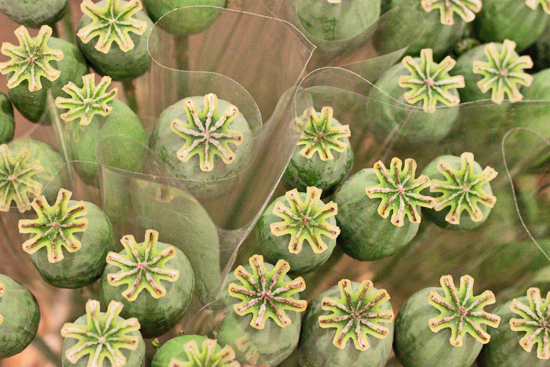 We can't talk about greenery, without mentioning the very knowledgeable Barry at Porters Foliage (and yes, he is wearing his shorts in this photo!)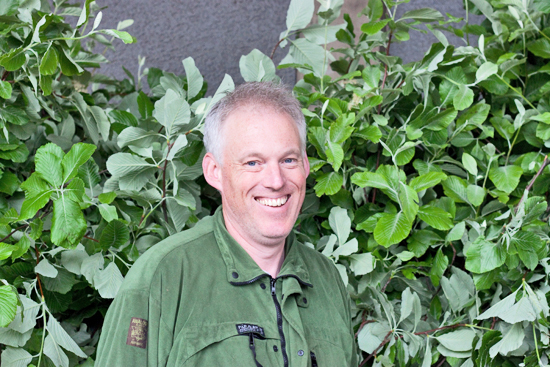 I've just picked two types of foliage from the vast array that Porters have available at the moment to show you.
Silver grey Senecio…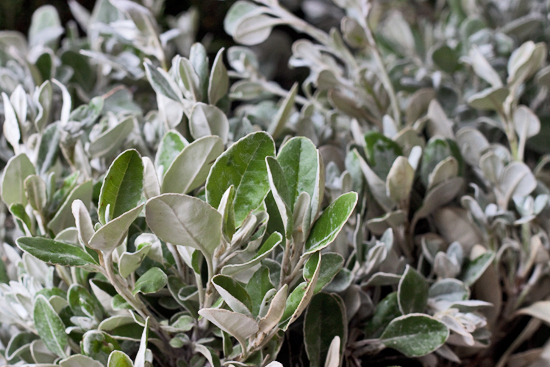 And Griselinia, with its light green oval leaves…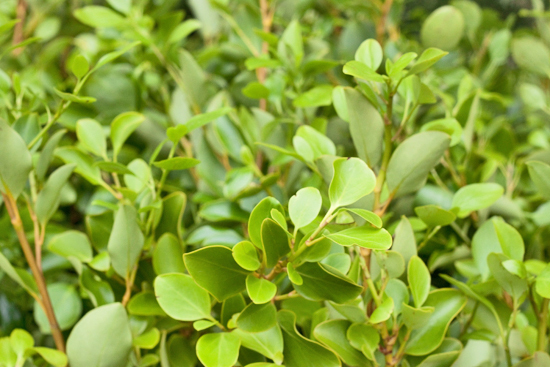 If you're looking for new containers, do visit C Best (http://www.newcoventgardenmarket.com/users/c-best-ltd). 
They're always getting in new stock and the latest arrival is this collection of fibreclay planters and urns.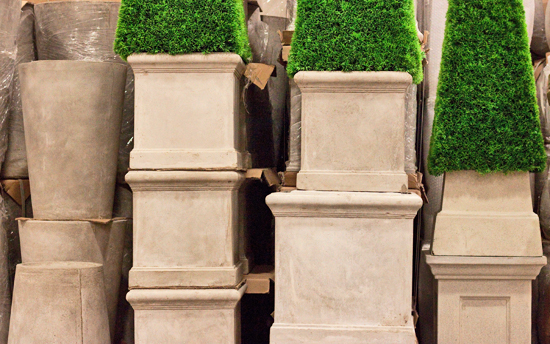 So, I hope you've enjoyed reading this month's snapshot of what's available at the Market in June. Do come and visit soon!
And if you have any comments about this report, it would be lovely to hear from you. Simply type in the boxes below…