Just as the days are getting longer, the flowers are getting taller. This month, get long 'n leggy with the supermodels of the floral world.
Delphiniums are so beautiful, like a living Willow Pattern china. The lavender and ivory forms are lovely, but it's those blues we crave – from inky navy through turquoise to spring sky. Don't forget larkspur (the delph's mini-me) - slightly stronger shades, and a daintier, spriggier feel.
Veronica (white, deep blue, pink) and lysimachia (white, yellow) have elegant, slender spires of flowers. I love the "fasciated" veronica, with its cockscomb; and this gorgeous lysimachia, "Elisabeth". Both add an interesting pointy element to a handtied bouquet. As Jung said, without unhappiness, there would be no happiness – and without pointy, there would be no roundy.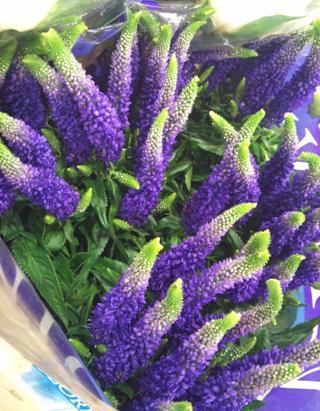 Roundy and tall, agapanthus make their appearance. These Italian ones – in ultramarine and white – are stupendously long. Andy on Alagar points out their longer spray flowerhead, with buds emerging along the stem. He also flags up aconitum and gentian – both beautiful blue. Rather like the hokey-cokey, they're in and out of the market, so check availability.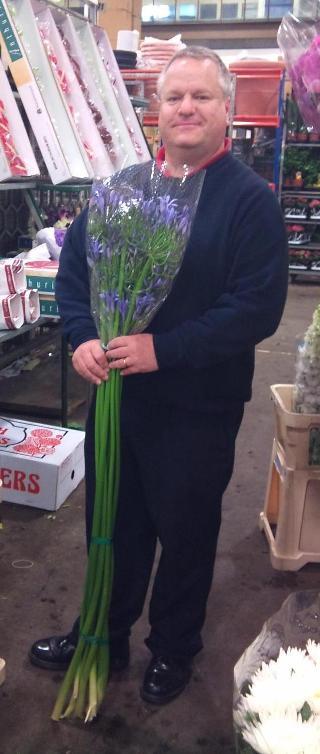 Liatris – gayfeather to Americans – are growing in popularity. Not everyone loves their unusual shade of warm purple, but if you are trying to match a particular colour, it might be just the ticket. Somewhat stiff in a handtied, they're completely at home in vertical or vegetative designs. Liatris are possibly the only flower that opens top-down, not bottom-up. If you know another, tell me.
Cottage gardens are hot right now - hollyhocks anyone? Bells of Ireland add a fresh green note – with or without leaves. Crab-apple branches and super-tall rowan bring autumn to summer. There's cut and potted lupin; fragrant fluffy mint; and snapdragon.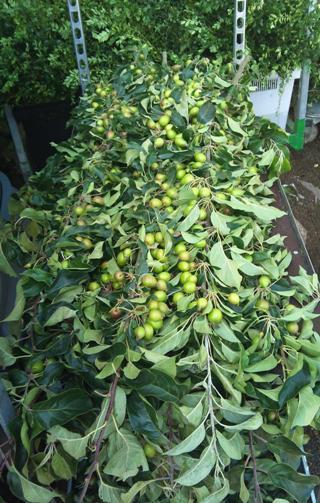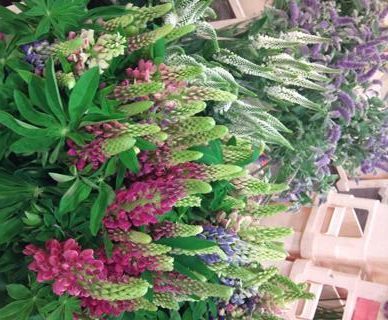 Anyone familiar with garden snapdragons might be surprised by the florist version. It's taller, straighter, with larger, fatter flowers. On le Continent they call them lion's mouth; you might know them as weasel's snout! Even their botanical name – antirrhinum – means "like a nose". Who knows why they have their strange name – although they do snap their mouths if you squeeze their cheeks. It's always fun to get a toy with your flowers.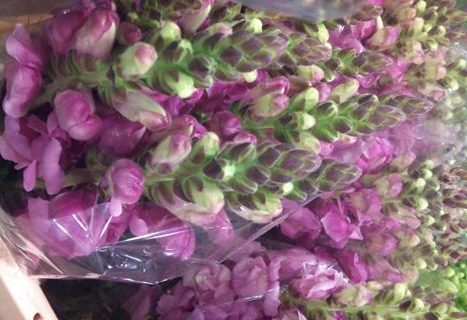 More animals with Eremurus - the foxtail lily. Fluffy spires of tiny flowers, in foxy shades of cream and spice, they add impressive (person-sized) height to any display. Nice with red hot pokers. You might not be familiar with them, but they're worth getting to know. What else has such towering presence?
Except maybe the mighty gladioli. It's not just Dame Edna who loves a gladdy. The ladies at Rebel Rebel told me that for the Bafta ceremony, they created a red carpet of gladioli marching up the staircase from doorway to theatre stage. Quite an entrance!
They're part of a recent revival of retro allotment-style flowers – such as dahlia, zinnia, and sweet William, in season now. Ask for non-flowering ones. Eh? Breeders have taken the frondy, ferny calyx of each flower, and pushed them to the limit. The result is the freak-of-nature that is "Green Trick" – an emerald puff of loveliness.
Its soft rounded form makes an ideal contrast to all the verticals this month. As do plump peonies – coming to the end of their summer season. I'm loving "Bartzella", a blowsy primrose streaked with bronze. Don't miss out!