"To everything there is a season... a time to break down, and a time to build up"
Excuse me for getting all ecclesiastical on yo ass, but it seemed to fit this month's mood! Hopefully you are not (quite) broken down after the frantic pace of Christmas – and you're building up your energy in readiness for February.
Florist friends have rounded up obsolete Christmas trees, laboriously removing the baubles to pack away for next year. (Is this the most depressing job of the year? One florist tells me she doesn't offer trees to her clients because she hates collecting them after the festivities are over. It's like clearing up after the party.)
Many are using this quiet time to take a well-deserved holiday, redecorate the shop, or do vital stocktaking and clutter clearing. There's paperwork to catch up on, tax returns to complete, Valentine's orders to plan. If you discover your knives are blunt and mice have nibbled your oasis, don't forget the market has plenty of sundries suppliers. 
How are you spending the calm before the storm?
After a season of superheating, then two weeks of no heat and light, office plants are suffering (if not actually dead). If you have interior plant contracts, Arnott and Mason are poised to help you replenish and replant those wilting displays. And if you don't have any interior plant contracts? Maybe, despite the recession, this year will be different. As Arnott's optimistic Gary says, "being negative can only make things worse"! Their luxuriant assortment is so inspirational to anyone thinking about indoorplants.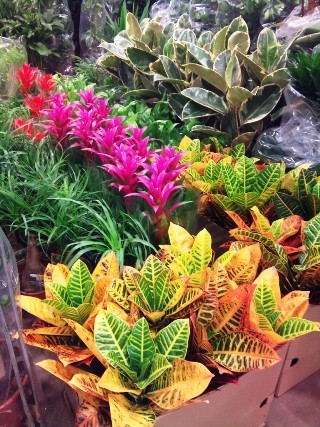 Taste-wise, last month was a red-and-gold spanglefest; now we can enjoy rainbow bursts of fresh colour - like a palate-cleansing sorbet after a rich meal.
First up, ice-white hellebores : potted ones on Evergreen, sturdy Dutch cut ones on Alagar. Azaleas in pink and white, like sugar mice. White tazetta, pure and dainty. Baby blue muscari. Fragrant hyacinths. (Oh I love that smell!)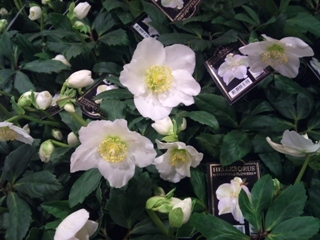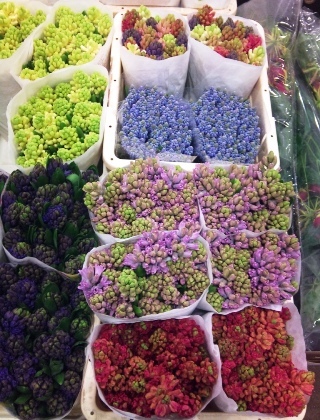 In an 'everything-old-becomes-new' retro vibe, what about these Suffolk blooms, like giant custard cream soufflés? Pussy willow, forsythia branches and acacia are here, plus oh-so-gorgeous Acacia baileyana in soft bronze-purple. I can't be the only one who looks for excuses to use this feathery foliage...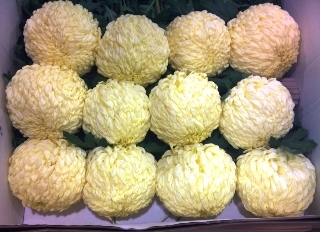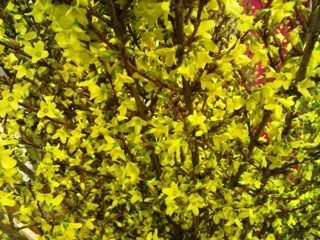 Cheery colourful tulips everywhere, of course – though Alagar's Andy says whites are most popular with his customers. (Why, we both wondered?) Powdery-lilac "Candy Prince" would be so pretty for winter weddings.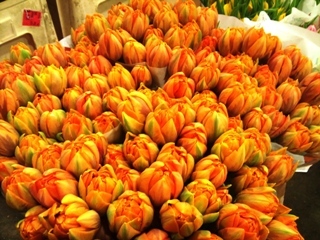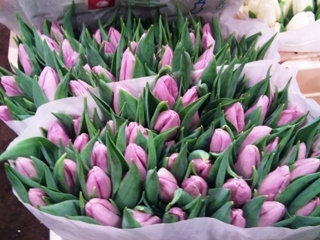 Ranunculus and anemones in abundance; bouvardia, veronica in three shades, and SR Allen's hot pink phlox. Even Solomon's seal and clematis at Zest, like summer in winter.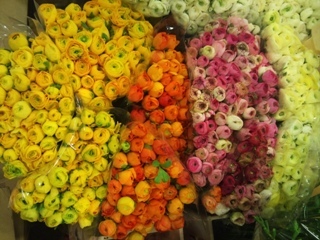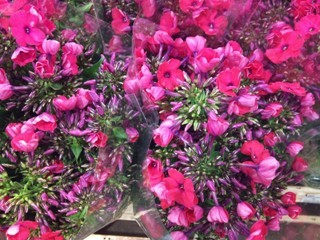 Congrats to Britney Spears, engaged (again) last month, and namesake of the deepest maroon amaryllis I've seen. For those of you that like the dark side.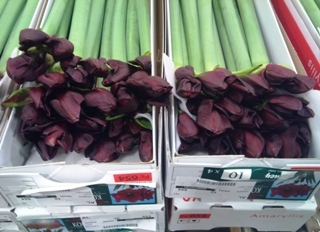 Lots of lovely roses as usual; Bloomfield has the juicy orange "Fiction". My favourites are on Hardcastle's stand : three colours of frilly-knicker "Campanella"– yellow, peach and orange; and an orange fasciated Marmite rose, "Fargo".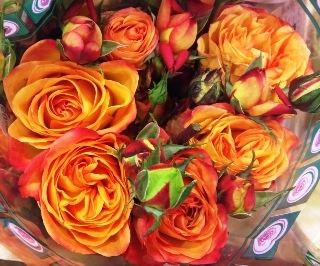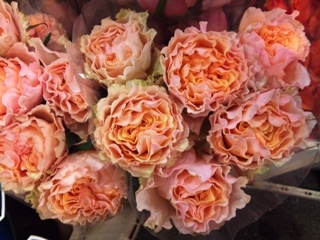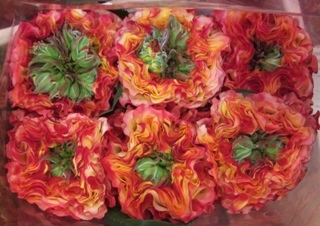 Finally, to prove this blog is totally multifaith, 23 January sees the start of the Chinese Year of the Dragon. If you're 24, 36, 48, or 60 this year it's lucky for you! Red and orange colours are appropriate – especially round orange flowers and fruits, which represent money (and we could all use a little more of that, right?) Great options - chubby tulips, potted citrus, or glorious calendula, sunshine on a stalk.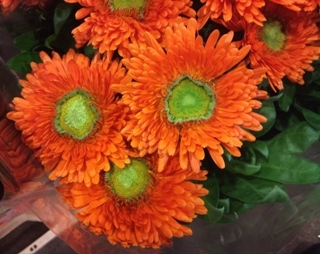 Nurse Andrea's restorative prescription for January? A good film – maybe Enter the Dragon; Crouching Tiger, Hidden Dragon; or The Girl with the Dragon Tattoo - a tasty takeaway, and plenty of rest. Here's a lovely Vauxhall sunrise to help you relax.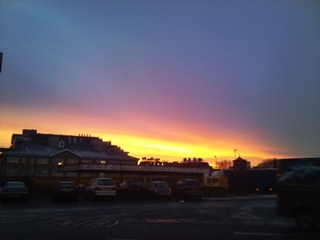 Happy New Year and Kung Ho Fat Choi!