New Covent Garden Flower Market really is a wonderful treasure chest of spring flowers this month.
There's everything from tulips, ranunculus and narcissi to hyacinths, muscari and anemones. 
These particularly beautiful and unusual anemones look as though they've been dipped in cerise pink ink…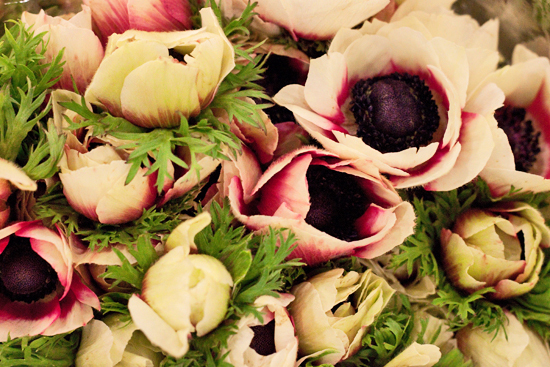 At John Austin, I couldn't quite believe what I was seeing when I visited recently…orange anemones!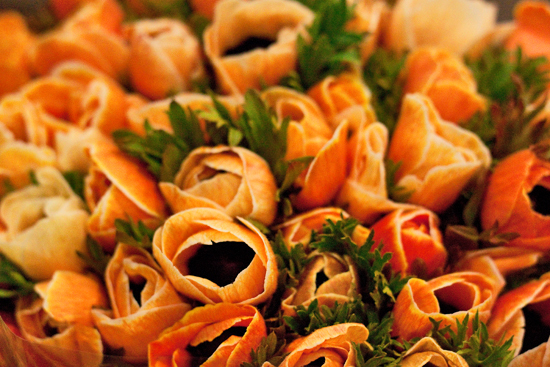 With the assistance of the wonderful Eric (pictured with the Queen below) and on closer inspection, I discovered that they're actually dyed by drinking the orange colour up through their stems. 
But they're oh so pretty!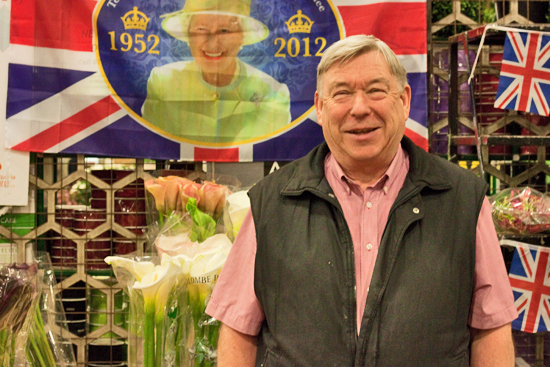 Many of the market traders commented that the prolonged cold weather which we've been experiencing, not only here in the UK but also in Europe, has slightly delayed some spring flower and foliage availability by approximately 1-2 weeks.
So, it may take a little bit longer before you see lots and lots of English blossom in bloom appearing at the Market. 
But in the meantime, David at G B Foliage is selling this stunning Italian spiraea.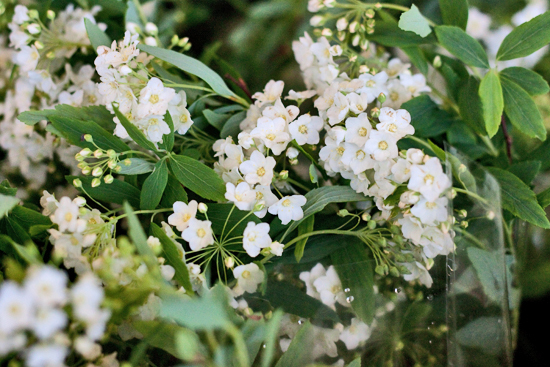 And they have guelder rose on their stand outside, also known as Viburnum opulus 'Roseum' or snowball.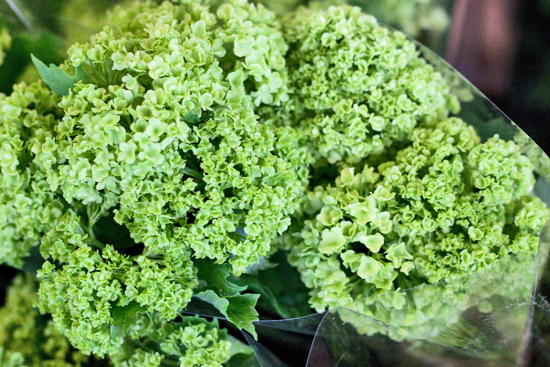 Staying with the green colour palette, John Austin have Solomon's seal (Polygonatum multiflorum) with its arching stems of green-tipped white flowers, which hang like little bells.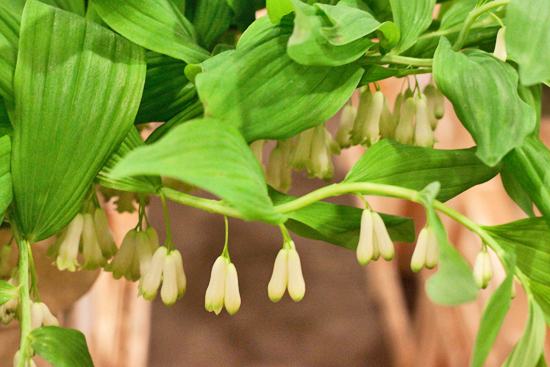 I love the colour and texture of these pale green Goblin standard carnations at Bloomfield, which would look wonderful massed in a floral foam sphere.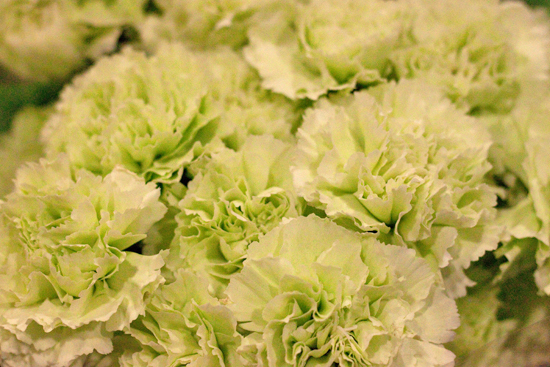 At Dennis Edwards, there are these two lovely different varieties of kangaroo paw (Anigozanthos) in green and red.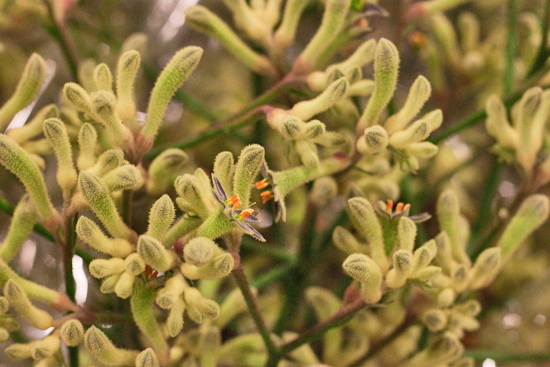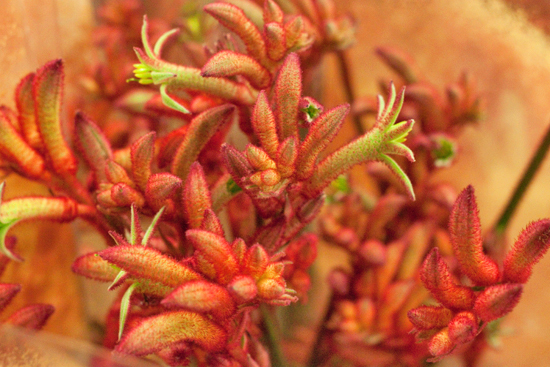 And these stunning celosia argentea have just arrived at their stand.
Also known as cock's comb, cockscomb, brain celosia or brain flower, they have a very unusual velvety and luxurious-looking texture…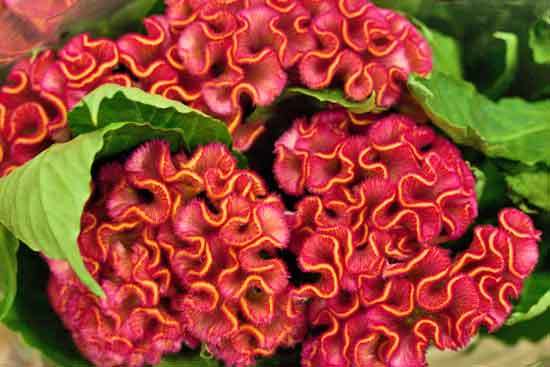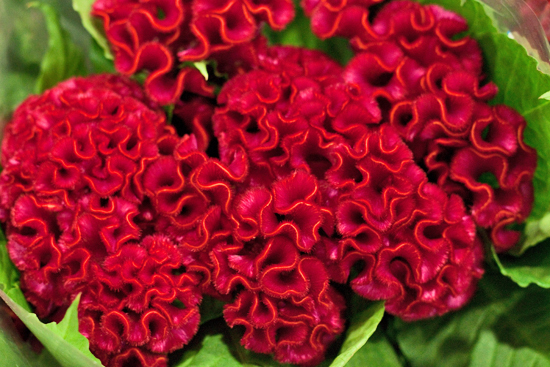 In last month's Flower Market Report, I mentioned that Dennis Edwards is now on Twitter.
Dennis and his colleague Sonny (who's pictured below) regularly create a series of tweets with images of the flowers that they have on display.
I was thrilled to hear from Dennis, that as a result of their Twitter activity, they've had quite a few enquiries and 2-3 firm orders for flowers…which is really wonderful news!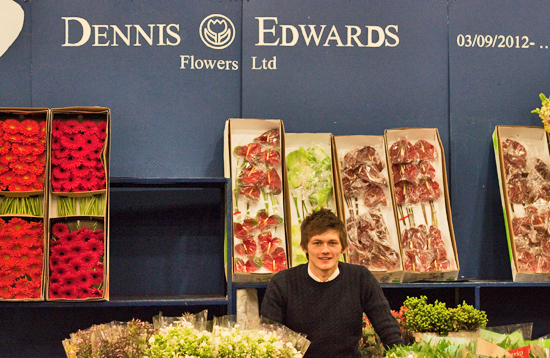 Alagar  are also on Twitter and have been tweeting regularly with some stunning images by Danny.  Plus they have a new website.
If you're on Twitter, I highly recommend following these two traders for up-to-date availability of flowers at the Market.
If you're looking for plants for your shop, Evergreen Exterior Services have a huge range available, including these vibrant gerberas…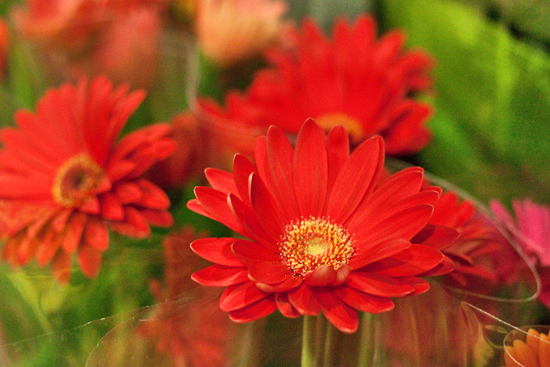 Pretty in pink osteospermum…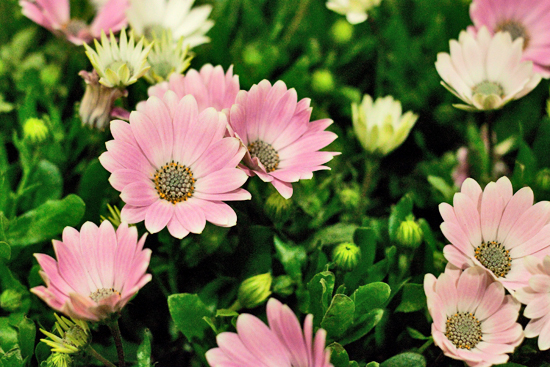 And dainty white marguerite daisies…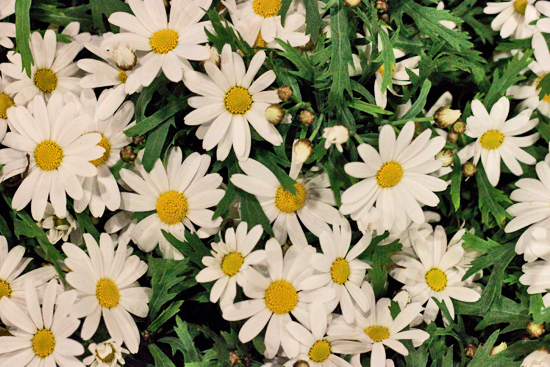 Meanwhile, over at Arnott & Mason, I spotted these beautiful hydrangea plants…a perfect way for your customers to bring blooms into their homes this spring, which can then later in the year be planted out in their gardens.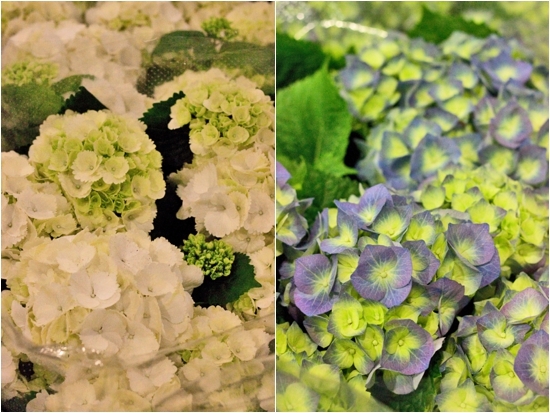 I love how S Robert Allen display their flowers, grouped in colours…a great way of helping you choose which blooms to buy if you're making a monochromatic design.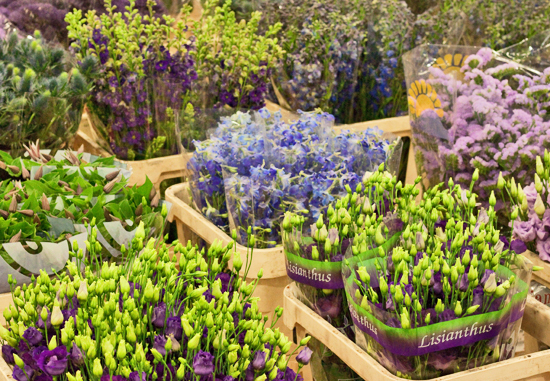 And this is John below, one of the lovely gentlemen who, with his team, create this amazing stand. 
I'm in total awe of the market traders who appear to live a virtually nocturnal existence.  They generally arrive at the market at 12am-1am in the morning and yet still manage to be so helpful and full of beans at unearthly hours!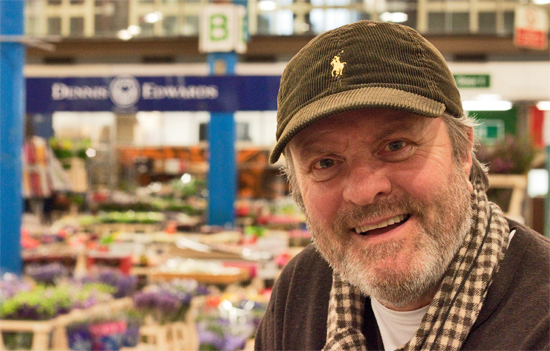 Over at Zest Flowers, Graeme has a great display of different types of Avalanche rose.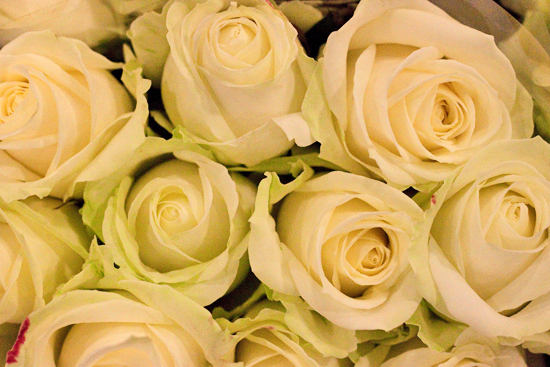 Avalanche (white)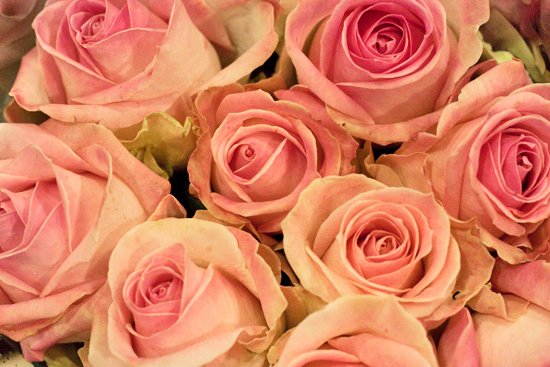 Sorbet Avalanche (pale pink)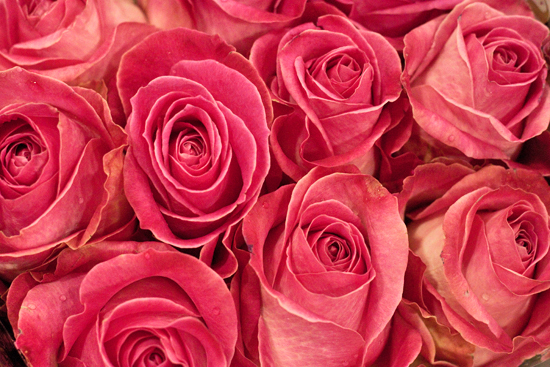 Candy Avalanche (dark pink)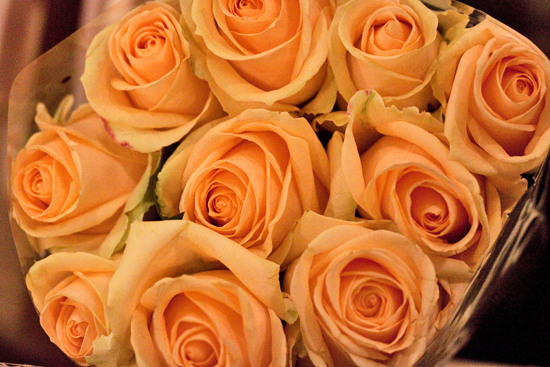 Peach Avalanche (peach!)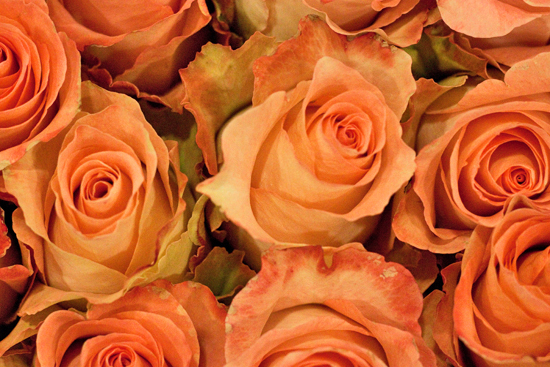 Staying with roses, I noticed another stunning peach rose at Bloomfield, called Peach Aubade.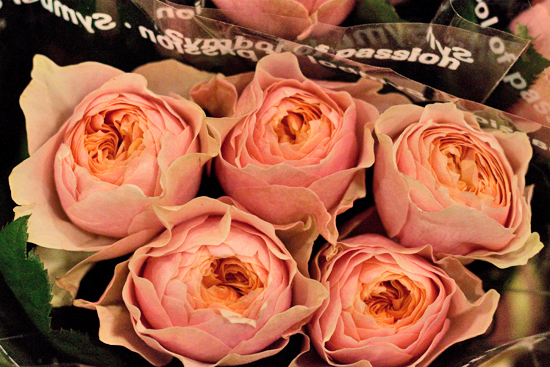 And Ronny on their stand said that this Vuvuzela rose below, with its peach centre surrounded by pale pink petals, is proving to be very popular.
You can order flowers from the traders, either by telephone or email. Their contact details are on the New Covent Garden Flower Market website in the Traders Directory.
Simply give them all the details about the flowers that you'd like to buy.
So, with roses for example…the name, stem length e.g. 50, 60, 70, 80cm, quality and quantity.
British flowers-wise, Pratley have these gorgeous widow irises from Cornwall, with velvet-like black and green petals.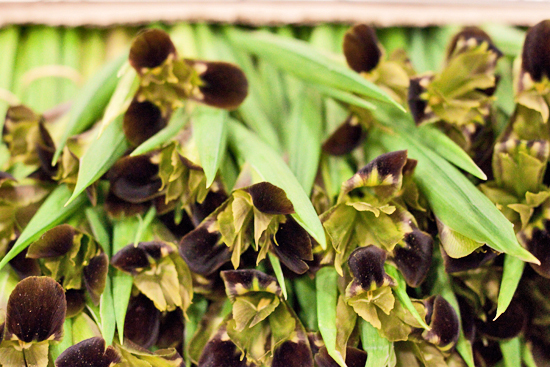 And Saul told me how these tulips from Spalding are grown the old-fashioned way, in cold frames…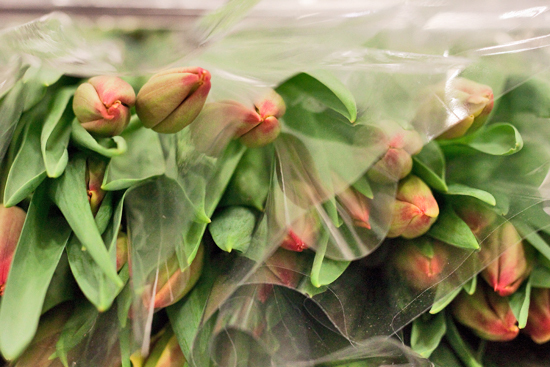 Sundries-wise, DBD London are selling the new floral foam from Chrysal which was recently launched.  And David said that it's proving to be popular with florists.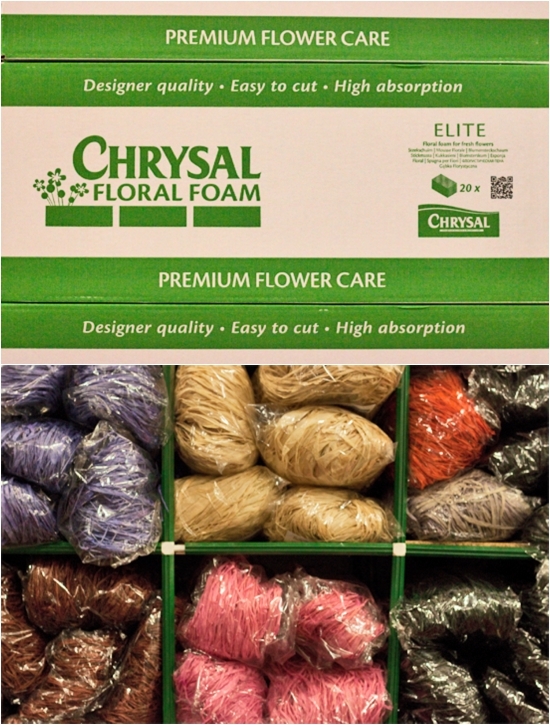 They also have a wide array of raffia on display and stock florist magazines, such as The Flower Arranger and Fusion Flowers. 
Plus they sell the very useful Cut Flowers Catalogue, published by the Flower Council of Holland.
This month, I'm going to leave you with a little splash of spring sunshine in the form of this beautiful mimosa from John Austin.  And I'll be keeping my fingers crossed that the weather starts to warm up very soon.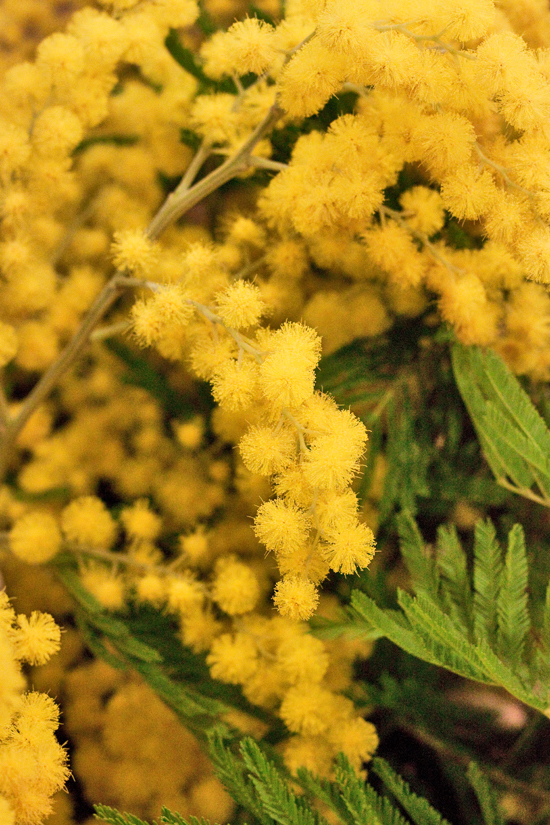 I hope you've enjoyed reading this month's snapshot of what's available at the Market in April.  Do come and visit soon to see first-hand what this wonderful place has to offer.
And if you have any comments about this month's report, it would be lovely to hear from you.  Simply type in the boxes below…